Log in or register
close
My AA Account
Sign in to see your cover and request assistance online
Don't have a My AA account?
You'll need your policy or membership number
Car buyers guide
BMW i8
August 2014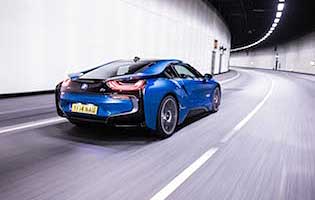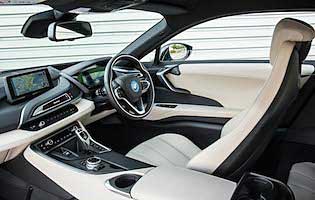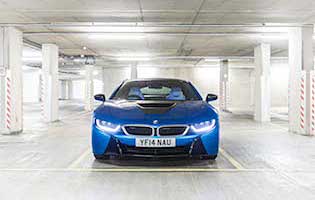 Overall rating

Likes:
Cabin blends familiar BMW cues with more futuristic designs
Real world performance is close to supercar levels
Hugely responsive performance when both motors work together
A bold design and visually stunning
Gripes:
Scissor door operation can be a struggle if you're shorter than average
Attention-grabbing looks won't suit everyone
Rear boot space is small and gets hot thanks to proximity to petrol engine
High price ensures it's a car for the fortunate few
Along with its i3, the i8 is another clear demonstration from BMW that it's serious about electric and hybrid vehicles. And just like the i3, the i8 sports coupe has been styled to turn heads. Yet it's not all for show, as the car packs a serious performance punch.
The carbon composite exterior of the i8 hides a wealth of hybrid power technology. Helping the i8 to reach 62mph in 4.4 seconds is the combination of a 1.5-litre, 228bhp turbo petrol engine plus a 129bhp electric motor. The associated battery pack allows for around 20 miles of electric-only running, and the 'plug-in' nature of the i8 means charging takes only a few hours, not the overnight hassle of pure electric cars.
That's the numbers-driven technology side of the story, but what's the i8 like in the real world? Naturally first impressions centre on the car's looks. It's certainly not a purchase that will attract social wallflowers, so be prepared for plenty of attention. And the car's scissor-style opening doors mean you'll need to be reasonably agile to slide over the wide sills to get in and out.
Once inside you're met by mostly familiar BMW cabin hardware, but the view fore and aft couldn't be more different from your average 3 Series experience. By default the i8 starts off in pure electric mode, which means the motor driving the front wheels. Leave the driving mode in 'auto' and the i8 will activate the petrol engine as and when firm throttle responses require it. This makes for a relaxing, quiet experience when in town.
Prod the throttle or switch to a 'sport' mode and the petrol engine will run continuously, delivering a potent, elastic stream of power, making it ideal for tackling switchback countryside roads. In this environment the i8 is an accomplished all-rounder; its ride and steering responses still err on the side of comfort but, crucially, it won't bite like a track-focused Porsche 911. Factor in the car's absurdly low CO2 (49g/km) and consumption figures (134mpg) plus the ability to pay very little motoring tax of any kind, charge-and-go in just a few hours from flat and the i8 is a genuinely practical and usable petrol-electric hybrid performance car.
Our verdict on the BMW i8
First off, if you don't like the i8's looks it's going to be a non-starter. BMW's decision to throw caution to the wind in design terms should be applauded, though. And the firm's bravery continues with the car's clever composite construction and petrol-electric powertrain. The result is a genuinely impressive performance coupe to rival the 911s and R8s of this world. It might lack the former's detailed driving feedback, but the sacrifice will be small for those willing - and financially able - to embrace the new technology.