Car Buyers Guide
BMW i3 2 Series Active Tourer 225xe
February 2016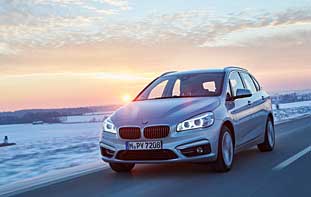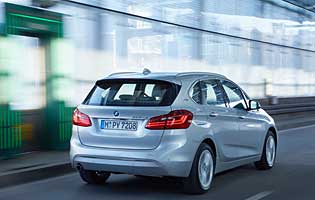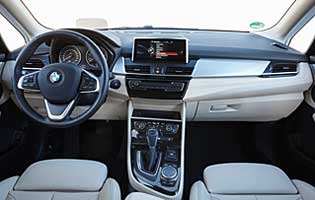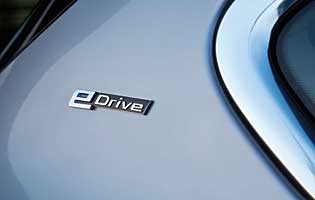 Overall rating

Likes:
Brilliant hybrid powertrain with useable all-electric range
Excellent family-oriented cabin
Strong BMW good looks
Cheap to run with the right infrastructure
Gripes:
Very expensive
Not a 'true' BMW
Better family 4x4s are available
Savings unlikely to outweigh massive asking price
The 2 Series Active Tourer is a versatile, family-oriented car from BMW. It represents a slight departure from the Munich firm's saloon and SUV staples, arguably moving back into the slightly unfashionable MPV body style. But teamed with a modified version of the i8 supercar powertrain, this versatile hybrid people-mover becomes a convincing premium choice.

The looks of the 225xe, especially the 'face', are distinctively BMW. The brand has always capitalised on muscular, masculine lines for its saloons and beefy SUVs, but it's unusual to see these design features so distinctly in an MPV. The car looks powerful in its own right, but having a BMW badge makes it even more desirable - it's probably the most upmarket manufacturer currently building this type of car.

By tinkering with the drivetrain from the i8 - BMW's flagship performance car - the team behind the 225xe has created an all-wheel-drive, plug-in hybrid with an immensely versatile set of options when it comes to propulsion. It's easy to stay on all-electric mode in town, unless you accelerate hard or specifically ask the engine to kick in. Similarly, you can tell the engine to power either axel or both simultaneously.

Energy management is a complex set of options and instructions which allow you to choose your preferred blend of efficiency and performance. Being a plug-in hybrid, buyers will benefit from being able to essentially use the 225xe as an electric car on short journeys. But only if they have somewhere to charge it - if you don't have a driveway, you might as well get the diesel.

This is an expensive car, though, with prices amplified by both the BMW badge and the hybrid effect. It also lacks the driving fun you expect from a BMW, despite the chassis and much of the tech being shared with truly enjoyable cars. This is a desirable but premium option.


Our verdict on the BMW i3 2 Series Active Tourer 225xe
The 225xe is a brilliant family car with impressive amounts of space and one of the best hybrid powertrains currently on sale. The vast bank of batteries has compromised its on-road personality, though, and the massive price tag makes it very much a luxury alternative to other perfectly good small MPVs. Many buyers would be better off with the diesel, which is also available in four-wheel-drive