October 2013
BMW i3
Radical looks hide equally radical construction technology
October 2013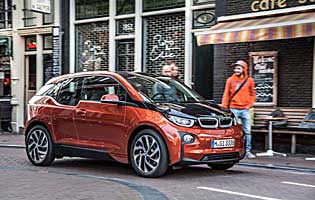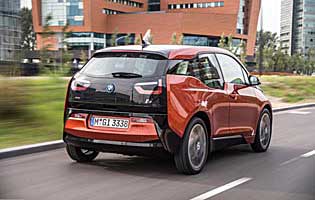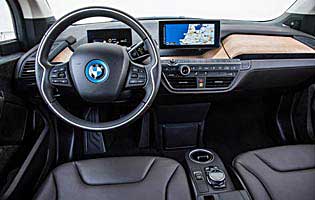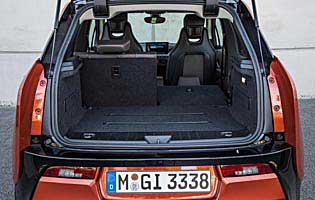 Overall rating

Likes:
Radically exterior styling is a breath of fresh air
Spacious cabin is full of clever design touches
Driving experience lives up to BMW's usual high standards
Assuming your routine compliments the i3's strengths, the ownership experience will be a positive one
Gripes:
Modest boot only practical drawback
Easy to expect exterior will divide opinion
Firm ride could be an issue on poorly surfaced urban UK roads
You'll need deep pockets to acquire an i3 and a modest commute to fully appreciate its talents
BMW's i3 marks are considerable shift in act of building and selling cars for its maker. A clean-sheet approach from the ground up, the i3 is intended to form the basis of a family of electric and hybrid vehicles in a bid to promote sustainable personal transport.
While there's a slowly increasing number of electric vehicles entering the market, the i3 promises to demonstrate that unconventional thinking, design and manufacturing processes are the way forward. As such, the i3 boasts a carbon fibre and plastic composite body to maintain strength at much lower weights than conventional metals.
Then there's the car's powertrain, a 170bhp electric motor driving the rear wheels powered by a lithium ion battery back. The result, combined with the car's modest weight, is a surprisingly fast small car with the ability to entertain through the bends. Direct steering and a particularly aggressive form of brake energy regeneration boost driver confidence and boost battery recharging potential on the move respectively.
As a technical exercise the i3 succeeds on many levels, but BMW's decision to adopt a visually radical approach to design should also be applauded. It's fair to say that the i3 won't be to everyone's liking, but that shouldn't detract from the car's bold proportions. It's the same story inside, with occupants greeted by an eclectic mix of materials - some of them nature fibres - and textures.
Of course, being an electric car it's impossible to escape the realities of running such a vehicle. Range is said to be around 100 miles with an overnight charge from a domestic supply returning the car to full capacity. Faster charging is possible with more powerful domestic and public charging facilities.
Our verdict on the BMW i3 i3
There's something refreshing about seeing an otherwise conservative and predictable car maker turning convention on its head. BMW's i3 is certainly a rule-breaker, and a very good one at that. Of course, the car will only shine if it complements your lifestyle and driving routine. Until country-wide charging stations are widespread, cars like the i3 will remain best suited to shorter journeys. Long distance company car drivers need not apply, but if you can make the i3 work for you it'll be a rewarding ownership experience.
Costs
While the upfront cost of purchasing an i3 is high, the trade-off is the prospect of low 'refuelling' charges via various electric supply sources, be the a domestic outlet or a public charging facility. We're talking only a few pounds not the tens of pounds required to refuel a petrol car. Furthermore, with fewer moving parts, servicing costs should be minimal. And don't forget the favourable tax structure for both private and business users.
Space and practicality
The i3's wide cabin might prove visually unconventional but there's no denying its ability to accommodate a full compliment of adults with ease. Cabin oddment space is also generous, and helps to offset the car's modest rear boot space. It's flat and wide, just particularly big for a car of this size. You can fold the rear seats, though.
Controls and display
With the i3's large infotainment screen dominating the forward cabin, it's easy to forget the rest of the car's controls. The main instruments offer a wide range of important information and the majority of the supplementary controls are familiar BMW items. Only the unconventional gear selector - a bulky column stalk - proves a little fiddly to operate in a hurry when you're rushing to reverse park into a space.
Comfort
Supportive seats and low levels of road and wind noise ensure the i3's cabin is a pleasant environment. The lofty seating position delivers good forward visibility, while inside there's little chance of knocking elbows with other occupants.
Car security
Another area where the i3 is no different from more conventional cars; keyless locking and ignition offers a good level of security for both owner and vehicle. There's also enough covered storage space in the cabin to keep prying eyes away from your valuables.
Car safety
The i3 mirrors many of its BMW stablemates with a high level of active and passive safety equipment such as airbags and electronic stability aids. Factor I the car's unusual construction comprising a carbon fibre reinforced plastic body, and it's clear that the i3 is a very safe car indeed.
Driver appeal
With its punchy and high torque electric motor delivering almost instantly, it's no surprise to learn that the i3 is a rapid car in a straight line and easily the measure of many petrol-powered models. Steering is direct, making the car fun in the corners, but the ride is on the firm side. Curiously, the car's considerable regenerative braking function makes the brake pedal almost redundant in urban environments - simple lift off the 'gas' and the car will come to a measured stop. It's counterintuitive at first but a technique soon mastered.
Family car appeal
There's no reason why the i3 can't be used as a family car. High class cabin materials aside - and the risk of damage - it's a practical, spacious five-door hatchback. One practical drawback could be the car's modest boot, as you'd likely struggle with a buggy and the weekly shop.
First car appeal
Cost aside the i3 would make an idea first car. Ease of use features highly, what with the auto transmission, brake regeneration action and good levels of forward visibility. That it's an agile car best suited to urban environments is icing on the cake.
Quality and image
As a group BMW commands a considerable amount of respect and goodwill. Its cars are routinely praised by the media and owner satisfaction is high. Electric car production is a new direction, and only time will tell if the support network for both cars and owners has been sufficiently well developed.
Accessibility
In essence the i3 is a five-door hatchback, with over-large front doors and rear 'suicide' items that can't be opened before the front items. The reality is an easy to access cabin for front seat occupants, although the door sill is higher than normal. Access to the rear is also good, even for adults. The car's small rear hatch opens easily to reveal a modest boot.
Stereo and ICE (In car entertainment)
Standard fit in the i3 is one of BMW's high-end entertainment systems, including a generously dimensioned navigation screen that dominates the view forward. Being a BMW, iDrive is also present but refreshingly easy to operate. For the driver, the car's main instruments deliver a wealth of information efficiently and clearly.
Colours and trim
Bold, two-tone exterior colours do much to highlight the car's appearance. Flat, single colours deliver the opposite and are less than flattering. Inside, the i3's cabin can be specified in a wide range of different coloured and textured materials. The result is surprisingly successful but a world away from conventional cabin design.
Parking
Boasting a tighter than average turning circle - thanks in part to its narrow section wheels - the i3 is exceptionally agile around town. It's also easy to park thank to the simplicity of the throttle, brake and transmission operation. Parking sensors help considerably as the view rearwards could be better - blame the funky exterior styling.
Spare wheel
Run flat tyres fitted as standard.
Range information
Engine options - electric motor (170bhp) Transmission options: single speed transmission connecting the rear wheels. Trim levels: one specification with option to accessories with cost options.
Alternative cars
Nissan Leaf Polished all-rounder offering value for motoring - if you know where the deals are
Renault Zoe Lower cost sister car to Nissan's Leaf - does most things right on a budget
Ford Focus Electric variant boasts too many compromises to be a sensible option for private buyers
Vauxhall Ampera Range extender Ampera neatly dodges pure electric range anxiety issues but build quality could be better