February 2016
BMW i3 2 Series Active Tourer 225xe
The familiar Bavarian face makes this a stand-out MPV
February 2016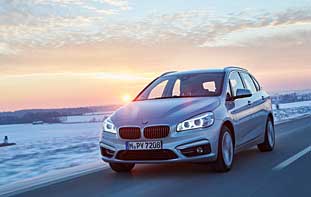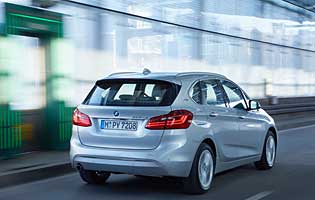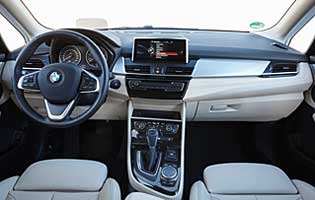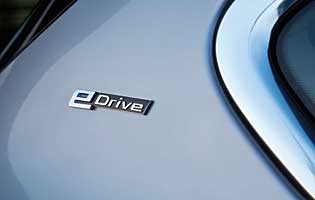 Overall rating

Likes:
Brilliant hybrid powertrain with useable all-electric range
Excellent family-oriented cabin
Strong BMW good looks
Cheap to run with the right infrastructure
Gripes:
Very expensive
Not a 'true' BMW
Better family 4x4s are available
Savings unlikely to outweigh massive asking price
The 2 Series Active Tourer is a versatile, family-oriented car from BMW. It represents a slight departure from the Munich firm's saloon and SUV staples, arguably moving back into the slightly unfashionable MPV body style. But teamed with a modified version of the i8 supercar powertrain, this versatile hybrid people-mover becomes a convincing premium choice.
The looks of the 225xe, especially the 'face', are distinctively BMW. The brand has always capitalised on muscular, masculine lines for its saloons and beefy SUVs, but it's unusual to see these design features so distinctly in an MPV. The car looks powerful in its own right, but having a BMW badge makes it even more desirable - it's probably the most upmarket manufacturer currently building this type of car.
By tinkering with the drivetrain from the i8 - BMW's flagship performance car - the team behind the 225xe has created an all-wheel-drive, plug-in hybrid with an immensely versatile set of options when it comes to propulsion. It's easy to stay on all-electric mode in town, unless you accelerate hard or specifically ask the engine to kick in. Similarly, you can tell the engine to power either axel or both simultaneously.
Energy management is a complex set of options and instructions which allow you to choose your preferred blend of efficiency and performance. Being a plug-in hybrid, buyers will benefit from being able to essentially use the 225xe as an electric car on short journeys. But only if they have somewhere to charge it - if you don't have a driveway, you might as well get the diesel.
This is an expensive car, though, with prices amplified by both the BMW badge and the hybrid effect. It also lacks the driving fun you expect from a BMW, despite the chassis and much of the tech being shared with truly enjoyable cars. This is a desirable but premium option.
Our verdict on the BMW i3 2 Series Active Tourer 225xe
The 225xe is a brilliant family car with impressive amounts of space and one of the best hybrid powertrains currently on sale. The vast bank of batteries has compromised its on-road personality, though, and the massive price tag makes it very much a luxury alternative to other perfectly good small MPVs. Many buyers would be better off with the diesel, which is also available in four-wheel-drive.
Costs
Costs of running the 225xe should be low for most families. If most of your miles are undertaken at low speeds, and generally in journeys of ten miles each way or less, you might not have to fill up very often at all. It's a very expensive car to buy, though.
Space and practicality
Legroom is good all-round and the small head height compromise in the rear seats is unnoticeable to most passengers. This car will seat five adults in reasonable comfort for shorter journeys, or four over longer distances. The boot is 400 litres, going up to over 1,300 with the seats folded down. There's currently no option to have the seven-seater Gran Tourer with the plug-in hybrid system.
Controls and display
BMW's iDrive system is one of the best in the business, and its use in the 225xe is only strengthened by the need to control more of the powertrain features from the cabin. The instrument binnacle is a slightly more detailed version of the one found in the rest of the 2 Series Active Tourer range, showing information about energy consumption.
Comfort
The 225xe is almost as comfortable as any other 2 Series Active Tourer model - the main changes come to the back seat, which loses adjustability and headroom. Taller adults might notice this change, but space is generally generous.
Car security
The security system that comes with the 225xe is adequate, and is commensurate with a car costing GBP35,000 or more. Despite having a BMW badge, its understated lines and muted standard paint jobs should make it less of a target for thieves.
Car safety
The 225xe comes with airbags for front and rear occupants as standard, as well as a raft of driver aids and an all-round good Euro NCAP safety rating. The car feels planted and stable on motorways, even at autobahn speeds. Optional urban systems can help prevent low speed accidents and pedestrian impacts.
Driver appeal
Regardless of the settings you choose, the 225xe will never be an exciting driver's car. It feels more bloated than its petrol and diesel counterparts, which are already less engaging than other cars in BMW's sizeable fleet. That said, the 225xe is composed, comfortable and quiet on nearly all road surfaces.
Family car appeal
The 2 Series Active Tourer lends itself to family life thanks to its layout and flexibility. For some families - namely those with driveways where they can charge it - the 224xe adds another layer of enjoyment by allowing near-silent, emission-free motoring on electric-only mode. For young families with active lifestyles, but whose journeys are largely around town, it's hard to think of a better combination of practicality, efficiency and prestige.
First car appeal
The 2 Series Active Tourer isn't designed for new drivers. While visibility is good and the hybrid system is easy to use, the target market is clearly families with children. Few of BMW's products make particularly good prospects for a 17-year-old, but smaller models such as the low-end 1 Series make better choices thanks to their smaller footprint, less powerful engines and lower insurance costs.
Quality and image
It looks and feels like a BMW on the inside and outside. While handling characteristics have been compromised by the powertrain (namely the huge battery) the distinctively upmarket feel of the brand remains. BMW is a strong, high-end brand, especially compared to other manufacturers competing in this sector. The 225xe is also the most convincing hybrid offering.
Accessibility
Wide door apertures and comfortable seats make this a good choice for buyers worried about entry and exit, though taller cars - such as the Toyota Rav4 Hybrid and Mitsubishi Outlander PHEV - might be more attractive. The boot door is manageable and the interior dimensions are perfectly suited to everyday family life.
Stereo and ICE (In car entertainment)
The BMW infotainment system is complex but intuitive, and will be familiar to anyone who has used a BMW car in recent years. Sound quality is high on even the cheapest 225xe, which is to be expected in such an expensive car. BMW was the first manufacturer to make sat nav standard on all models in the UK, and this system is a particularly good one.
Colours and trim
Dark greys and silvers sit well with the understated design of this small MPV. With the exception of dark blues and dark reds, this car is basically only available in shades of grey - and that's no bad thing. Good standards of fit and finish exist across the range but it's the more expensive models (in the case of the 225xe, the 'Luxury') that feel most recognisably BMW-like.
Parking
Parking sensors make manoeuvring the 225xe very easy, even in tight multi-storey car parks. Visibility is generally good, and door apertures are wide enough to make the car accessible but not so wide that it's hard to open them at the shops. Finding a parking space that has an electric charging station will be your main challenge here, should you choose to maximise your use of the hybrid powertrain.
Spare wheel
Emergency tyre repair kit supplied as standard.
Range information
Hybrid engine option - 2.5-litre hybrid (220hp). Petrol engine options - 1.8-litre (136hp), 2.0-litre (192hp, 231hp). Diesel engine options - 1.6-litre (116hp), 1.8-litre (150hp), 2.0-litre 190hp. Transmission options: Six-speed manual, eight-speed automatic with manual mode, and six-speed automatic (hybrid only). Trim levels: SE, Sport, Luxury, M Sport.
Alternative cars
BMW 2 Series Active Tourer Diesel Swap out the hybrid system for a modern diesel with four-wheel-drive
Ford C-Max Prices start at around half that of the 225xe - more than you'll save with a PHEV.
Citroen C4 Picasso A top-spec model will be cheaper, but don't expect BMW build quality
Mitsubishi Outlander PHEV A more accomplished 4x4 with unparalleled boot space and a brilliant four-wheel-drive system