October 2015
BMW 7 Series 730d
Conservative styling is good for subtle VIP transport
October 2015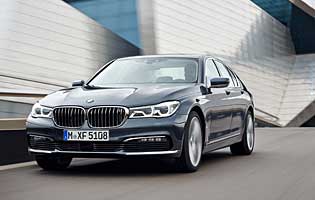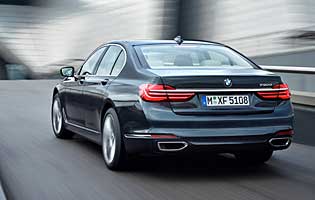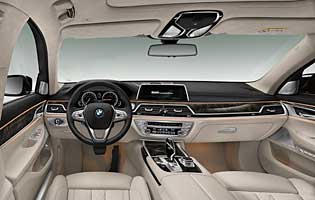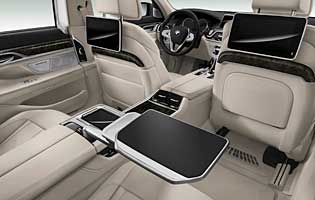 Overall rating

Likes:
Impressive driving dynamics include balance and precision
Supreme comfort in all four seats
Extremely high materials quality throughout
Impressive new technology is unique in the industry
Gripes:
Options list is long and expensive
Styling could be considered too conservative
Needs to be driven very gently to approach claimed fuel economy
Smaller standard wheels take away from overall look
BMW has always pitched the 7 Series as the driver's choice in the luxury saloon segment. Lightweight construction and eager engines are linchpins in a car that has, before this model, been considered as better to drive but less luxurious than its rivals, which has left it in the shadow of the Mercedes S-Class. A suite of upgrades on this version seeks to change that.
Past 7 Series models have leaned more on their driving dynamics than on their comfort and luxury, which in a class so heavily dominated by chauffeurs and VIP transport companies meant that the BMW missed the mark for its key audience. Suspension revisions and a renewed focus on comfort for rear seat passengers are part of a broadly improved offering.
Cutting-edge technology has been given new focus, with features like a key that can remotely control the internal temperature and check the fuel level, among other things. There's also an advanced parking system that can drive into and out of tight spaces - namely garages - without the driver actually needing to be in the car.
Cutting-edge technology has been given new focus, with features like a key that can remotely control the internal temperature and check the fuel level, among other things. There's also an advanced parking system that can drive into and out of tight spaces - namely garages - without the driver actually needing to be in the car.
This latest generation comes with options for four-wheel drive and an eight-speed automatic gearbox with a shorter lever and launch control, as opposed to the standard-fit unit that focuses purely on relaxed driving comfort. Long-wheelbase versions are available as well as M Sport variants with more aggressive styling.
Our verdict on the BMW 7 Series 730d
The 7 Series is still better to drive than the S-Class and A8, but its shortfalls in rear seat comfort and technology relative to the competition have been rectified in some style. Advanced new features are a huge boost and could appeal most strongly to chauffeurs. That rear seat passengers will now be even more comfortable than in key rivals means that the 7 Series can for the first time be considered the class leader.
Costs
The vast majority of 7 Series models that are sold in the UK are diesels, and for good reason due to their greater fuel economy and therefore improved cruising range. Insurance is modest for the class because so few of this model are crashed, and because of the wealth of safety equipment on board. Entry prices are reasonable, but options are expensive and numerous. Five-figure options totals are all too easy to rack up.
Space and practicality
A vehicle of this size has obvious advantages when it comes to making space available for luggage and everyday storage. However, the 7 Series' most pressing concern is for quality and luxury, so the interior space is not utilised in as effective a way as it could be; the trade-off being an exquisite cabin for occupants. The leathers are potentially vulnerable to spills and scratches, so are inevitably less practical than cloth. The boot is very large, though, and can comfortably hold a family of four's holiday luggage.
Controls and display
One of the most interesting features of this 7 Series is its compatibility with three different ways of controlling audio and other systems. Whether through the iDrive system, the touch-screen, voice control or the intriguing new gesture recognition system, the car's interface responds to whichever means of control the driver prefers. The main displays are sharp and clear, although direct sunlight can cause problems.
Comfort
Comfort has been improved to a point where it is now one of the 7 Series' stand-out features. No matter which or how many of the four seats are occupied, the ride is impeccably smooth and the cabin is spacious enough to stretch out in. The seats are wide and welcoming, the padding is perfectly balanced between soft and supportive, and massage functions can help long journeys pass all the faster.
Car security
BMW security systems have been updated to close a loophole that allowed thieves to replicate keys from the car itself. According to industry experts the cars are now as advanced as the industry can deliver. Privacy glass is not standard, but can be added. An advanced alarm and immobiliser are also included on all models.
Car safety
Everything from automatic rain and dusk sensors operating basic safety aids, to automatic braking functions that work in conjunction with the adaptive cruise control system, BMW has installed every safety aid it has at its disposal. Four-wheel drive is available as well, which boosts the traction available under acceleration in slippery conditions.
Driver appeal
Regardless of whether it's using petrol or diesel power, the 7 Series has a deeply impressive ability to shrink around the driver when the road starts to twist and turn. Using the ample torque reserves from the diesel to push the car out of corners, especially in tandem with the upgraded adaptive suspension, reveals a level of poise and composure that is tough to match among cars of this size. The big BMW is genuinely enjoyable to drive.
Family car appeal
There is no reason why a family of three or four could not use the 7 Series as a family car. The boot is certainly big enough and the multi-way adjustable rear seats are more than spacious enough for even tall children. The presence of the tablet device in the rear may be an annoyance to parents in the front, though. Finely-stitched leather is potentially vulnerable to childhood misadventure, so care must be taken with younger kids.
First car appeal
The 7 Series may be desirable to the target audience, but the chances are very small that a first-time car buyer would be able to afford it. It is also large, complicated and expensive to insure, making it unsuitable for novice drivers.
Quality and image
From the first point of contact the 7 Series impresses with its high-quality materials. On the road it is remarkably refined and smooth, further enhancing the overall impression. BMW's image is one of precision and driving engagement, but the physical quality of this generation of the firm's flagship saloon is more than sufficient to add bite to the company reputation's bark.
Accessibility
As a lengthy car the doors are longer than on smaller four- and five-door saloons. That means that in car park bays it can be tricky to open the doors wide enough to allow easy access. On the other hand, soft-close door mechanisms are luxurious. The seats are not as low as some people may believe, and are therefore not too difficult to get into or out of.
Stereo and ICE (In car entertainment)
The next-generation stereo interface expands from the traditional functions. On top of AM/FM and DAB radio, a CD player and Bluetooth, there is wireless charging integrated as standard. Contemporary Samsung and Apple smartphones are compatible, and others may be with special adapters. In the rear is a custom-made tablet device that clips into a beautifully-machined metal well. From that, a rear passenger can control many of the car's key functions.
Colours and trim
A buyer inspecting the colour options for the 7 Series could be forgiven for thinking they had lost their colour vision. All metallic shades are included in the price, which is a welcome touch, but there is little else but black, whites, silvers and greys. Of more interest is the depth of quality in the cabin and the choice of interior colours, trim styles and wood finishes. The styling is heavy on horizontal lines and feels even wider than it is.
Parking
As is expected on cars of this size and class, front and rear parking sensors are standard. The 7 Series is a long and broad car, and as such benefits greatly from them. Also included on all versions is a handy reversing camera. A new feature, though, is the ability for the driver to remotely reverse the car out of or into a space where it can be positioned head-on into the space first, like with a garage. The driver can simply stand close by and activate the sequence.
Spare wheel
Run-flat tyres fitted as standard.
Range information
Petrol engine options - 3.0-litre (322bhp). Diesel engine options - 3.0-litre (261bhp). Transmission options: eight-speed automatic. Trim levels: Standard, M Sport.
Alternative cars
BMW 5 Series The benchmark car has everything it needs, including the reputation
Lexus GS Stable and straightforward, the A8 comparatively lacks a little innovation
Audi A6 Great to drive and to look at, but can't match the BMW for advanced technology
Mercedes E-Class Peerless outright refinement and advanced production processes