BMW 5 Series Saloon 530d Luxury
Long-distance comfort
August 2013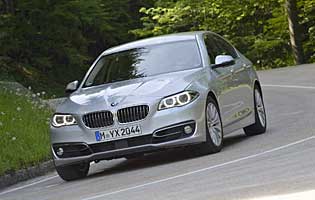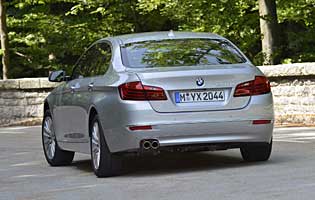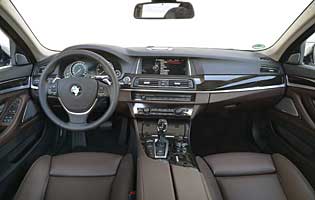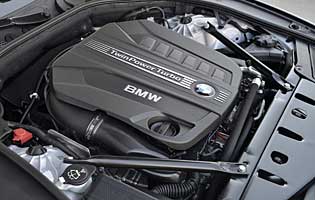 Overall rating

Likes:
Comfortable seats offer convincing long-distance comfort
Large boot provides enough space for most requirements
Six-cylinder diesel engine is strong, refined and smooth
Relaxed driving manners help ensure a low-stress journey
Gripes:
Rearward visibility is slightly restricted by the high rear windscreen line
Hard plastic front seat backs are practical but look cheap
Too many desirable pieces of equipment are costly options
Confusing range forbids certain engine and trim grade combinations
The 5 Series is BMW's best-selling car across the globe, so every time it's due for an update the firm treats it with the utmost care and consideration. This might be a minor model change but there is still plenty of new technology to tempt existing owners to upgrade when their current model is due for renewal.
Little has changed in the visual department, with the long, sloping bonnet still falling steeply away down to the trademark kidney grille and BMW roundel, giving the impression of a proportional disparity between the heights of the headlights and the driving seat. The lines have perhaps been tightened slightly by way of a few detail changes.
The mid-size executive saloon class is one of the most fiercely fought anywhere in the market. BMW has introduced new technology with this generation of 5 Series in an attempt to keep it ahead of the pack, but much of the new equipment comes only as expensive optional extras. Nonetheless, systems like full in-traffic automation could slash commuting stress.
Nothing has changed with regard to the car's engines and gearboxes, with most versions coming equipped only with automatic gearboxes to reflect the vast bulk of customer choice. There are four- and six-cylinder engines in petrol and diesel guises, and all are turbocharged in one form or another. The former are fine, but the six-cylinder units are much richer in character.
A significant number of 5 Series models will spend large chunks of time on motorways, autobahns and freeways, so BMW has worked on the suspension tuning to further refine it for cruising comfort. Many aspects of the specification, both within and without, are well tailored to those who live more of their lives on the road than they might like.
Our verdict on the BMW 5 Series Saloon 530d Luxury
The 5 Series feels like a big car on the road and has lots of presence, but the finer points of the specification and design reveal a deftness of touch from BMW's engineers. The car is good to drive with this particular engine, and interior quality is as high as ever. Overall the 5 Series is a convincing package for many reasons and, size aside, few compromises need to be made.
---
Costs
One of the reasons the 5 Series has been such a consistently good seller in recent years is BMW's ability to squeeze seemingly impossible fuel economy out of it, in conjunction with extremely low CO2 figures. There are very cost-effective models available and relatively speaking this is one of them, but the entry-level 318d is a better bet for those looking to minimise their tax bill. Residual values will be good, too.
Space and practicality
This is a car that has always been known for its all-round ability, which includes practical touches wherever possible. The Saloon is actually the least practical of the three 5 Series body styles, but this facelifted model carries over the same spacious boot as before; limited for most people only by the letterbox-type aperture that prevents larger objects like kitchen appliances from being loaded in. Inside the cabin is a typical array of storage solutions, including a compartment between the front seats.
Controls and display
BMW has made no changes of note to the main controls and displays, other than changing the old part-digital dashboard over to the fully digital array from the 6 Series. It changes its readouts according to the driving mode that is selected at the time, enhancing the delivery of the information the driver is most likely to need at that time. The indicators, however, are still a divisive aspect of the BMW control layout, with the stalk operating in a slightly confusing way.
Comfort
This Luxury model benefits from plusher, fuller leather seats than lower models, although leather upholstery is now standard across the range anyway. It's a comfortable place to be with plenty of seat adjustment for the front two occupants. Wind noise is well controlled over the windscreen, but at typical autobahn speeds air can sometimes bluster angrily around the door mirrors. Rear passengers have more than adequate legroom, and a comfortable amount of light entering the cabin.
Car security
One of the reasons the 5 Series has been such a consistently good seller in recent years is BMW's ability to squeeze seemingly impossible fuel economy out of it, in conjunction with extremely low CO2 figures. There are very cost-effective models available and relatively speaking this is one of them, but the entry-level 318d is a better bet for those looking to minimise their tax bill. Residual values will be good, too.
Car safety
Every conceivable safety device that BMW could afford to add within the 5 Series' planned list price has been included, although many of the latest or most complex systems are optional extras and can cost large sums of money. Fully equipped, the 5 Series is capable of monitoring for potential hazards all around itself, alerting the driver if the car senses a potential collision. Passive safety is taken care of comprehensively with advanced design.
Driver appeal
Around town at low speed the 5 Series can feel quite large, although its variable-assistance power steering does lighten the manoeuvring load in tight spots like car parks. When speeds rise it's a quiet place to be, depending on the quality of road surface, and on more winding roads the car is more than able to entertain thanks to its impressively torque-rich diesel engine and rear-wheel drive layout. As an all-rounder most drivers will be extremely happy.
Family car appeal
Many existing 5 Series owners already use their cars with dual purposes; as an executive shuttle during working hours and as the main family transport at the weekend. Its spacious interior and boot both serve to help, and as normal the front passenger side airbag can be deactivated for safety when carrying a baby in a rear-facing child seat. Isofix child seat mounts can be found at both of the outer rear seats, but the car isn't wide enough to house three full-size child seats abreast.
First car appeal
The 5 Series is a very common sight despite not being a cheap car, and it is generally held in high esteem by most people. Young people learning to drive might well aspire to a 5 Series in the future, but they aren't likely to hold too much interest in it as a first car due to its cost, potentially imposing size and relatively expensive insurance grouping. It could also be argued that the 5 Series lacks the character of smaller cars more deliberately targeted at first-time buyers.
Quality and image
As this is BMW's most important car in terms of sales volume, the company can't afford to cut corners. There are too many excellent competitors for customers to switch to. Fortunately for the buyer that means quality is consistently high throughout, and especially on this Luxury model where leather surface trim and contrasting stitching add a real premium edge. BMW's image is in some circles unimpeachable, but real-world reliability and satisfaction surveys rarely place the firm too near the top.
Accessibility
The 5 Series has higher seats than some potential customers might expect, and that means that it's easy to open one of the sensibly short doors and drop in. Egress is equally trouble-free. The saloon boot lid can be opened from within the car for easier access in the event of picking a passenger and their luggage up, but it needs a good, firm manual slam to re-close it.
Stereo and ICE (In car entertainment)
The i-Drive system is the interface for the stereo system, and its multi-function dial/button offers generally simple and intuitive operation. The problem could come when you need to involve the buttons around the dial, because if your hand is not in the correct position then moving around to reach the 'back' button and certain others can become tiresome. Speakers spread throughout the cabin make sure the user experience is at least worth a little hassle.
Colours and trim
To cater for the typically sedate tastes of existing and target 5 Series buyers the colour palette is made up almost exclusively of sober, subtle hues, the darkest of which tend to slim down the car's not inconsiderable expanse of bodywork. On the inside there are a variety of materials and colours to choose from depending on what specification of model you choose, but Modern and Luxury grades have arguably the most agreeable interiors.
Parking
The 5 Series can really feel its size at low speed, and negotiating multistorey car parks can occupy a little more concentration than it normally might. The long bonnet with a sizeable front overhang do nothing to help. However, rear parking sensors are standard so rear visibility is less of an issue than it might be. An optional system is available to part-automate the parking process whether it's a perpendicular bay space or a parallel roadside one.
Spare wheel
Tyre repair kit fitted as standard.
Range information
Petrol engine options – 2.0-litre (181bhp, 241bhp); 3.0-litre (302bhp); 4.4-litre (443bhp). Diesel engine options – 2.0-litre (141bhp, 181bhp, 215bhp); 3.0-litre (254bhp, 309bhp). Transmission options: six-speed manual gearbox or eight-speed automatic as standard depending on model. Trim levels: SE, Modern, Luxury, M Sport.
---
Alternative cars
Mercedes-Benz E-Class Smooth and comfortable with good V6 diesel engine options
Audi A6 High-end versions are more stylish than the 5 Series, but not as nice to drive
Lexus GS Latest version is a match for any of the German offerings, with more standard kit
Jaguar XJ British-built relatively new kid on the block is dynamically talented and dramatic