BMW 5 Series M5 (2011)
Superb ride and overall comfort
November 2011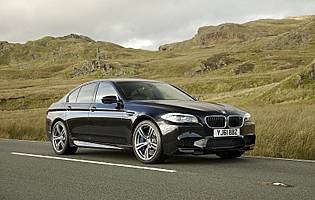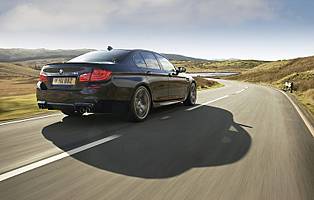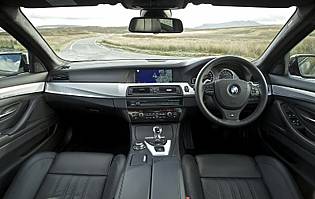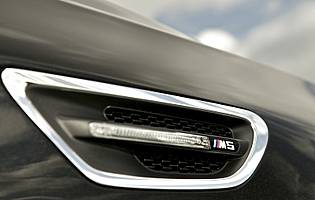 Overall rating

Likes:
Enormously flexible and responsive engine
Superb ride and overall comfort levels
Handling is predictable, intuitive and very satisfying
Comprehensive standard equipment
Gripes:
Multiple systems can take some getting used to
Looks under-tyred on 19-inch wheels
Stated fuel economy performance will take determination to achieve
Running costs will inevitably be high
Following the successful introductions of saloon and estate models of the latest generation 5 Series, BMW has applied the legendary M tag to its mid-sized executive saloon to create the fifth-generation of M5. The firm claims that the adoption of a new turbocharged engine delivers greater performance alongside improvements in fuel economy and emissions compared to the outgoing model.
BMW's range of M-cars have built a solid reputation in their own right for delivering very high standards of performance and handling, but with little in the way of sacrifice in relation to their comfort or usability. The M5 in particular, being the largest M-model, is intended to offer the same comfort and spaciousness as a regular 5 Series but with performance to rival supercars.
The previous generation M5 used a high-revving, F1-inspired V10 naturally aspirated engine mounted to a seven-speed automated manual gearbox, and while it unquestionably delivered driving thrills there were question marks over how well it coped with ordinary driving. With a brand-wide push for efficiency, the new M5 becomes the first M-car to use a turbocharged engine, and in doing so delivers more power, torque and performance, yet with emissions and fuel economy figures that are substantially better than before.
Another significant change for the latest M5 is the adoption of the seven-speed dual clutch gearbox, versions of which are already available in the smaller M3 models. As well as various modes of operation for the gearbox including manual or automatic and variable shift speeds, the M5 comes as standard with variable modes for the suspension and engine, giving the driver greater freedom to tailor the car to the specific conditions.
Previous M5s have always taken a subtle line in terms of their exterior looks, and the latest version is no different. A quick glance may not distinguish it from a regular M5, but a close examination reveals the tell-tale signs such as quad exhaust pipes, 19 or 20-inch alloy wheels and front wing vents displaying the M logo.
Our verdict on the BMW 5 Series M5
Although somewhat flawed the outgoing M5 was a hard act to follow. Despite this the latest M5 redefines the sporting saloon sector, offering levels of comfort remarkably similar to the standard car and yet spectacular and usable performance in the right conditions. That it does so whilst offering the potential for respectable fuel economy makes that all the more impressive.
---
Costs
BMW has made great strides in this respect, giving the M5 much lower emissions and fuel consumption than before. However it will drink fuel when the performance is used and very high insurance costs will prevent it from ever being cheap to run.
Space and practicality
With no less space on offer than a regular 5 Series the M5 is unquestionably a practical car. There is generous space up front and in the rear, while the boot is very large and well shaped.
Controls and display
A comprehensive suite of displays and controls does mean that the M5 driver needs a little time to acclimatise, but once mastered it gives a wealth of information and much scope for altering the data on offer to suit the requirements.
Comfort
Considering what the M5 is capable of in extreme conditions, the fact that it is very comfortable is all the more remarkable. Wind noise is hushed, the ride comfort is very good indeed for a car riding on 19-inch wheels and the seats for all occupants are supportive over long distances.
Car security
A comprehensive alarm and immobiliser system is fitted as standard to the M5, though due to its high desirability a tracking system would be a worthwhile addition.
Car safety
Alongside the expected suites of airbags, the high levels of grip and stability, powerful brakes and complex stability systems make the M5 a very safe car indeed.
Driver appeal
With the engine in its most efficient mode plus the suspension and steering in their Comfort settings, the M5 could easily be mistaken for a regular 5 Series, delivering a comfortable ride in hushed conditions. The gearbox changes very smoothly in automatic mode and the engine is tractable and smooth. Press the M button to switch to predetermined settings and it instantly transforms into a firm-riding sports car with sharp responses. The engine is devastatingly effective, providing massive torque and hence very rapid acceleration from all speeds,
Family car appeal
The M5's space and comfort means it is more than capable of undertaking family duties, and such is its docile nature when driven with restraint family members may never be aware of the potential performance.
First car appeal
As much as any car fan would want an M5, a car at this price point, with this much power and such high insurance costs is inappropriate for a new driver.
Quality and image
With an even higher asking price M5 buyers have the right to expect a high level of quality, and it does not disappoint. It feels sturdy and well-finished throughout, with high quality materials in the cabin. The M5's image is virtually peerless: the number of outstanding cars to wear the M-badge historically guarantees the M5 will be held in high regard.
Accessibility
With four generously-proportioned doors the M5 is a cinch to get into, with the steering wheel moving electrically on exit to aid the driver's path in and out of the car. The same goes for the boot, which has automatic opening although does not offer a option to be closed via a button.
Stereo and ICE (In car entertainment)
The standard fit audio system includes a single-slot CD player, radio with DAB, USB interface and the high level of satellite navigation. That comprehensive specification certainly delivers, and as well as being easy to use the sound quality is very impressive. The BMW Connect service also allows occupants to access several Internet features via the car's screen, which is very useful.
Colours and trim
Given its discreet performance ethos the M5 looks best in more sober metallic colours, and black works particularly well. The brighter blue shade that has historically been a popular choice is quite arresting but still desirable. Inside the standard mix of dark leather and real metal trim is attractive and best suited to the car's purpose.
Parking
Although a sizeable saloon, the M5 is no more difficult to park than the regular version and the optional addition of the surround view system gives an even better view and also increases safety at difficult junctions.
Spare wheel
Emergency tyre repair kit as standard with option of full size spare.
Range information
Petrol engine options: 520i (184bhp); 528i (258bhp); 530i (272bhp); 535i (306bhp); 550i (407bhp); M5 (560bhp). Diesel engine options – 520d (184bhp); 525d (204bhp); 530d (245bhp); 535d (299bhp). Transmission options: six-speed manual gearbox, plus optional eight-speed auto gearbox (standard for 550i). Trim levels: SE, M Sport, M5.
---
Alternative cars
Jaguar XFR Similarly impressive blend of performance, comfort and style
Mercedes-Benz E63 AMG Very close to the M5 in many respects, though even more discreet
Maserati Quattroporte GTS Desirable and fast, one of the older cars in the class
Porsche Panamera Turbo Four-wheel drive and crushing ability but much more expensive