BMW 5 Series 530e iPerformance
Efficient hybrid with excellent handling
April 2017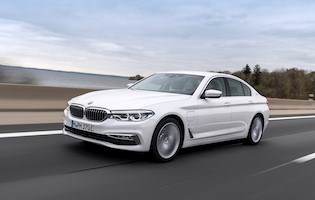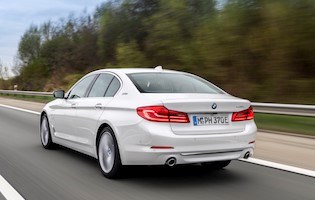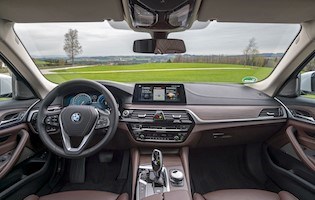 Overall rating

Likes:
Smart, handsome exterior
Plush, comfortable interior
Excellent handling
Efficient hybrid drivetrain
Gripes:
Four-cylinder engine gruff under acceleration
Transition from electric to petrol modes can be jerky
Boot space compromised when compared with regular 5 Series
Semi-autonomous driver aids are optional on entry-level model
The BMW 530e iPerformance is the sixth model in the German manufacturer's line-up to benefit from plug-in hybrid technology. Headline stats are attractive, with BMW claiming it can achieve a fuel economy figure of 141.2mpg, CO2 emissions of 46g/km, and an all-electric range of 31 miles – which will be ideal for most people's daily commute.
Powering the hybrid 5 Series is BMW's 2.0-litre four-cylinder engine as well as an electric motor. Combined, these give the 530e a combined power output of 249bhp and 420Nm of torque, which allows the Bimmer to complete the dash from 0 to 60mph in 6 seconds. It can hit a top speed of 155mph.
As far as styling is concerned, the 530e iPerformance looks nearly identical to the regular 5 Series – which is certainly no bad thing. There are, however, a number of small changes that differentiate the 530e as an iPerformance model, including blue kidney grille slats, blue wheel hub covers and eDrive badging on the C-pillars.
Inside, customers will find a plush and well-appointed cabin. Leather upholstery is included as standard, and build quality feels solid throughout. Again, the 530e's interior is identical to the regular 5 Series' excellent cabin, although there is eDrive lettering on the sill panels, an eDrive button on the centre console and specially designed displays for the instrument cluster and infotainment system.
The 530e is a rather impressive thing out on the road. It handles tighter corners with ease, and there is a fair amount of punch from the hybrid powertrain. One issue we had, however, is that the transition from electric to petrol power can be jerky at times, particularly if you suddenly put your foot down to accelerate.
Our verdict on the BMW 530e iPerformance
Depending on how you're planning on using the 530e iPerformance, it makes a good case for itself. If the majority of your driving will be short-distant bursts around the city with the occasional longer drive, then it's ideal as your running costs will be incredibly low. However, if you spend a lot of time out on the open road, a diesel 5 Series makes much more sense.
---
Costs
Depending on how you use it, the 530e shouldn't cost too much to run. If it is going to primarily be driven around city centres at lower speeds, it will likely spend most of its time running on electric mode – which won't cost you anything. Longer journeys however, will see economy drop as the regular petrol engine takes over. The 530e can run on pure electric mode for up to 31 miles.
Space and practicality
There's no real chance you'll be left wanting for interior space in the 530e iPerformance. The cabin is airy, with plenty of head and shoulder room up front. In the back seats, passengers will find a plentiful amount of legroom, and four adults should be able to manage a long-distance trip in comfort. Boot space is slightly hampered by the addition of the batteries for the electric motor, but it still stands at a respectable 410 litres.
Controls and display
The 530e iPerformance's 8.8-inch high resolution infotainment display is phenomenal. Not only is it crystal clear, it is also incredibly easy to use. It can be navigated via a rotary controller on the central console, as well as through the touchscreen. BMW has also included voice control and gesture control, for increased ease of use. Other buttons for the air conditioning systems are also within easy reach of the driver, meaning you won't have to spend too much time with your eyes off the road while changing settings.
Comfort
One of the 530e's strongest qualities is its ability as a long-distance cruiser. The seats are plush and supportive, and the ride is smooth and refined. Thanks to plenty of insulation, the cabin is quiet at motorway speeds, with minimal road and wind noise making themselves noticed. With plenty of interior space, passengers won't feel cramped, either, meaning all will arrive at their destination feeling fresh.
Car security
The BMW 530e iPerformance is equipped with all the basic safety features, including remote central locking, and an immobiliser. However, while thieves will no doubt have a hard time breaking in, because of its premium badge and luxurious appearance it could attract a fair amount of attention if left parked on the street.
Car safety
As you might expect from a high-end German saloon, the BMW 5 Series was awarded the full five-star safety rating when it was crash-tested by Euro NCAP. This included a 91 per cent score for adult occupant protection, an 85 per cent score for child occupant protection and a pedestrian protection rating of 81 per cent. The only area where the 5 Series did falter slightly was in the safety assistance category, where it scored 59 per cent.
Driver appeal
BMWs are pitched as the 'ultimate driving machines' and while the 530e iPerformance doesn't exactly measure up to this claim, it's still a very capable car on the road. Through the corners it handles itself impressively, and there is a fair amount of punch from the four-cylinder engine. One big drawback, however, is the fact the transition from electric to conventional driving can be awkward, particularly if you suddenly mash your right foot into the carpet.
Family car appeal
While the 5 Series doesn't make sense as a first car for a young driver, as a family car it has a lot of qualities going for it. There's plenty of room for children in the back seat, and the boot is big enough to accommodate a number of bags for a weekend away. Thanks to its comfortable ride and plush seats, it will also deal with long journeys with ease. The all-electric drive mode will mean it's cheap to run around town as well.
First car appeal
There's no denying it, the idea of a BMW as a first car is hugely appealing, but in the real world this won't be a viable option for anyone other than the supremely wealthy. With a £41,485 price tag, young drivers will be priced out of buying a 530e iPerformance immediately, and insurance will also be prohibitively expensive.
Quality and image
As far as brand perception goes, BMW – and the 5 Series in particular – oozes quality. The 530e's appearance is understated and smart, and undoubtedly high-end. The same can be said of the cabin, which is fitted with an array of plush materials including leather upholstery and piano black panelling on the dash. Build quality feels solid – as it should in a car that costs upwards of £40,000.
Accessibility
As a large, five-door saloon, only the frailest of people will have a hard time sitting themselves down in the 530e IPerformance. The door apertures are all wide enough that even larger people can fit through without breaking a sweat, and the car isn't so low that you really have to make an effort of lowering yourself into the seats. The boot does have a bit of a lip, but for the most part its design is very conducive to easy loading.
Stereo and ICE (In car entertainment)
The in-car entertainment is one of the big highlights of the 530e iPerformance. The high-resolution 10.25-inch infotainment system display looks fantastic, and incorporates features such as satellite navigation, DAB radio, Bluetooth connectivity and smartphone connectivity. The BMW is also available with Microsoft Exchange, which provides customers with access to emails while on the move. Appointment addresses can even be imported directly from your smartphone into the satellite navigation.
Colours and trim
As you might expect from an upmarket German saloon, the BMW 530e iPerformance is available in a range of fairly subdued and sober-looking, yet smart colours. These include blacks, silvers and whites, as well as golds and a dark blue. Don't expect to find any stand-out yellows or reds available on this premium car. The 530e is available in two trim levels in the UK – SE and M Sport.
Parking
While the 530e iPerformance is a fairly large car, parking is made that much easier by a standard rear parking camera. This helps to highlight any obstacles or hazards that might be directly behind the car, and is a brilliant tool to have when squeezing into tight spaces. The optional Park Assist system can be added to make parking even easier again. This package includes a self-parking function, which is able to position the 530e iPerformance in perpendicular or parallel spaces.
Spare wheel
Run-flat tyres are standard.
Range information
Petrol hybrid engine options: 2.0-litre four-cylinder w/electric motor (249bhp). Transmission options: Eight-speed Steptronic automatic. Trim levels: SE, M Sport.
---
Alternative cars
Lexus GS 300h Eye-catching appearance and solid build quality are combined with high levels of comfort.
Mercedes-Benz E 350e Low CO2 emissions and a premium cabin, but not hugely exciting to drive.
Volkswagen Passat GTE The GTE offers an attractive blend of performance, refinement and efficiency.
Mitsubishi Outlander PHEV An SUV rather than a saloon, but one of the most popular PHEVs on the market.