BMW 5 Series 530d Executive GT
Bright and airy cabin
September 2009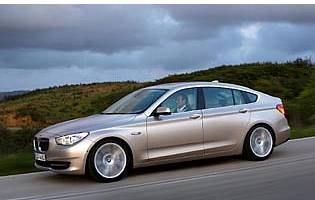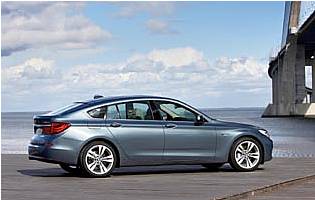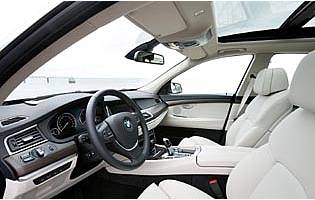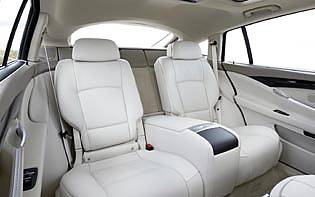 Overall rating

Likes:
Bright and airy cabin boosted by panoramic glass roof
Driving experience stays true to BMW's core values
Rear seat space is excellent – up there with regular limousine-style saloons
Flexible load options and overall space available adds interesting dimension
Gripes:
Exterior design won't please everyone
Although attractive, light coloured trim options not compatible with family life
Executive-spec car is genuine four-seater so think hard before taking the plunge
The list of extras is long and tempting – but some should be standard
Keen to exploit a perceived gap in the market, BMW has come up with a car that crosses the traditional premium estate with the popularity of the executive, sporting SUV. The result is the 5 Series Gran Turismo, a car targeted at buyers seeking practicality and refinement but without the negative baggage of the premium 4x4 genre.
It's been the popular view within the industry that Audi has been the most successful when it comes to exploiting gaps in the market. Niche models have successfully contributed to the firm's bottom line – witness the A6 allroad. BMW's foray into niche-busting territory started with the X6, a sporty SUV.
Looks aside it's been well received, and it's easy to see why the company would want to repeat the exercise. The 5 Series Gran Turismo is, ironically, being viewed by some as the antidote to premium SUVs. Boasting the refinement, load space and driving dynamics of a conventional estate car but the style and raised seating position of an SUV, it claims to offer the best of both worlds.
What's immediately clear is that the 5 GT is more car than SUV in appearance. This will no doubt please buyers who view big 4x4s as bulky and unwieldy. The 5 GT's rear hatch shape hides a clever dual function tailgate: it will open like a saloon and hatch for added convenience and versatility respectively. Fold the rear seats and you've got estate car levels of space, too.
Rear seat occupants are blessed with 7 Series levels of legroom, while the overall ambience is more limousine than conventional estate car. And yes, the 5 GT drives pretty much like any other BMW, albeit with the bias skewed slightly towards luxury and a plush ride.
Our verdict on the BMW 5 Series 530d Executive GT
The 5 Series Gran Turismo is not your average BMW. With the need to be more competitive than ever, finding new markets is the key for car companies to remain prosperous. The 5 GT offers buyers unimpressed with the SUV genre (who also never venture off-road) a refined, practical alternative that's also good to drive.
---
Costs
When viewed in isolation the 5 GT is surprisingly good value for money. Standard equipment levels are generous by BMW's standards, while the car's added practicality will be hard to find elsewhere for similar money. Opting for the diesel variant improves matters considerably, while its niche position and low volume should help it remain desirable when it comes time to sell on.
Space and practicality
Although neither an SUV nor conventional estate car, the 5 GT offers the space – cabin and load area – of the former. The car's split tailgate is a welcome addition, especially when loading large items, while the ability to stretch out in the back is rivalled only by BMW's 7 Series. Cabin storage areas are generous, which is more than can be said for most executive-class cars.
Controls and display
Sensibly laid out controls and displays are the hallmark of BMW products and the 5 GT is no different. Anyone familiar with the 7 Series layout will be right at home here. Sensible evolution has produced a more intuitive i-Drive control interface, while the main screen positioned high up in the fascia proves its worth when displaying the satnav map.
Comfort
Designed with a grown up family or active couple in mind, it's obvious that the car has been tuned more towards the 7 Series end of the refinement spectrum. Plush seats, minimal wind and tyre noise plus acres of leg and headroom in the rear should allow occupants to relax.
Car security
There are no complaints here as the 5 GT is fully protected by an alarm and immobiliser system. The keyless starter button arrangement works well. You might want to consider a tracking device for added peace of mind, this is an expensive and potentially desirable car after all.
Car safety
As you would expect, no corner has been cut on the safety front. The cabin is full of airbags, while the various electronic aids have been calibrated to cut in when needed but not spoil the your enjoyment when driving enthusiastically.
Driver appeal
Featuring BMW's classic rear-wheel drive layout, the 5 GT behaves much like a regular 5 Series. The performance edges have been rounded off though, with a hint of the 7 Series' plush ride quality evident when cruising on the motorway. Extras such as active ride and rear wheel steer should help please keen drivers, while the eight-speed auto gearbox and self-levelling rear suspension are both worthy of praise. Predictably, of all the engines the diesel unit is the smart option; it's frugal, willing and refined.
Family car appeal
For a car in the executive market, the 5 GT has the jump over a conventional saloon or estate model. Offering the best of both worlds, the big BMW might be viewed as a niche proposition but if the former pairing or a bulky, imposing SUV don't appeal there's little else to choose from. More suited for a mature family – think plush upholstery – the 5 GT is a practical, refined holdall.
First car appeal
If you have the means to acquire and run the car, then go ahead. It's easy to drive and park, although as a genuine first car a 1 or 3 Series might be less of a burden on your finances.
Quality and image
The BMW brand is a strong one and has many loyal followers. Impressive build quality and an increased focus on economy without sacrificing performance have put the firm ahead of its rivals. Recent radical designs have caused a few ripples, though.
Accessibility
Being a fraction taller than a conventional saloon, the 5 GT's seating positions are raised slightly but, crucially, not as much as a full-blown SUV. This happy compromise extends to the rear of the car, with the ability to access the load area via a saloon-like boot or hatchback tailgate – just like Skoda's second generation Superb.
Stereo and ICE (In car entertainment)
The standard offering is up to BMW's usual high standards, and offers occupants a choice of inputs plus an easy to use control interface. The much improved i-Drive is the main controller and works surprisingly well. MP3 player and iPod connectors plus satnav and Bluetooth hands-free functions are available, while rear seat entertainment (seat back screens) are also an option.
Colours and trim
A bold-looking car styled in a similar vein to the 7 Series, it's no surprise that dark, subdued colours help flatter the 5 Series Gran Turismo's complex shape. Inside, the large cabin benefits from a choice of light coloured trim and fabrics to enhance the airy, spacious ambience.
Parking
Although a big car, parking sensors and the option of a reversing camera take the hassle out of parking. The three-quarter rear view from the driver's seat isn't great, though. The car's small rear screen is the main culprit here. Still, light and accurate steering helps matters.
Spare wheel
Run flat tyres fitted.
Range information
Petrol engine options – 3.0-litre (306bhp); 4.4-litre (407bhp). Diesel engine options – 3.0-litre (245bhp). Transmission options: eight-speed automatic gearbox. Trim levels: SE, Executive.
---
Alternative cars
BMW X6 Internal rival is more SUV than trad estate – divides opinion
Mercedes-Benz R-Class Unusual blend of premium saloon and people carrier. Practical but unweildy
Audi Q7 Lacks the BMW's subtlety but isn't lacking in the space department
Mazda CX-7 Affordable 'sporty' SUV lacks the BMW's image but offers lower cost alternative to estate car concept