BMW 5 Series 520i SE
Outhandles the opposition
February 2004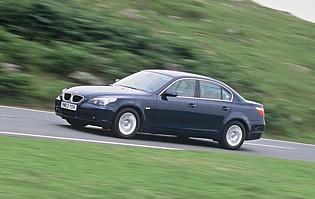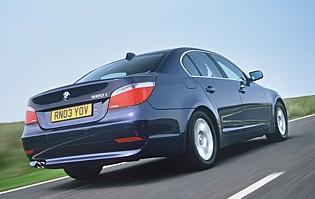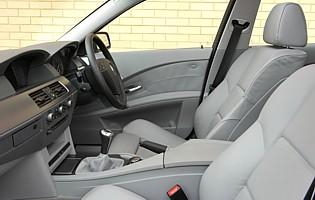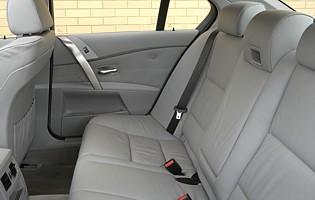 Overall rating

Likes:
Comfortable driving position
Outhandles the opposition
Outstanding diesel engines
Refined cabin great on long trips
Gripes:
Exterior styling off-putting for some
Cabin quality not as good as previous generation Five
iDrive can take some getting used to
Jerky clutch action on manual variants
BMW's latest generation 5 Series is the most daring ever. Styled to complement the firm's controversial 7 Series, the Five has provoked a wealth of reactions – both good and bad. Underneath the car's radical skin, however, is a machine that takes the legendary 5 Series experience to new heights.
Few people were prepared for the sight of BMW's successor to the all-conquering E39 5 Series when it first broke cover. With its rakish profile and unusual curves, the styling of the E60 variant was more revolutionary than evolutionary – not BMW's usual design policy.
Now that the fuss – and the brickbats – have largely abated, we can see the car for what it is: an attempt by the firm to break free from the staid nature of its, admittedly, class-leading predecessor and secure the affections of a new, younger generation of buyers.
The family resemblance to the flagship 7 Series – the pioneering model in terms of BMW's new design language – and the daring Z4 roadster is plain to see. All three exhibit similar styling traits, an attribute that hasn't stopped the Z4 from selling like hotcakes, and the Five also inherits the Seven's unloved iDrive, albeit in a simplified form.
Away from the obvious changes, the latest Five boasts more rear cabin room – a bugbear of the E39 – and a host of technological features to improve ride, handling and occupant comfort. Heading the list of (optional) worthwhile improvements are Active Steering and Dynamic Drive. The former is a variable ratio steering rack that makes light work of low and high-speed manoeuvres, while the latter endows the Five with an eerily flat cornering attitude regardless of entry speed.
Thankfully BMW's impressive engine range is devoid of any radical developments. The petrol units are as smooth as ever, while the diesel motors – in particular the 3.0-litre – put rivals' efforts to shame and will even make petrol lovers think twice.
Our verdict on the BMW 5 Series 520i SE
An accomplished all-rounder that, in the latest E60 guise, continues the good work of its predecessor. Although more evolutionary than revolutionary in how it performs on the road, BMW's newest 5 Series remains far ahead of the chasing pack. Question marks may still remain over the car's looks, but there's no denying its ability.
---
Costs
Purchase price aside, the 5 Series won't put a huge strain on your wallet. Save for the 545i, petrol models hover around the 30mpg mark for the combined cycle. The 530d trumps them with an impressive 40.9mpg, and emits a tax-friendly 184g/km CO2. Add the line-up's reasonable insurance groupings that range from 15 for the 520i to 18 for the flagship 545i, and suddenly the car makes sense. Running costs can be reduced further by purchasing BMW's 'Service Inclusive' (SI) fixed price plan. GBP750 gets you a Europe-wide maintenance policy covering five years/60,000 miles.
Space and practicality
As large saloons go, the car is up there with the competition. Rear legroom has increased over its predecessor, which is sure to make long journeys more enjoyable for tall adults. Boot capacity is good but not class-leading at 520 litres. Its aperture is sensibly shaped to accommodate awkward loads. Inside, there's the usual scattering of cubbyholes, with the centre armrest a convenient size for swallowing mobile phone chargers and the like. Although welcome, the positioning and quality of the cupholders suggests their inclusion was more of an afterthought.
Controls and display
With a reputation for designing cars with clear, easy to use controls, BMW's decision to fit its controversial iDrive shocked critics and will have technophobes diving for cover. Although this is a simplified version of the system first seen in the 7 Series, navigating the various menus demands a fair amount of concentration – not an activity recommended whilst driving. This ergonomic blip aside, all other controls are well thought out, with the comprehensive trip computer and (optional) sat-nav particularly easy to use.
Comfort
In standard trim the Five is a smooth performer. Seats are supportive, legroom is ample both fore and aft and the multi-adjustable driving position should suit most people. A substantial clutch footrest makes long journeys painless for the driver and the cabin does an excellent job of suppressing noise. Selecting either comfort or sports seats from the options list improves matters greatly, yet larger alloy wheels replete with run-flat tyres deliver an over-firm ride as they struggle with urban undulations.
Car security
A Thatcham Category 1 alarm is standard on all models. Given the car's substantial value – even in 520i trim – BMW offers three different levels of optional remote tracking depending on your budget. In conjunction with Tracker, you can opt for a basic package or one that comes with all the bells and whistles to enable you and the police to recover your car in the shortest time practicable.
Car safety
Six airbags come as standard on the 5 Series – twin front and side and twin curtain bags stretching the length of each side of the car's cabin. Rear side airbags are cost options. Other features include the usual traction and stability devices (ABS, DSC), plus a useful tyre pressure warning system. BMW makes great play of its use of complex crumple zones to ensure occupants are protected in the event of a crash.
Driver appeal
This latest 5 Series picks up where the old car left off. Still the weapon of choice for the enthusiastic driver, the car's classic rear-wheel drive layout affords it a level of performance that rivals can only dream of. The much-vaunted optional Active Steering is less of a must-have than Dynamic Drive, though. The latter reduces body roll to almost supercar levels without spoiling the already fluid ride. All engines do a fine job, although the 520i is no fireball. The real star is the 530d – a terrific all-rounder and frugal to boot.
Family car appeal
While the 5 Series doesn't shout 'family car', it's more than capable of accommodating a typical two-adult, two-child family. Legroom in the back will be more than sufficient for when the offspring start growing at their usual, rapid rate. You won't find any fancy folding seats to rival the versatility of an MPV, but you will find a commodious boot that can easily swallow the family shopping and keep valuable items out of the sight of thieves – not something people carriers are famous for doing.
First car appeal
As a first executive car you can't go wrong with the 5 Series. While neither the best equipped nor the cheapest out of the box, the Five delivers a first class introduction to motoring at boardroom level. From an ease of driving perspective, the car is no different to its rivals – unless you're allergic to big cars. In fact, opting for Active Steering could be the saviour for anyone who dreads parking. Predictably, the only hurdle to ownership is likely to be the car's looks.
Quality and image
There's no denying that the 5 Series is a quality item. BMW has a long tradition of delivering cars built to the highest standards. And yet, cracks have appeared in the German firm's armoury. Cabin fit levels cannot be faulted, but certain plastics – the cupholder, for example – jar with wood and metal trim materials. That said, the switchgear is faultless and the seats – fabric and leather – are expertly made. Image-wise the Five has taken a few hits from critics who believe the car's looks will count against it when up against more conservative rivals. There's no doubt the car is an acquired taste, but BMW's underlying brand image is strong enough to push through acceptance in the long run.
Accessibility
Boasting a roomy cabin, supportive seats and clear switchgear and instruments, the 5 Series is a car with few negative aspects. Doors open wide – even in the rear. Forward head and legroom is generous, while at the rear it is predictably less so. Legroom is improved over the previous model. Multi adjustable front seats make getting comfortable easy, while drivers benefit from a steering wheel that adjusts for both reach and rake. Also generous is the car's boot, although retrieving items from its deepest point can be tricky.
Stereo and ICE (In car entertainment)
Historically, BMWs have never come laden with fancy audio systems as standard, and the current 5 Series is no different. Factory fresh, the car boasts a modest single-slot CD player. Delve deep in the options list and there's a CD-changer for a modest sum, plus the opportunity to upgrade to something more akin to a high-end home set-up. Two different types of satellite navigation exist, as does a TV receiver. There is also provision for a hands free mobile phone or a Bluetooth wireless option if you have suitably equipped phone of your own.
Colours and trim
Given the 5 Series' rakish exterior, the car is unsurprisingly colour sensitive. Dull hues do the car few favours, whereas from certain angles black and dark blue can make the Five look flabby. Although hardly original, BMW's trademark silver is possibly the best choice to show off the car's complex curves and lines. Presently, only 'SE' trim is offered, but the depth of the options available should ensure your every whim is catered for.
Parking
Manoeuvring a 5 Series at low speeds is neither a chore nor a challenging exercise. Forward visibility is good for a car of this size, although the end of the bonnet will be difficult to place for all but the tallest of drivers. In saloon trim, the Five's sizeable boot is easy to locate when reversing, and both side and rear view mirrors offer a good view in their respective directions. Parking is made much easier by the car's front and rear sensors (standard on the 530d and above).
Spare wheel
Space saver wheel fitted as standard. Buyers who select the optional run-flat tyres sacrifice the spare for puncture repair mousse.
Range information
Six engine options – 2.2-litre (170bhp) petrol; 2.5-litre (192bhp) petrol; 3.0-litre (231bhp) petrol; 4.4-litre (333bhp) petrol; 2.5-litre (177bhp) diesel; 3.0-litre (218bhp) diesel. All cars come with a six-speed manual gearbox as standard, six-speed auto gearboxes optional on all variants. Currently one trim level: SE.
---
Alternative cars
Mercedes E-Class  Easier on the eye and competent all-rounder
Jaguar S-Type  Improved S-Type a serious contender
Volvo S80  Dynamically inferior but excellent value for money
Audi A6  Latest model is both stylish and driver-focused