BMW 4 Series M4
Aggressive and purposeful exterior
July 2014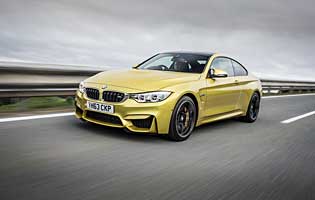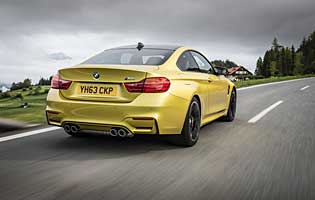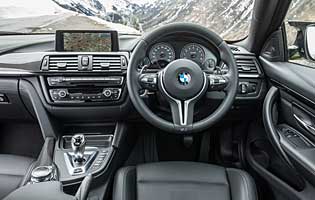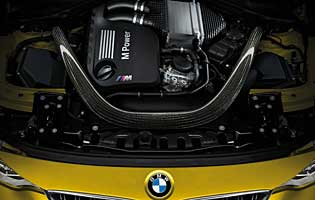 Overall rating

Likes:
Aggressive and purposeful exterior look
Turbocharged engine is flexible, powerful and easy to exploit
Unflappable handling makes for a fun drive
As easy to drive as any other 4 Series
Gripes:
Arguably not as pretty as equivalent 3 Series
Exhaust noise can sound too artificial at times
Concessions to comfort take away some of the usual hard edge of an M car
Running costs likely to be high
BMW's M range of high performance cars are some of the most revered in the world, and the most popular of those has been the M3. However there is no longer a 3 Series coupe body style as this has been spun-off into the 4 Series Coupe and Cabriolet. That means there is now an M4 for the first time, and alongside the M3 saloon it becomes the new standard-bearer for the M car brand.
There has always been a strong demand for the BMW 3 Series regardless of body style, and the Coupe model has always been a strong seller as well as providing the basis for the M3 performance version. However an increasing number of competitors have entered the premium coupe segment, so it is perhaps inevitable that BMW has sought greater distance between saloon and coupe.
That is the thinking behind the 4 Series, which is a model line in its own right. The result of this is that the most popular M car of them all is now an M4 rather than an M3. Although there will be saloon M3 it is the coupe M4 that will take the lion's share of sales. The good news is that the M4 is now more distinctive than ever before.
The M4 follows the well-established route to creating an M car from a standard BMW although arguably this incarnation is more comprehensive than ever before. Arguably the biggest change is that this is the first M car of this size to use a turbocharged engine rather than a naturally aspirated one, as the quest for increased performance with better emissions continues.
Elsewhere the M4 uses more lightweight carbon fibre than ever before, including the roof, an under-bonnet strut brace and a lightened driveshaft that helps to reduce weight by 85kg over its predecessor. There are also numerous aerodynamic add-ons designed to improve the M4's performance as well as it looks.
Our verdict on the BMW 4 Series M4
Elsewhere the M4 uses more lightweight carbon fibre than ever before, including the roof, an under-bonnet strut brace and a lightened driveshaft that helps to reduce weight by 85kg over its predecessor. There are also numerous aerodynamic add-ons designed to improve the M4's performance as well as it looks.
---
Costs
There's no getting around the fact that the M4 is an expensive car to buy, although running costs will be better than any of its predecessors. Even so, the M4 will need to be serviced well in order to maintain its performance and longevity.
Space and practicality
Front seat passengers have plenty of space, usefully more than its predecessor while in the back two adults can sit in comfort. Boot space remains impressive for a coupe and is unchanged over the standard car.
Controls and display
BMW's various instrument and displays have steadily evolved over the years, and the M4 presents occupants with a classy set of intuitive controls. The infamous i-Drive controller remains for the heavily lifting, but like the rest of the car it's much improved.
Comfort
Remarkably the M4 is virtually as comfortable as the standard car, arguably more so because what it gives away in a slightly firmer ride it makes up for with superb sports seats. Noise levels are well controlled with the option to turn down the exhaust noise too.
Car security
The remote locking function is a simple and discrete one, while the car's boot is separate from the passenger area, ensuring that your valuables can be locked out of sight for added peace of mind.
Car safety
Like every BMW the M4 has a complex suite of safety aids including Dynamic Stability Control which has different modes to suit your preferred driving style, as well as a useful hill-hold function.
Driver appeal
Like all modern M cars the M4 has a number of settings allowing the driver to tailor the car to their mood, but whatever the settings it is deeply impressive. The engine is incredibly flexible, delivering strong acceleration at almost any engine speed. The steering is responsive without being over-sensitive, while the grip and balance gives the driver lots of confidence.
Family car appeal
Although there's enough space for a family the lack of rear doors makes it more hassle to use for this purpose compared to the M3 saloon. However there is still enough space to perform family duties, and children who are old enough to manage will have no problem climbing into the rear.
First car appeal
As much as the M4 is an easy car to drive it still has a huge amount of power and in inexperienced hands could easily become a handful. It's also unlikely that a newly-qualified driver would be able to insure such a car, never mind buy one in the first place.
Quality and image
BMW has worked hard on its image over the years, with the main focus on its cars' driving performance. This approach has softened of late as the firm seeks to broaden the appeal of its products, even as far as its M cars which are easier to drive than ever before. An increased focus on fuel economy and reduced emissions has earned it praise and helped boost sales at a time of rising car ownership costs.
Accessibility
The two-door-only M4 body style inevitably means reduced access to the rear seats. The doors are long however, leaving a large aperture and the seats tilt and slide forward a long way. As long as you are reasonably able-bodied it is reasonably easy to get into the rear. Those in the front will have no problems however, and the boot has a tall and wide aperture for easy loading.
Stereo and ICE (In car entertainment)
The standard fit M4 system offers up satellite navigation, Bluetooth and the option of Google Maps and Connected drive, all controlled through the i-drive system which is easier to use than ever before.
Colours and trim
As well as the standard discreet metallic shades the M4 comes in some more eye-catching offerings which are entirely a matter of personal taste. On the inside it's mostly dark shades but the quality of the leather and plastics added to a choice of hard finishes boost overall quality.
Parking
With reduced rear visibility and a long rear overhang it's crucial to take a bit more time getting the M4 parked. Parking sensors are standard and the optional reversing camera is a big help. Elsewhere, the car's steering delivers plenty of assistance at low speeds, while forward visibility is good.
Spare wheel
Tyre inflation kit and run-flat tyres fitted as standard
Range information
Petrol engine options – 420i (184bhp); 428i (245bhp); 435i (306bhp), M4 (425bhp). Diesel engine options – 420d (184bhp); 430d (258bhp); 435d (313bhp). Transmission options: six-speed manual transmission plus eight-speed auto transmission depending on engine choice. Trim levels: SE, Sport, Modern, Luxury, M Sport, M.
---
Alternative cars
Audi RS4 Saloon or estate only but fast and fun to drive
Mercedes-Benz C63 AMG Coupe This 6.2-litre version dominated by sensational engine
Lexus IS-F Left-field challenger is saloon only but has character and good performance
Porsche Cayman S Smaller than an M4 but arguably a better drive