Log in or register
close
My AA Account
Sign in to see your cover and request assistance online
Don't have a My AA account?
You'll need your policy or membership number
BMW 4 Series Coupe 335i
Enjoyable driving experience
November 2013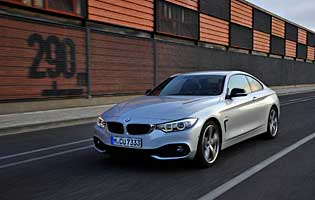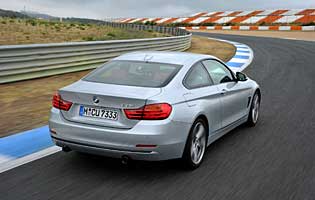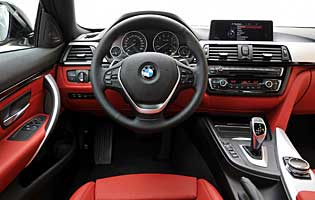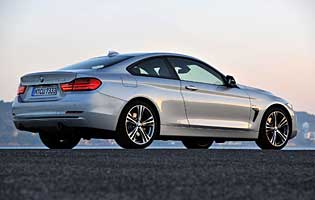 Overall rating

Likes:
Smart but understated exterior appearance
Unflappable and enjoyable driving experience
Smooth and powerful engines
Smart cabin is still spacious and comfortable
Gripes:
3 Series saloon is very close in many areas
Entry to the rear compromised
Sensitive to wheel and colour choice
High running costs for top petrol model
Where there was once just the 3 Series Coupe, there is now the 4 Series. BMW has taken steps to differentiate its bodystyles further than before by creating new model designations. The first of these is the 4 Series, which as its name suggests sits above the 3 Series in the model hierarchy.
There has always been a strong demand for the BMW 3 Series regardless of body style, and the Coupe model has always been a strong seller as well as providing the basis for the M3 performance version. However an increasing number of competitors have entered the premium coupe segment, so it is perhaps inevitable that BMW has sought greater distance between saloon and coupe.
Visually there are clear links with the 3 Series saloon. The 4 Series' basic silhouette is related, but actually the number of differences are numerous; only the bonnet is shared between the two models. The 4 Series has different headlights and bumpers, wider wheel arches and 'air breathers' – small vents in the front wings to aid aerodynamic performance.
Mechanically the 4 Series carries over much of its layout direct from the 3 Series saloon. The front engine and rear-wheel drive layout remains identical, although the suspension on the 4 Series is stiffer across the range as well as lower, helping it to have what BMW claims is the lowest centre of gravity of any of its models.
The 4 Series also comes with a reduced engine range compared to the 3 Series, with the pick of the diesel and petrol engines offered with a choice of manual or automatic gearboxes. On the inside the seats are mounted 9mm lower than in the saloon 3 Series which BMW claims increases the sporty feeling.
Our verdict on the BMW 4 Series Coupe 335i
Where the 3 Series Coupe rarely felt more than just a saloon with fewer doors, the 4 Series offers that bit more by being a greater step away from its stablemate. As assured and capable as any BMW, it has a more focused sporty streak running through it without giving up its comfort or usability. For those who can live without the practicality loss it makes a lot of sense.
---
Costs
With a broad range of engine options from high performance petrols to very frugal diesels, there should be a version to suit a range of budgets. It's worth bearing in mind however that servicing costs do tend to fall in line with the premium price tag.
Space and practicality
Front seat passengers have all the room they could wish for, as do those in the back although it is a little more complicated getting into the rear seats in the first place. Boot space is also still very good.
Controls and display
BMW's various instrument and displays have steadily evolved over the years, and the 4 Series presents occupants with a classy set of intuitive controls. The infamous i-Drive controller remains for the heavily lifting, but like the rest of the car it's much improved. If selected, the widescreen satnav option does make life much easier for navigation duties.
Comfort
There are no real compromises in terms of comfort with the 4 Series. Even those sat in the back have their own individual seats and any reduction in headroom because of the lower roof is marginal. Noise levels are also well managed.
Car security
The remote locking function is a simple and discrete one, while the car's boot is separate from the passenger area, ensuring that your valuables can be locked out of sight for added peace of mind.
Car safety
Like every BMW the 4 Series has a complex suite of safety aids including Dynamic Stability Control which has different modes to suit your preferred driving style, as well as a useful hill-hold function.
Driver appeal
With a slightly sportier intent compared to the 3 Series the 4 has to deliver. In the most powerful 435i guise there is plenty of performance on offer and the slick eight-speed automatic gearbox works well in automatic or manual modes. Although the difference between it and the 3 Series are marginal it does deliver an exciting driving experience.
Family car appeal
Although there's enough space for a family the lack of rear doors makes it more hassle to use for this purpose than the saloon or Touring 3 Series. However there is still enough space to perform family duties, and children who are old enough to manage will have no problem climbing into the rear.
First car appeal
There are no pitfalls to catch out the novice driver with the 4 Series; it is sufficiently easy to drive, even with the more powerful versions. It is only the cost of purchase that will put it out of reach for most.
Quality and image
BMW has worked hard on its image over the years, with the main focus on its cars' driving performance. This approach has softened of late as the firm seeks to broaden the appeal of its products. An increased focus on fuel economy and reduced emissions has earned it praise and helped boost sales at a time of rising car ownership costs.
Accessibility
The switch to a two-door body style inevitably means reduced access to the rear seats. The doors are long however, leaving a large aperture and the seats tilt and slide forward a long way. As long as you are reasonably able-bodied it is reasonably easy to get into the rear. Those in the front will have no problems however, and the boot has a tall and wide aperture for easy loading.
Stereo and ICE (In car entertainment)
The standard 4 Series unit does a good job on all fronts – usability and sound quality. Move up to sat-nav and you can have a car with a wide screen display and a much improved i-Drive controller, and even Google connectivity. Bluetooth phone functions are straightforward, as is the ability to connect an Apple device.
Colours and trim
Subtle metallics are the order of the day with the 4 Series, although the freshness of the design means it looks good in white too. Taking a restrained approach with the cabin is also the best option, although there are more outrageous options to choose from.
Parking
With reduced rear visibility and a long rear overhang it's crucial to take a bit more time getting the 4 Series parked. Parking sensors, where fitted, make life a good deal easier, while the optional reversing camera is a big help. Elsewhere, the car's steering delivers plenty of assistance at low speeds, while forward visibility is good.
Spare wheel
Tyre inflation kit and run-flat tyres fitted as standard
Range information
Petrol engine options – 420i (184bhp); 428i (245bhp); 435i (306bhp). Diesel engine options – 420d (184bhp); 430d (258bhp); 435d (313bhp). Transmission options: six-speed manual transmission plus eight-speed auto transmission depending on engine choice. Trim levels: SE, Sport, Modern, Luxury, M Sport.
---
Alternative cars
Audi A5 Stylish big coupe has aged well, driving experience very dependent on engine choice
Volkswagen Scirocco Less expensive but stylish, distinctive and spacious
Mercedes Benz C-Class Coupe An ageing design but still drives well and looks good
Hyundai Veloster Left-field choice with unusual three-door layout, much cheaper but good to drive