BMW 4 Series Convertible 420d SE
Smart but understated exterior
April 2014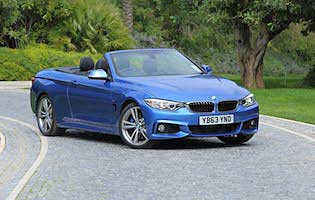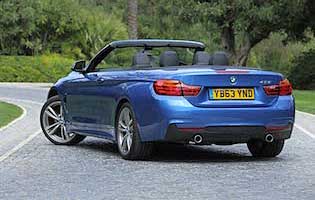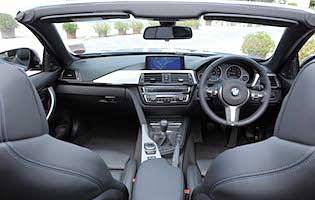 Overall rating

Likes:
Smart but understated exterior appearance
Conservative and measured driving experience
Purposeful and frugal engines
Folding roof works well
Gripes:
Diesel option can sound gruff
Quality of the manual gearchange is disappointing
In reality there's very little room behind the front seats
Real world petrol model running costs aren't that special
Sticking with the tried and tested format that proved so successful for its predecessor, BMW's 4 Series Convertible retains a metal folding roof in a bid to deliver real world practicality alongside top-down desirability.
Thanks to BMW's revised naming convention this car could be viewed as a 'new' 3 Series Convertible. However, '4' is reserved for coupe and convertible models while '3' is retained for the more sensible saloon and estate models. Still, the name change is a reminder of the car's clean sheet design.
A more muscular approach to exterior design has been taken with the 4 Series, and this is most obvious from the front. At the rear there's a greater similarity to the car's predecessor, while the cabin offers BMW fans a familiar place to spend some quality time.
Styling changes aside, BMW's focus on economy and reduced emissions is a familiar one, with both petrol and diesel engines offering meaningful savings plus useful performance improvements.
You'll need to stretch to the flagship six-cylinder petrol models if you want to enjoy the car's full potential, though. The rest of the range offers a solid and engaging experience, but it's clear that the bias has now shifted slightly to focus more on refinement and comfort.
Our verdict on the BMW 4 Series Convertible 420d SE
There's little doubt that the 4 Series Convertible is a premium item. From its mature design to the high level of refinement and cabin ambience, it's clear that the ownership experience will be a pleasant one. Factor in the convenience of the metal folding roof and the potential to make meaningful financial saving and it's a compelling car.
---
Costs
For all the car's glamour, the reality is that if you want to maximise economy you'll need to opt for diesel power. If you don't rack up the miles the petrol engines aren't that far behind. Either way, you'll still need to spend some money on options if you want to life a comfortable life with the 4 Series.
Space and practicality
Front seat passengers have all the room they could wish for, while those venturing into the back need to be small and tolerant. Oddment space in the cabin is reasonable. While you take a small hit in terms of boot versatility, the ability to raise the whole structure when the roof is down to increase access to the load area is a clever and welcome feature.
Controls and display
BMW's various instrument and displays have steadily evolved over the years, and the 4 Series presents occupants with a classy set of intuitive controls. The infamous i-Drive controller remains for the heavy lifting, but like the rest of the car it's much improved. If selected, the widescreen sat-nav option does make life much easier for navigation duties.
Comfort
There are no real compromises in terms of comfort with the 4 Series Convertible – assuming you're sat in the front. Rear seat practicality is marginal for adults, making short journeys the norm. With the roof down the car boasts good levels of refinement and low wind noise, with the cabin surprisingly coupe-like with the metal folding roof in the up position.
Car security
The remote locking function is a simple and discrete one, while enhanced keyless entry and ignition format ensures you can keep the key out of sight for added security. BMW's decision to stick with a metal roof adds a welcome extra layer of resilience in the face of thieves seeking to gain access to the car's cabin.
Car safety
Like every BMW the 4 Series has a complex suite of safety aids including Dynamic Stability Control, which has different modes to suit your preferred driving style, as well as a useful hill-hold function.
Driver appeal
Keen drivers will no doubt be seeking out an M Sport variant, complete with sports suspension, in a bid to connect with BMW's driver-centric approach. For everyone else, in standard guise the car's direct and weighty steering is a good start but the notchy manual gearshift is a let down. And while the petrol engines are impressive, you'll need to trade refinement for economy if you choose diesel power.
Family car appeal
It would be hard to recommend the 4 Series Convertible in the face of more suitable machinery from within BMW. As a second car it would be fine, but boot space and overall flexibility lags behind the likes of a 3 or 5 Series Touring and any of the firm's SUV offerings.
First car appeal
While the 4 Series Convertible is sufficiently easy to drive, visibility isn't perfect and there's the small matter of purchase price and running costs. A 1 Series or even a Mini might be a safer financial bet as a first car.
Quality and image
BMW's long-held 'Ultimate Driving Machine' mantra has softened of late as the firm seeks to broaden the appeal of its products. An increased focus on fuel economy and reduced emissions has earned it praise and helped boost sales at a time of rising car ownership costs. Keen drivers are still accommodated, but the car choice is narrower than before.
Accessibility
Long doors and a sizeable rear three quarter blind spot are the two standout features here. The former is okay in all but the tightest of parking spaces, while the later is resolved by lowering the roof. Thankfully some thought has gone into accessing the boot with the roof down, as pressing a button raises the mechanism just enough to allow better access – a nice touch.
Stereo and ICE (In car entertainment)
The standard unit does a good job on all fronts – usability and sound quality. Move up to sat-nav and you can have a car with a wide screen display and a much improved i-Drive controller, and even online connectivity. Bluetooth phone functions are straightforward, although the various options can prove costly.
Colours and trim
Subtle metallics are the order of the day with the 4 Series Convertible, although the freshness of the design means it looks good in white too. Taking a restrained approach with the cabin is also the best option if you prefer the typical sombre Germanic ambience.
Parking
With reduced rear visibility and a long rear overhang it's crucial to take a bit more time getting the drop-top 4 Series parked. Parking sensors, where fitted, make life a good deal easier, while the optional reversing camera is a huge help. Thankfully the car's steering delivers plenty of assistance at low speeds.
Spare wheel
Run-flat tyres fitted as standard.
Range information
Petrol engine options – 420i (184bhp); 428i (245bhp); 435i (306bhp). Diesel engine options – 420d (184bhp). Transmission options: six-speed manual transmission plus eight-speed auto transmission depending on engine choice. Trim levels: SE, Modern, Luxury, Sport, M Sport.
---
Alternative cars
Audi A5 Cabriolet Stylish drop-top has aged well, driving experience dependent on engine choice
Volkswagen EOS Premium EOS not quite premium enough in this company
Mercedes-Benz E-Class Cabriolet Good to look at but more of a cruiser than B-road bruiser
Vauxhall Cascada Left-field choice seeking to challenge the established German firms