BMW 3 Series Touring 320d EfficientDynamics review
Predictable and enjoyable handling dynamics
November 2013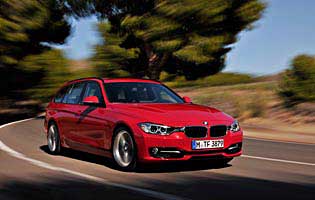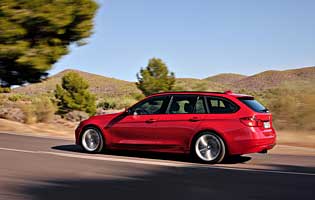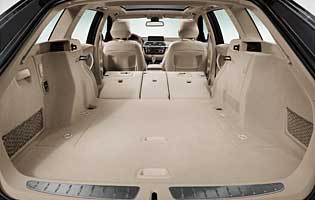 Overall rating

Likes:
Practical boot adds significant luggage capacity gains over the saloon
Great fully adjustable driving position
Predictable and enjoyable handling dynamics
Efficient Dynamics model offers considerable real world economy savings
Gripes:
Modest real world performance doesn't seem as strong as BMW's on paper claims
Gruff engine noise reduces driver enjoyment
Modest standard specification
Styling may not appeal to all tastes
Recent year have seen BMW make considerable gains in the areas of low fuel consumption and CO2 emissions levels. Thanks to the use of clever technology such as stop-start engine systems, enhanced aerodynamics, low rolling resistance tyres and changes to engines and gearboxes, a handful of its models boast performances that rival the best superminis on the market.

One such car promising ultra-low running costs is BMW's 3 Series, specifically in the eco-centric EfficientDynamic trim. Outwardly this car looks no different from the rest of the range, but the subtle application of clever engineering tricks have done wonders for its environmental footprint.

Promising low, triple digit CO2 figures and supemini levels of fuel economy, this special version of the popular 320d diesel variant should prove especially popular with business users, thanks to the combination of low running costs and promise of equally low tax outlay.

Despite its unassuming appearance, this 320d packs a few aero tricks to ensure it cuts a low drag dash. Then there's the eco-focused gearing and engine mapping that is biased more towards squeezing the maximum from the fuel tank, plus a number of driver selectable modes to further enhance the car's economy performance, such as reducing the air conditioning's power.

If this all sounds a little too much like driving the equivalent of a hair shirt you'd be wrong. BMW's aim is to minimise compromise where possible, ensuring this 3 Series drives much like any other. Granted, you're not buying the EfficientDynamics model for its outright performance, but driving it doesn't feel like a chore. Plus, you still have access to all the usual comfort and convenience cost options.


Our verdict on the BMW 3 Series Touring 320d EfficientDynamics
For many, the combination of a fuel and tax efficient 3 Series should prove a considerable attraction - especially financially savvy business users. That the driving experience is largely the same as a regular 3 Series should banish thoughts of having to make any sacrifices. Plus, in Touring guise, factor in the practical estate body and it's hard not to view this 3 Series in anything but a positive light