BMW 3 Series M3 Saloon
Subtle exterior masks potential
April 2008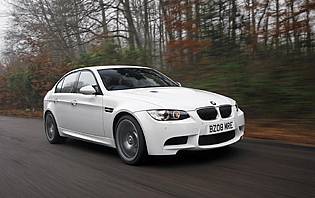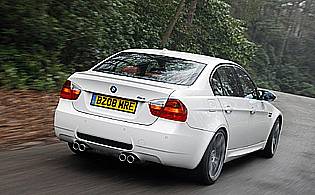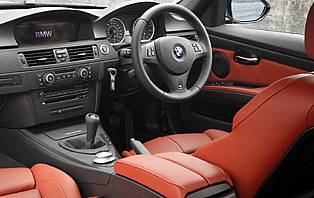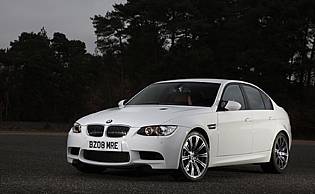 Overall rating

Likes:
Subtle exterior masks car's potential
V8 engine's flexibly nature makes it ideal for regular motoring duties
Rear-drive layout will appeal to performance purists
Practical saloon body gives an advantage over conventional performance coupes
Gripes:
Cabin doesn't feel special enough given the car's asking price
There are a lot of electronic driver aids to understand
iDrive system can still prove frustrating
Despite accessible performance, it only comes alive when driven really hard
The M3 Saloon is a rare beast. You'll have to go back two generations to the E36 variant for the previous four-door M3. For various reasons, mainly business, the saloon skipped a generation. This version, despite its outwardly subtle exterior, is a very different beast from its distant predecessor.
For anyone seeking Porsche 911-like performance from something the size of a compact executive saloon the choice used to be pretty limited. Once the trend for stuffing such cars with big, powerful engines took hold – mainly thanks to the German car makers – anyone with a family no longer felt the need to compromise.
However, anyone after a compact BMW with a supercar-bashing performance needs to be congratulated for being patient – the firm's famous M3 variant only spawned one saloon as coupe and convertible models over the years were given greater prominence. This E90 model is a break from such tradition. It, like its coupe and drop-top cousins, also boasts a V8 motor, replacing the previous car's highly acclaimed six-cylinder unit.
It's easy to be easy to be taken in by the car's 4.0-litre, 420 horsepower V8. Like so many V8-engined cars, the M3 roars away from standstill sounding like a dragster. A very different car to the previous generation M3, this car delivers an altogether more thuggish performance when pushed hard. The various onboard electronic aids do much to enhance the driving experience – once you've understood what they all do.
As with BMW's M5 and M6, the various electronic options can be grouped together, with it possible to compile a favourite combination that can be activated at the press of a button. For all its gimmickry, it is features like these that will no doubt please a new, younger albeit wealthy generation of enthusiasts.
Our verdict on the BMW 3 Series M3 Saloon
With the ability to allow you to harmlessly amble to the shops one minute yet catapult you along at ridiculous speeds the next, BMW's M3 is an impressive machine. And with this variant it's also a practical one. With this being only the second four-door M3, anyone previously resigned to ditching the Porsche to cope with a new family now has a suitable alternative to lust after.
---
Costs
There's no mistaking that BMW M motoring is expensive. Initial purchase price aside, consumables such as fuel and tyres won't be cheap, and there's the potentially thorny issue of insurance premiums – the M3 range is both powerful and desirable. Regular servicing shouldn't be too painful, but if you plan on attending a few track days then expect costs to rise accordingly.
Space and practicality
With the base 3 Series having grown noticeably in size over the years, this iteration offers a good amount of room for occupants both fore and aft. Cabin oddment space is also good for something that's not a people carrier. Rear seat occupants will experience more legroom than previously, while the car's boot offers a flexible space for shopping, golf clubs or even a pushchair.
Controls and display
Anyone familiar with the 3 Series range will find the M3's controls and displays easy to use. BMW is good at making things intuitive, and the M3's main dials and column stalks are par for the course. The car's dash-top colour screen is also clear and easy to read, although the infamous iDrive control system is still very much an acquired taste.
Comfort
For something boasting near supercar levels of performance, the M3 Saloon is a surprisingly refined car. Cabin space and comfort is very good, while outside noise levels are pleasingly low. The car's sports seats finely balance the need to keep up in place with the need to offer a cosseting experience.
Car security
For all the M3's performance potential, it's only up close that you'll spot the visual clues. And if you're an owner, you'll be hoping it'll be the same for the opportunist thief. Thankfully you get all the usual anti-theft features expected with a car like this. You might also want to think about a tracking system – unless your insurance company demands one be fitted.
Car safety
Although all 3 Series models come well equipped in the safety department, it's comforting to know that the M3 Saloon is part of that same family. Airbags aplenty are located in the cabin, plus there is a comprehensive suite of electronic aids to help keep the car on the straight and narrow – literally – if you're behaving badly.
Driver appeal
With a V8 engine up front and rear-wheel drive – the M3's familiar layout – this car is very much a focused performance saloon. No less intense than its coupe cousin when driven hard, the saloon boasts a terrific turn of speed plus a huge amount of grip in the dry. With the default six-speed manual gearbox, the car's performance is always accessible. Initially the range of electronic assistance (or not) can seem bewildering, but shortcut buttons allow you to be selective and even select a favourite combination to enhance the experience.
Family car appeal
Look past the car's un-child friendly leather seats and the M3 Saloon could easily be pressed into service as a family car. It's certainly more practical than the M3 Coupe, and its boot offers a reasonable amount of storage space. It's no family hatch or people carrier, but if the family came after the car this M3 is a sensible compromise.
First car appeal
The 3 Series range shouldn't be dismissed as novice driver transport; the cars are easy to drive and live with. The M3 is, however, a different proposition. Expensive to run and insure, the car's considerable performance shouldn't be taken lightly. In the wrong hands it could all end in tears.
Quality and image
What's not to like about a BMW? It's clear from sales figures that many people do, and with good reason thanks to desirable products. What's also appealing is the company's focus on delivering enjoyable cars to drive plus, more recently, technology aimed at boosting efficiency. The last few years have also seen a noticeable increase in build and cabin quality.
Accessibility
Being a saloon, access to the M3's cabin is straightforward – even for rear seat passengers. The Coupe variant is, by design, less practical. All the doors open nice and wide with little effort, with the boot equally easy to operate. The low load lip is also welcome.
Stereo and ICE (In car entertainment)
As befits a car in this price bracket, the M3 comes with a decent audio set-up as standard. Supplementary steering wheel controls are a welcome addition. A CD changer plus full colour sat-nav is, like the audio unit, controlled through the car's iDrive system. The secondary display sits high up in the driver's eye-line, but you'll need to make time to get the most out the not always intuitive rotary controller and screen navigation.
Colours and trim
Exterior colour will be a matter of choice – bright hues do much to flatter the car's unusual exterior details, while darker colours will allow you to creep (or speed) around largely unnoticed. Inside, the M3 is very much any high-end 3 Series. Carbon effect detailing is a subtle inclusion.
Parking
Not a large car by current standards, parking the M3 Saloon should be a straightforward exercise. At low speeds the car's steering is light and the throttle easy to modulate. The view fore and aft is good also.
Spare wheel
A tyre sealant kit is supplied as standard.
Range information
Petrol engine options – 318i (143bhp); 320i (170bhp); 325i (218bhp); 330i (272bhp); 335i (306bhp) M3 (420bhp). Diesel engine options – 318d (143bhp); 320d (177bhp); 325d (197bhp); 330d (213bhp); 335d (286bhp). Transmission options: six-speed manual gearbox standard nearly all models; six-speed auto on flagship 335d – optional on other variants except M3, which gets seven-speed dual clutch semi-auto gearbox. Trim levels: ES, SE, M Sport, M3.
---
Alternative cars
Audi A4 RS4 saloon often hailed as an example of what Audi can achieve – a very good effort
Mercedes-Benz C-Class Although hugely impressive, brutal performance from C63 AMG model might be too much for some
Lexus IS ISF model comes very close to the M3 in many areas, which is impressive for a first attempt
Mitsubishi Lancer Evolution X is a cut-price interloper: all-wheel drive, 300-plus bhp and performance to match all for around GBP20k less