BMW 3 Series M3 Coupe
V8 engine is a delight
August 2007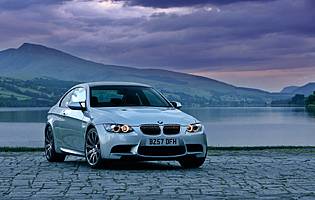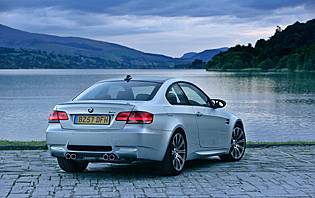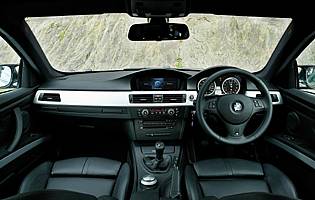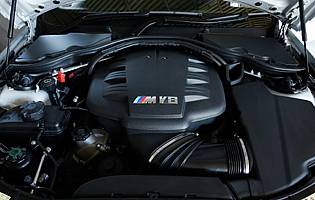 Overall rating

Likes:
V8 engine is a delight to use
Exterior is attractive and distinctive
Cabin is understated but well designed and comfortable
M3 is hardily more demanding to drive than any 3-Series
Gripes:
Fuel consumption is inevitably high
Gearshift is occasionally obtrusive
No middle rear seat
Dashboard is little changed from regular 3-Series
The BMW M3 has always been one of the most popular and desirable cars from the German manufacturer, and the introduction of this generation M3 was greatly anticipated. Designed to be a high performance machine yet docile enough to use every day, the M3 also has to face rivals more capable than ever before.
The basic template for the M3 has remained unchanged, with a two-door coupe bodystyle. Like M3s before it, this version wears exterior enhancements to separate it from ordinary coupe models. In reality, BMW claim the M3 shares only a handful of exterior parts with other coupes, and the differences are obvious. The front and rear bumpers are heavily sculpted for aerodynamic efficiency, and are made from lightweight plastic, as are the flared front wings. The aluminium bonnet has a distinct power bulge to accommodate the bigger engine, while the roof is made from an exotic mix of carbonfibre and plastic for light weight and strength.
The bonnet bulge is necessary, as underneath lies an all-new 4.0-litre V8 engine, the first time an M3 has used an eight-cylinder unit. Loosely based on the 10-cylinder units found in larger M cars, it retains the traditional M3 characteristics with its high-revving nature – the rev limit is set at a stratospheric 8,400rpm. Yet its large capacity gives it a strong torque output, making for an ideal mix of high and low rev response.
The changes underneath are just as significant, as the M3 uses re-engineered lightweight suspension components and a minimum of standard parts. Incorporated into the revised suspension layout are stiffer springs and uprated dampers, plus a host of electronic devices. Electronic dampers are available as an option, allowing the driver to tailor the suspension settings depending on the conditions.
The M3 also uses the M Drive Manager, a button mounted on the steering wheel which allows the driver to switch to preset selections for the stability control, throttle and steering settings and electronic damper settings where fitted. This highlights the M3s multi-purpose nature, allowing it to switch for cruiser to high performance machine with the push of a button.
Our verdict on the BMW 3 Series M3 Coupe
The M3 performs the dual roles of everyday car and performance car with remarkable competence. In ordinary driving it is undemanding and comfortable, yet when the conditions are right it is enormously entertaining and capable. It may be fractions behind more hardcore rivals in terms of sharpness, but only the fussiest of driver would be anything other than thrilled to own and drive it.
---
Costs
Running costs for the M3 will be relatively high. The purchase price is at the higher end of the scale, while insurance is also in the highest possible group. Fuel bills are also likely to be high, although fuel economy has improved over the previous version and it features a special electrical system that reduces engine drag for efficiency improvements.
Space and practicality
Most buyers will be happy with the amount of space on offer in the M3, with decent passengers space in the front and rear. The boot is also very generous, with more than enough space for a weekend's luggage. There is also decent storage space in the cabin, with a number of cubbies although none of them are particularly large.
Controls and display
The layout of the M3's cabin is exemplary, with a clear, crisp design which is easy to understand and use. The iDrive system which operates many of the more minor functions of the car is good to use with some practice, and reduces the amount of visual clutter on the dashboard.
Comfort
For a car as capable as this, comfort is highly impressive, with low levels of wind and road noise. The engine also remains quiet when cruising, only really increasing in volume when pressing on. The seats are also very comfortable, with a wide range of adjustment for those in the front.
Car security
A standard fit approved alarm and immobiliser system should help to keep the M3 in the custody of its rightful owners, despite its highly desirable nature.
Car safety
With a wide variety of safety systems plus the high performance nature of its brakes, tyres and suspension, the M3 is undoubtedly a safe vehicle in which to travel. It should offer a high level of protection in a crash but also be adept at avoiding accidents in the first place.
Driver appeal
The M3's chief appeal is its dual personality, being equally at home in traffic or on the racetrack. In ordinary driving the weight of the controls and smooth engine response make for relaxed progress, while the strong torque output means frequent gearshifting is not required. When conditions are suitable, the M3 responds superbly to enthusiastic driving. The engine response is magnificent, revving easily to its high limit and with a superb soundtrack. The suspension is also superbly composed, dealing with bumps and lumps easily and keeping the M3 flat and level during cornering.
Family car appeal
The M3 is capable of performing family duties, although the lack of a centre seat in the rear does restrict its carrying capacity. It does have the boot space however, and it is comfortable enough not to disturb its occupants.
First car appeal
The M3 is too expensive and performance oriented for new drivers, and the insurance costs will also prevent those without experience getting cover.
Quality and image
The M3, like its stablemates, comes across as a high quality product from every angle. The exterior design and interior materials convey a strong sense of quality and robust build. The M3's image is almost peerless, with a badge that is desirable to any fan of performance cars, and the design of the latest version simply emphasises that.
Accessibility
Access to the front seats is simple thanks to the long doors and their wide opening. Although a coupe, access to the rear seats is helped by tilt and electrically sliding front seats, requiring little extra effort for back seat passengers.
Stereo and ICE (In car entertainment)
With satellite navigation and a CD/tuner fitted as standard with MP3 compatibility, the M3 is well specified. It also benefits from an auxiliary socket and USB connection, which gives a wide choice of audio inputs. A digital radio system can also be specified optionally.
Colours and trim
The M3 is available in a wide range of exterior and interior colours, with some more unusual shades such as white now available. Inside the variety of leather colours help to lift the cabin and differentiate it from lesser 3 Series models.
Parking
Park distance control is fitted as standard on the rear of all M3 models, but the optional front and rear system with visual and audible guidance makes parking simple.
Spare wheel
Tyre inflation system fitted as standard.
Range information
Petrol engines: 2.0-litre (193bhp), 2.5-litre (218bhp), 3.0-litre (272bhp), 3.0-litre turbocharged (306bhp), 4.0-litre (420bhp). Diesel engines: 2.0-litre (163bhp), 2.5-litre (197bhp), 3.0-litre (231bhp and 286bhp). All are fitted with a six-speed manual transmission, automatic available on all models except high output 3.0-litre diesel. Trim levels are SE and M-Sport. M3 is separate model with no engine choice.
---
Alternative cars
Audi RS4 No coupe option but very close on performance and ability
Aston Martin Vantage Arguably better looking, bespoke feel inside and out
Porsche 911 Carrera S Ultimately more involving but less suited to daily use
Vauxhall VXR8 Superb performance matched by sharp design at a relatively bargain price