BMW 3 Series Active Hybrid 3 M Sport
Hybrid technology gives useful economy
October 2012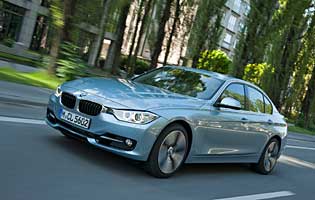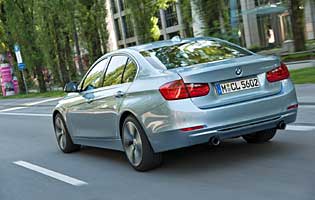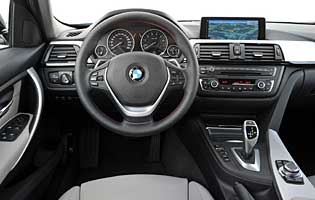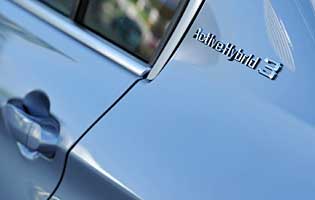 Overall rating

Likes:
Hybrid technology provides both huge acceleration and useful economy
Intuitive interface provides all the data a hybrid driver could wish for
Flexible rear seats create additional load-carrying capacity
Reasonably comfortable ride quality on 18-inch wheels
Gripes:
Sometimes difficult to maintain momentum using the electric motor alone
Faces stiff competition from its own diesel stablemates
No manual gearbox option to increase driving involvement
More economical and versatile hybrid options available for the price
Some national car markets do not encourage diesel engines, either due to the local cost of the fuel or the taxation of the engines for environmental reasons. But all markets are looking for more efficient cars and that's the reason behind BMW's hybrid powerplant technology. In the 3 Series it forms a range-topping performance flagship with lower emissions.
The Active Hybrid 3 is the developmental result of an entirely new drivetrain designed chiefly for markets like the USA, where diesel engines are not popular. Given the car's top-end positioning within the range and its inflated price relative to efficient diesel 3 Series models, BMW estimates that only 100 or so will find British homes in 2013.
It occupies a niche as a compact performance hybrid saloon, but it's clearly the most advanced 3 Series with its powerful six-cylinder petrol engine and electric motor that can power the car on its own for a few miles as long as the driver is careful. The Active Hybrid 3 is both faster and more efficient than the 335i.
Some might say it will be a fantastic lower-emission around town, but while that may technically be true its real purpose in Europe is to present lower emissions and the associated tax benefits to the privileged few executives for whom a car of this value is a viable company-sourced option. In Britain a lower CO2 output means lower company car tax.
Aside from the drivetrain it aims to be as normal a 3 Series as possible, with a good-size saloon boot, a BMW-standard media and navigation interface and nondescript styling. The only outward clues to the hybrid's identity are found in the Active Hybrid 3 badges on the C-pillar and a unique design of 18-inch alloy wheel.
Our verdict on the BMW 3 Series Active Hybrid 3 M Sport
This is a very niche model for European buyers and there are few who would prefer to pay the extra to buy this rather than choosing a much cheaper and considerably more economical EfficientDynamics diesel model. But that doesn't stop the Active Hybrid 3 being an impressive technical exercise and one that drives convincingly well. It's an elitist choice but a quiet, smooth and confident one.
---
Costs
While this car is undoubtedly cheaper to run than the 335i, it's still not a cheap ownership proposition by most standards. The Active Hybrid 3 is a premium product designed for buyers who want the best technological solution; not necessarily the cheapest. Its residual values as a rare 3 Series are likely to be high, while its low tax bill gives rise to cheaper benefit in kind payments than for a 335i.
Space and practicality
The boot is some way smaller than that of the non-hybrid 3 Series Saloon because of the presence of the batteries linked to the electric motor, but it's still comparable with compact family hatchbacks. That means there's enough room for several cases or sets of golf clubs. Inside the cabin, storage is not the most abundant and the door pockets could be more practically shaped, but there are small compartments ahead of the gear lever for oddments.
Controls and display
BMW's latest generation of displays are among the best in the business, and in this model there are extra readouts for the electric components and overall drivetrain. The dynamic drivetrain diagram is not as clear as some rivals', but the main instrument cluster is ideal. It shifts display readouts according to the driving mode the car is in, giving the driver the most relevant information in supremely easily legible fashion.
Comfort
One of the advantages of the hybrid system is in noise, vibration and harshness. The combination is quiet and the cabin stays hushed under gentle driving. The seats in this M Sport model are firm and obviously more heavily bolstered at the front, but for those who prefer firmer seats they will provide an excellent platform for long distances in a single stint. The rear bench seat is a little cramped for three adults but legroom is adequate for everyone.
Car security
The remote central locking includes the fuel filler cover and the boot, helping to keep the entire car secure. A user-selectable option allows drivers to choose whether they want the doors to lock when driving away. Security experts Thatcham have tested the standard 3 Series and awarded it five out of five for preventing theft of the car itself, and four stars for preventing theft from it.
Car safety
BMW is among the front-runners in giving its cars comprehensive lists of safety equipment. Every important passive and active aspect is taken care of, from front, front side, front curtain and rear curtain airbags to a brake pad wear indicator and tyre puncture warning systems. Its stability control array includes a system to address almost every potential loss of control on the road, and also handy everyday touches like Hill Start Assist.
Driver appeal
The combination of a turbocharged six-cylinder engine and a smooth, torquey electric motor creates significant accelerative punch. Low and mid-range torque from the motor and turbo moves the car's increased mass more convincingly versus the petrol-only 335i, while the rev-hungry engine maintains its ferocious hit of power at the top end. Balanced and grippy, the chassis is dynamically excellent but it's also exceptionally relaxed if driven in that fashion. It's a very accomplished motorway cruiser.
Family car appeal
Family life was not a major consideration for BMW in adapting the Active Hybrid 3, as evidenced by the increased purchase price and downsized boot. That said, it does inherit much of the standard 3 Series' sensibility so there are child seat mounts on the outer rear seats, the passenger airbag can be deactivated, there are three-point seat belts at all five seats and child locks on the doors. The leather seats, however, could be vulnerable to damage.
First car appeal
Given that the vast majority of British executives would choose a cheaper and more economical diesel 3 Series for those reasons, the Active Hybrid 3 begins to seem far beyond the reach of a first-time car buyer. It's expensive to buy and to insure, and not even an impressively modest road tax bill can tip the scales back in a financially attractive direction in this context. Aside from the costs involved, the power on offer would be too much to safely entrust to a driver with little experience.
Quality and image
BMW has a seemingly unimpeachable reputation for quality and image, which is why its cars are so popular with business users. It's rare that BMW features in the top places in reliability surveys, however, and the company's reputation must be taken with a pinch of salt. The Active Hybrid 3 is undoubtedly a solid car, and all the materials that an occupant's hands might fall onto are substantial and heavy-feeling, if perhaps a little too hard in some areas.
Accessibility
Many 3 Series cars will usually only ever have a driver inside them. Fortunately while the front seats are set at a good height to allow easy ingress and egress, the rear seats are just as well positioned. The rear doors are shorter than the fronts, which means taller rear passengers might find that their toes catch on the bodyshell, and need to tuck their feet back a little. The saloon boot offers slight restrictions for luggage size.
Stereo and ICE (In car entertainment)
The chief stereo functions are taken care of via a large dial on the lower centre console, which also has a number of relevant buttons around it. It's initially a fiddly system that requires downward glances until all the buttons and their positions have been learned by heart. It works through a large colour display, which makes cycling through music or station choices a pleasure. There are also USB and auxiliary input sockets, and Bluetooth capability.
Colours and trim
The choice of colours is, from a certain point of view, somewhat disappointing, with all but one option bring rather muted. Some even look almost identical until they are put side by side, but despite there being plenty of choice there seems to be little variety. The car's shape adapts well to both lighter and darker finishes. The M Sport model's interior trim features contrasting stitching in the leather, but otherwise looks a little dated.
Parking
Sharing a standard 3 Series body, the Active Hybrid 3 is compact enough for comfort in almost all parking situations. As the top-spec model it also has parking sensors at the front and rear to help avoid car park scrapes. Visibility is good in all directions except perhaps directly to the rear, but drivers will need to remember that the 3 Series has a relatively long bonnet. A convincing turning circle for the class is good for parallel parking.
Spare wheel
Run-flat tyres fitted as standard.
Range information
Petrol engine options – 2.0-litre (181bhp, 241bhp); 3.0-litre (302bhp). Diesel engine options – 2.0-litre (114bhp, 141bhp, 161bhp, 181bhp); 3.0-litre (254bhp). Transmission options: six-speed manual gearbox or eight-speed automatic depending on model. Trim levels: ES, SE, Sport, M Sport, Modern, Luxury.
---
Alternative cars
Volvo V60 Plug-in diesel hybrid estate is expensive but beautiful and accomplished
Lexus GS Great looks and a premium hybrid drivetrain creates a tempting package
Toyota Prius The archetypal hybrid is incredibly popular for very good reasons
Citroen DS5 Diesel hybrid model is stylish, different and amazingly efficient