BMW 2 Series M235i Convertible Review
Smooth and powerful turbocharged engine
October 2015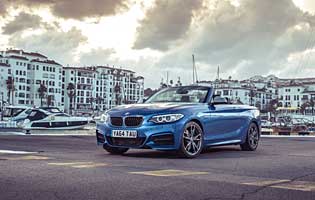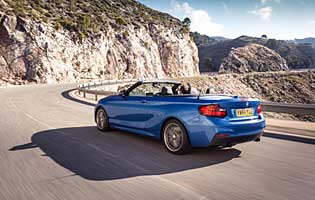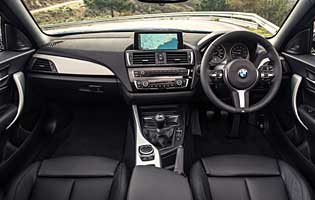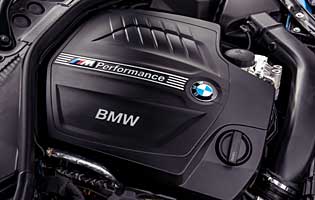 Overall rating

Likes:
Smooth and powerful turbocharged engine
Rear seat space is decent for a car of this size
Sharp handling makes it one of the best cabriolets at this price
Appeal of M sub-brand is strong
Gripes:
Some scuttle shake is apparent on poor road surfaces
Exterior can look a little awkward from some angles
Coupe version is cheaper, a better drive and better looking
Boot is spacious but aperture is narrow
For every high performance BMW there's the potential spin off of a convertible version, which is why its impressive M235i coupe can also be specified with a folding fabric roof. Combining the look and high performance of the second-tier M model with the fresh air appeal of the 2 Series Convertible has the potential to create an attractive sports car.

Well known for its high performance coupe models BMW also has a long history of drop-top performance cars, the most obvious example of which is the E30 M3. Latterly the German manufacturer ensured that all the subsequent M3 models were also available with a folding roof, whether metal or fabric. It is continuing this approach with its smaller 2 Series.

Based on the 2 Series coupe, itself closely related to the 1 Series, the M235i Convertible combines the upgraded powertrain, suspension and braking of the M235i Coupe with the fabric folding roof and four-seat layout of the 2 Series Convertible. In doing so it has created one of the few compact, four-seat, high performance cars in the market, as the majority of its rivals are two-seater or 2+2 in configuration.

The M235i Convertible shares the same improvements over the outgoing 2 Series Convertible, namely that an increase in length and wheelbase have resulted in more interior space front and rear. The folding roof operates in 20 seconds and BMW claims it has reduced noise levels with the roof up and offers a wind deflector for improved acoustics with the roof down.

BMW also claims that all 2 Series Convertible models are stiffer in their structure than the previous generation, which promises better crash safety as well as improved vehicle dynamics as a result. The M235i Convertible can also be enhanced by the M Performance range of accessories which includes visual and dynamic upgrades inside and out.


Our verdict on the BMW 2 Series M235i Convertible
As far as convertibles go the M235i is possibly the most entertaining version that BMW make. It manages to be both fun and exhilarating to drive but also perfectly useable and reasonably spacious for a car of this nature. Purists will prefer the greater body rigidity of the coupe but for those more interested in the excitement of fresh air motoring the M235i Convertible will tick a lot of boxes.