BMW 2 Series Convertible
Quiet interior with a smooth ride
June 2017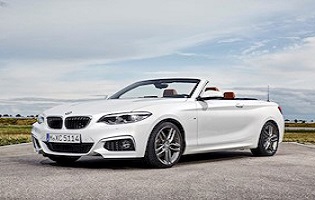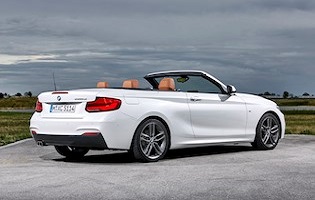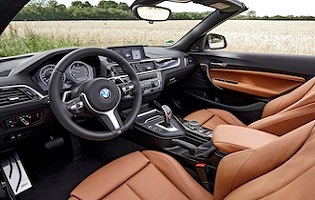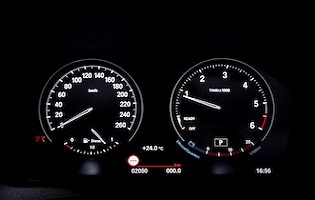 Overall rating

Likes:
Solid build quality
Decent range of engines
Quiet interior with roof lowered
Composed ride
Gripes:
Perhaps not as exciting as rivals
Looks starting to become a little old
Ride is harsh in larger-wheeled models
Steering wheel is overly chunky in M-Sport models
The BMW 2 Series Convertible is a popular choice for those who want roof-down thrills without any reduction in comfort or performance. With a decent range of engines to choose from there's something for everyone, and now it's been updated. Featuring clearer screens as well as a fresher face, it's enough to bring the 2 Series Convertible into line with close rivals.
So what's changed exactly? Well, mechanically nothing. The new 2 Series Convertible has been given an aesthetic going-over only – and the list of engines available remains the same too. That's no bad thing, though, as the 2 Series has always been an excellent car to drive, with both economy and performance available should you need it.
The biggest change comes inside. You now get BMW's latest infotainment system, which is clearer and easier to use than before. It also features a new wireless version of Apple's CarPlay smartphone connectivity system – traditionally available via a wired connection between a phone and the car's infotainment. It's a big step up from the older system, and makes the entire experience of changing songs, inputting destinations and receiving phone calls a lot simpler.
Prices for the 2 Series Convertible start at £27,540 for the 218i in base SE spec. Even these cars get a decent amount of standard equipment, including 17-inch alloy wheels, air conditioning and Bluetooth connectivity. Though not the most powerful engine in the range, it still provides more than enough shove to get the 2 Series Convertible up to speed in a decent enough time.
Of course, the biggest feature of the 2 Series Convertible is its folding soft top. It can be raised or lowered at speeds of up to 31mph, and doesn't affect interior sound quality as much as you'd think. With it raised, there's not too much road or wind noise – though more than the hardtop, of course – and when the roof goes down, there's not too much buffeting either. It's a good all-rounder, and makes for a car that will suit daily use.
Our verdict on the BMW 2 Series Convertible
There's no denying that the changes to the 2 Series Convertible have been relatively slight. However, those that have been made do make a real difference to the overall feel of the car, and lift its perceived sense of quality back up to competitors' levels. It still drives, rides and performs just how a car in this class should, only now with a little more luxury to go with it.
---
Costs
If you're after the lowest running costs possible, then it's best to opt for one of the diesel-powered convertibles. These will return the highest economy figures, and are better suited to longer journeys. You'll also find that – particularly with M-Sport models – the cost for replacing tyres and brakes will be higher. Insurance premiums are likely to be high, too, owing to the 2 Series Convertible's premium nature.
Space and practicality
There's a good degree of practicality to be found with the 2 Series Convertible, despite its folding roof. It gets 335 litres of boot space, though this does fall to 280 litres when the roof is lowered. It's quite a deep boot too, meaning that there's more than enough space for a few weekend bags or a couple of items of shopping. There's plenty of space for those sat up front too, though those sat in the rear aren't quite as well catered for – these seats are best left for children or for very short journeys with adults.
Controls and display
Here's where the new 2 Series Convertible has been extensively updated. It now benefits from BMW's latest infotainment system, housing satellite navigation and media controls among other features. This is controlled either via a touchscreen or a touch-sensitive rotary controller in the centre of the car's cabin – this can even be used to 'draw' letters in order to enter new destinations. There are also clearer dials, now a combination of both analogue and digital.
Comfort
If you're after the best comfort levels possible, then a 2 Series in SE spec will be the one to go for. This comes fitted with a softer spring rate as standard, contrasting the M-Sport setup that comes with much a firmer ride. Though composed, it jostles about just a little too much for a softer, more comfortable soft-top. The standard seats provide plenty of support, and feel more than adequate for long journeys spent behind the wheel.
Car security
Of course, anything with a cloth roof instead of a full metal one isn't going to be quite as secure. That said, the 2 Series Convertible still features a full range of alarms, as well as an immobiliser and interior movement monitor. It's also a relatively understated-looking vehicle, which should mean that it doesn't attract too much attention to itself. You shouldn't have too many worries about leaving the car out on the street at night.
Car safety
The 2 Series Convertible hasn't yet been crash tested and neither has the Coupe. That said, the 1 Series upon which they are best has been subjected to the tests, and it scored the full five stars, returning an impressive 97 per cent for adult occupant protection. You also get anti-lock brakes, airbags and emergency braking assist as standard, meaning that the 2 Series Convertible is a very safe place to be.
Driver appeal
With a range of relatively powerful engines on offer, there's no reason why the keen driver can't enjoy their time with a 2 Series Convertible. Inevitably, there's a degree more suppleness to the car's chassis as a result of removing the roof, but all in all it's still an exciting car. Down country roads it'll happily whisk along at a decent enough pace.
Family car appeal
Despite its relatively well-sized boot, the 2 Series Convertible won't be best suited to family duties. It's quite compact and, though this makes it a little better for trips to the shops, it means that there's just not quite enough room inside for a family. It could suit those who need a second car for shorter trips, or those with very young children who don't require much in the way of rear-seat legroom.
First car appeal
There's no reason why the smaller-engined 2 Series Convertible cars couldn't be used as a first-time car. That said, its expensive list price will no doubt put off those who have just passed their tests – or those who have to pay for a first car. Running costs will be higher than with a traditional first time car, too, and insurance premiums will be higher as a result of that BMW badge.
Quality and image
There's no denying that BMW's image is riding high at the moment, with the German manufacturer producing a seemingly endless amount of high-quality, well-built cars. The 2 Series is no different, with plenty of top-notch materials used throughout the interior. The exterior, though lightly updated from the previous-generation, looks sharper than ever, and this is likely to appeal to drivers. Though convertibles tend to have a reputation as slightly softer and wallowly, the 2 Series is sporty enough to keep keen drivers happy.
Accessibility
As a two door, the 2 Series Convertible was never going to be particularly easy to get in and out of. That said, thanks to large doors which open widely it isn't as bad as you may think, though the low ride height may make things difficult for some people. The seats themselves are relatively well bolstered too, which, though giving more support during cornering does mean that they're a little trickier to get over for those who struggle with entering and exiting a car.
Stereo and ICE (In car entertainment)
The new 2 Series Convertible benefits from a new, high-resolution 8.8-inch central display. This is touchscreen when fitted as part of the optional Professional Navigation system, and is otherwise navigated via a rotary controller in the centre of the car's cockpit. This controller features a touch pad, allowing drivers to enter a destination simply by writing the individual letters on this pad. It's a clever piece of technology which makes entering place names that little bit easier.
Colours and trim
As with any BMW, there's a vast amount of options available to make your car personal to you. With a variety of exterior colours to choose from, you can instantly change the appearance of the car, while a number of interior trims can be applied to the interior. M Sport models benefit from a sportier bodykit, which will no doubt appeal to those who like a more dynamic-looking convertible.
Parking
Thanks to its compact size, parking the 2 Series Convertible really shouldn't be that difficult. When fitted with the optional Parking Assistant package, the BMW can park itself using ultrasonic sensors to detect appropriately-sized spaces. In truth though, the 2 Series Convertible isn't hard to place without assistance, though the folding cloth roof does restrict rearward visibility somewhat. However, with the roof lowered there really shouldn't be any difficulties in seeing the area behind.
Spare wheel
Emergency tyre repair kit supplied as standard.
Range information
Petrol engine options: Three-cylinder (134bhp), four-cylinder (182bhp, 250bhp). Diesel engine option: 2.0-litre (146bhp, 190bhp, 222bhp). Transmission options: Six-speed manual, Eight-speed automatic. Trim levels: SE, Sport, M Sport.
---
Alternative cars