BMW 1 Series Convertible 120i SE review
Upright, open mouthed stance is bold and pleasingly different
March 2008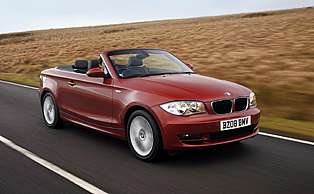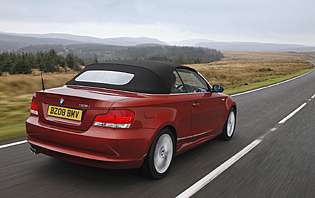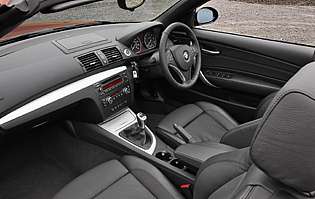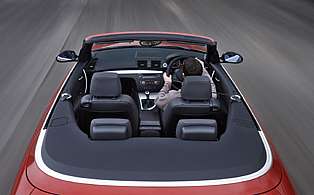 Overall rating

Likes:
Upright, open mouthed stance is bold and pleasingly different
Supple ride makes urban motoring comfortable and stress-free
Rear seats fold to transform load bay
Modest price and low running costs should appeal to families on a budget
Gripes:
Not the Ultimate Driving Machine BMW would have you believe
Fabric folding roof susceptible to damage; not as robust as a metal item
Modest standard equipment levels on lower cost variants
Larger optional alloy wheels impair ride quality
With most of the premium niches filled, makers of executive cars have turned their attention to other areas. In the case of BMW it has focused on the compact convertible market. It's not alone, but the German maker's reputation for producing capable and quality cars is likely to strengthen its hand in the face of determined competition.

BMW's basis for its compact convertible, the 1 Series, was met with mixed reactions when first launched. It's fair to say that, like the 5, 6 and 7 Series before it, the 1 Series boasted controversial looks. With more variants available - three, five-door, coupe and convertible - public opinion appears to have softened.

Of all the cars, probably the three-door hatch and this drop-top prove the most appealing visually. In the case of the latter, opting for a body colour to complement the roof improves matters enormously. Fortunately the car looks good with the hood up as well as down, which is not often the case. And with the roof down the little 1 Series does look stylish.

BMW's decision to go with a fabric and not a metal roof does have its advantages. Style-wise there's no awkward-looking boxy rear end required to store bulky metal panels. Then there's the weight advantage, which also helps improves a car's handling and ultimately the driver enjoyment.

Overall, though, the 1 Series Convertible isn't the sharpest of the range. The driving experience is a little muted - blame the car's lack of fixed metal roof. However, the car's target audience is unlikely to complain, with one of the primary reasons for ownership being looks and desirability.


Our verdict on the BMW 1 Series Convertible 120i SE
An enjoyable and, no question, desirable proposition, BMW's 1 Series Convertible is a welcome addition to the line-up. A comprehensive engine range, including a diesel and BMW's stop-start function on selected models, should ensure broad appeal and sensible running costs. Rear-wheel drive is unusual at this level but keen drivers will welcome its inclusion. Overall, a desirable package.