April 2004
Volvo V50 Sportswagon 2.4i SE
Volvo's V50 is a thoroughly modern interpretation of the compact estate
April 2004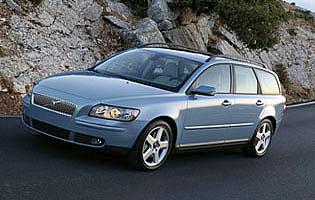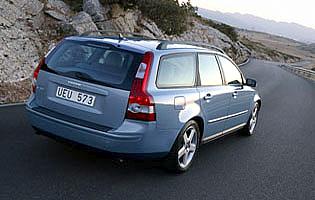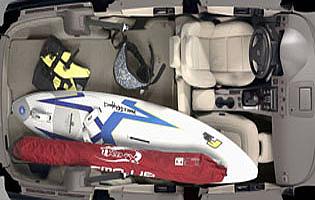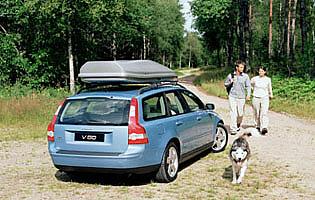 Overall rating

Likes:
Distinctive and attractive looks
Smooth driving style in all conditions
High level of environmental care and consideration
Seats simple to rearrange to suit various purposes
Gripes:
Relatively small load area with rear seats in place
Sporty variants try too hard to impress
Floating console not as clever as it's cracked up to be
Essentially the estate version of the S40 saloon (despite some variations in the underpinnings), the V50 has the unenviable task of following the immensely popular V40. That model was at least partly responsible for making estate cars fashionable as well as functional. With the V50, fashion truly comes to the fore and perhaps even outweighs functionality as the car's key area of appeal.
That's not to imply the V50 is in any way impractical, but it is illuminating that in a world where cars invariably seem to be larger than their predecessors, the crucial load area of the V50 is actually smaller than the V40's and most of its rivals' including the Audi A4 Avant and BMW 3 Series Touring.
Since the arrival of the 'sportswagon' phenomenon (Volvo's adoption of the term seems almost apologetic) we no longer expect our estates to be unwieldy or ugly, yet the V50's snub-nosed modernity is still striking. There's something almost childlike about its rounded-off edges and cheerful enamel-like paint finishes, as if it is based on a kid's toy. Some versions of the V50 feature fat alloys and lowered suspension, but still look cuddly no matter how hard they try to seem mean.
Interior appointments are as impeccable as we have come to expect from Volvo. What's not generally appreciated is the extra work Volvo undertakes to create an allergy-free environment with minimum pollution levels. Such benefits may be largely invisible but are increasingly significant factors to buyers. Certainly, they are more worthy of serious consideration than the much-lauded 'floating console' in the centre of the dash. Hardly the revolutionary new feature Volvo would have us believe, all it does is create space for a couple of extra water bottles.
The V50 drives almost as well as the S40, which is to say it is exceptional. Far more satisfying than many saloons, it remains flat through corners and accelerates briskly.
Our verdict on the Volvo V50 Sportswagon 2.4i SE
Among the best-looking estate cars ever designed, it's unlikely many V50 buyers will be disappointed by their choice. Only lovers of the big, boxy Volvos of old could object to the smooth-skinned modern design. Perhaps the only fear is that for some buyers it will fall between two stools - too big to be considered by the hatchback crowd and too small to count as a mainstream estate. It's not cheap and some very good, much larger estates can be bought for similar money. However, given the V50's overall technical and ergonomic excellence, plus the trendiness of the Volvo badge, it's hard to see it being anything but a huge hit.
Costs
It is a statistical fact that Volvo drivers tend to have fewer accidents than other drivers, a fact that can help to keep insurance premiums lower than expected. Other cost implications are rather more obvious. Though not particularly cheap, the V50 is cheaper than comparable BMWs and Audis. Parts and servicing costs aren't of the bargain-basement variety, but Volvos tend to be very reliable so fewer visits to the workshop should offset this. That said, servicing intervals are unexceptional at every 12 months/12,000 miles. Choosing diesel is likely to result in substantial savings on fuel bills.
Space and practicality
How often do any of us completely fill even a hatchback's load space? For most people, there's more than enough room in a V50, so the fact that it loses out by a few litres to some rivals is fairly insignificant. More problematic are the significant intrusions into the loadspace caused by elements of the sizeable rear suspension set-up. At least when the rear seats fold, they lie completely flat, and even the front passenger seat can flip forward to accommodate long loads.
Controls and display
It's a Volvo, so interior excellence comes as standard. The company's seemingly unchanging treatment of controls and driver information displays is actually being constantly updated - it's just done with such subtlety and remains so true to the basic principles of clarity and comfort that we tend not to notice.
Comfort
High-quality materials and precise cabin construction help to contribute to a very comfortable car. Seats strike just the right balance between softness and supportiveness. Volvo leads the field in producing cars suitable for allergy sufferers and its optional interior air quality system is an excellent way of keeping exposure to harmful pollution to a minimum in heavy traffic. Noise levels are almost uncannily quiet.
Car security
One of the drawbacks of becoming more fashionable by the minute is that thieves who would once have refused to blunt their jemmies on a Volvo now find them enticing prospects. To help keep them at bay, all V50s come with an alarm/immobiliser, deadlocking and electronic anti theft parts marking. Keyless drive is another option, making it possible to lock, unlock and start the car without using a key. It can be configured to automatically set lighting levels and activate a panic alarm from a distance - useful for scaring away suspicious characters discreetly. Another worthwhile option is a system that automatically calls for help in the event of an accident.
Car safety
Volvo's safety credentials are probably the best in the business. Only Renault, with its reputation for building cars that score five stars in EuroNCAP crash tests, runs it close. The headline-grabbing safety features of the V50 include dual stage driver and passenger airbags, side impact protection and inflatable curtains. Less obvious but equally significant elements such as an energy-absorbing front bumper structure and rounded corners to minimise pedestrian injuries and the use of hypoallergenic interior materials should not be forgotten in the race to count airbags. Standard electronic climate control with an active carbon filter creates a clean cabin.
Driver appeal
Sharing its underpinnings with the Ford Focus C-MAX and Mazda 3 - both of which are widely regarded as having class-leading handling - it comes as no surprise that the V50 is a hugely satisfying drive. Indeed, were it not for the evidence in the rear view mirror, you could quite easily imagine you are at the wheel of a saloon. A wide track helps the car grip and keeps it flat through corners. Brakes never feel as if they are working too hard, even with a full load, which inspires confidence in the driver. Progress is so smooth and quiet that some drivers may feel a little too distant, but that's rather like complaining that a cashmere sweater isn't as good for the circulation as a hair shirt.
Family car appeal
As a total package, the V50 cleverly appeals to different family members to make it a compelling choice. Protective parents are likely to value its safety credentials while keen drivers will see benefits in its gently sporting performance. There's enough kudos associated with the Volvo badge and the modern design to draw in fashion followers and it's built robustly enough to cope with family life. Kids, of course, like it simply because it looks cute and cool.
First car appeal
Unless they're driving around Europe in a battered Peugeot 405, first-time buyers tend not to hanker after estate cars. The V50 is a second or, more likely, third car for young couples in the early throes of marital bliss and family creation.
Quality and image
Only the terminally dim now fail to view Volvo's product as worthy of direct comparison with BMW, Audi and Mercedes. It is fully worthy of the 'premium' tag to which it aspires, but perhaps has lost a little of its former quirkiness in the process. V50 owners are unlikely to give knowing little nods to each other the way Volvo drivers used to. And Volvo is by no means alone in raising its quality. Japanese manufacturers in particular are snapping at its heels, and many buyers may opt for good, old-fashioned value over the intangible benefits of premium status.
Accessibility
Few users should experience accessibility problems as the doors are wide-opening, convex in shape (larger Volvos have concave doors) and seats feature plenty of range for adjustment. With an estate car, the most important door is probably the one at the back. Surprisingly, the rear window does not open independently (as it does on the Jaguar X-Type Estate, for example). The loading lip is good and low, though.
Stereo and ICE (In car entertainment)
Volvo prides itself on the standard of its current audio equipment, with some justification. The V50 comes with a six-speaker, single-slot CD/radio with 4x25w amplifier by default. SE-badged cars are upgraded to an eight-speaker system with 4x40w amplifier and six CD/radio. If that's still not enough, the options list contains further upgrades including an awe-inspiring 12-speaker system and a minidisc player. Volvo's RTI satellite navigation system is one of the more trustworthy ones on the market, and covers most (but by no means all) of Europe.
Colours and trim
The estate shape of the V50 seems better suited to darker, stronger colours than the S40 saloon, which looks more attractive in pale hues. While dark shades don't show the car's curves off to full effect nor do they show the dirt, so Dark Lilac, Deep Blue and Titanium Grey pearl are all safe bets.
Parking
Estate cars are generally thought of as difficult to park with poor visibility down the flanks and rear and length problems when trying to access small parking bays. Volvo's engineers have clearly designed the V50 with such matters in mind, and as a result it is one of the easier 'parkers' in its class, particularly as the level of power steering assistance is so clever. Parking sensors are available as a dealer-fit option.
Spare wheel
Volvo provides a 'Tempa' spare wheel as standard, which is a space saver for speeds under 50mph. Locking wheel nuts help to keep your standard 16 inch (S-spec) or 17-inch (SE-spec) alloy wheels safe.
Range information
Engine range comprises 1.8 (125bhp) petrol; 2.4i (170bhp) petrol; T5 (220bhp) petrol and 2.0D (136bhp) diesel. Models are badged S, SE and Sport and come with five-speed manual, six-speed manual, CVT automatic or five-speed automatic gearboxes, according to exact specification. An all-wheel-drive model is also available with T5 (220bhp) engine.
Alternative cars
Jaguar X-Type Estate Even better to drive than the V50
BMW 3 Series Touring A solid rather than inspiring choice
Audi A4 Avant Accomplished, pricey and undoubtedly desirable
Honda Accord Tourer Loads of car for the money with vast capacity