August 2007
Volvo V50 D5 Sport
A sportier grille and front bumper grace the face-lifted V50
August 2007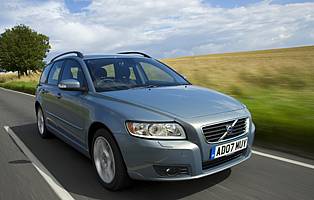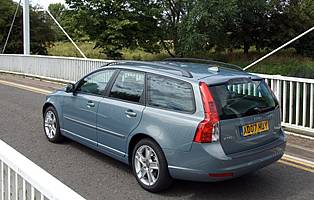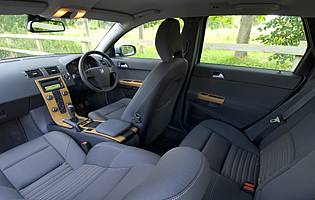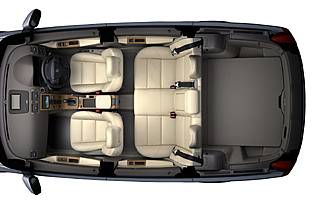 Overall rating

Likes:
Solid, sporty ride
Extremely comfortable
Strong diesel engine
Pleasingly modern interior ergonomics
Gripes:
Limited rear legroom
Lack of headroom for taller drivers
Slightly dull steering
Price mounts up for higher specification variants
Volvo's compact estate has been given the once over by its Swedish manufacturer. The face-lifted model isn't just prettier; it boasts new technology to bring it in to line with the rest of the developing Volvo range. Still as safe and well-built as ever, the baby estate is offered with an intriguing mixture of sensible, frugal and performance engines.
The V50 Sportswagon and its saloon twin, the S40, have been big sellers for Volvo. Keen to keep the whole line-up looking fresh, the company has given the model a facelift, tweaked the interior and added some technical revisions. The V50 has been restyled along the lines of the larger V70 with a chrome surround grille and revamped headlamp design, restyled air-intake in the front bumper comprising three sections and larger Volvo badge.
There have also been changes to the rear, with tall and thin LED tail lights replacing the bulkier set-up, a reshaped bumper, new boot handle and revised exhausts. The changes aren't just for show. As well as being highly visible, the rear tail lights are triggered to flash five times a second in a high visibility warning if the V50's ABS is activated. As you would expect from Volvo, the V50 is packed with state-of-the-art safety equipment, but it's also been designed to be extremely comfortable and practical inside.
Additional storage has been added along with more purposeful dials for the most powerful engine options. Meanwhile, the floating centre console that has become an endearing Volvo staple remains but with additional trim options.
The engine range remains as varied as ever, with the choice of a 98bhp petrol unit at one end of the scale rising to the five-cylinder T5 unit that has had its output increased by 10bhp to 226bhp at the other. For the first time the powerful five-cylinder D5 diesel unit is also available with a manual transmission, meaning the engine's full potential can be exploited - resulting in a fast, but still Euro V emission compliant, compact tourer.
Our verdict on the Volvo V50 D5 Sport
The V50 range is amazingly accomplished with an engine choice and trim level for every customer. Base specification and the standard driving experience is excellent and the powerful petrol engines are sorely tempting, but the middle-ground D5 Sport is a truly praiseworthy choice thanks to its reassured but sporty handling, semi-luxurious spec and fresh-faced looks. Strong sales ought to continue following the refresh.
Costs
As a premium car, a Volvo is always likely to cost more to insure than the average family estate or hatch, but the large selection of petrol and diesel engines ranging from humble to powerful means that insurance issues can be worked around. The powerful D5 tested returned an eminently sensible 40mpg combined and none of the engines are worryingly thirsty. Getting into the V50 is relatively cheap, but the cost quickly adds up as the specification rises.
Space and practicality
Volvo has pulled off an optical and sensual illusion with the V50, making it appear larger to the eye and when behind the wheel than it actually is. Legroom for the rear passengers is surprisingly sparse, partly due to the chunky front seats but not enough to be considered cramped. Taller drivers might also find headroom a little tight. The boot is spacious and well proportioned to take bulkier items with ease. In terms of practicality the V50 has excellent towing credentials and makes a formidable load carrier.
Controls and display
A testament to both form and function, the V50's controls are a delight to use. Mounted on the 21st century floating centre console the sound system and heating controls are simple and clearly labelled and the minimalist design stops the interior feeling cluttered. The switchgear itself is sturdy with strong and well-placed stalks controlling the essential functions. The dials, although not as snazzy as some of the Volvo range, are clear and well presented.
Comfort
Few manufacturers provide seats as absorbing yet supportive as Volvo, and the V50 is as comfortable as any big luxury car. The ride is quiet and luxuriant even on the larger 18-inch wheels. Climate control comes as standard across the range and both driver and front passenger can fine-tune their position with a fully adjustable steering column and height adjustable front seats with lumbar support. The V50 is geared toward the comfort of its occupants to good effect.
Car security
Naturally, the V50 comes complete with an alarm, immobiliser and remote central locking. Automatic opening and closing of the windows and sunroof are an additional bonus as is time-delayed lighting to guide you to the front door. Strangely, power folding mirrors are a cost option on all but the range topping SE Lux model.
Car safety
It won't come as a surprise to hear that the V50 is brimming with active and passive safety equipment as standard, and that even more is available at extra cost. Isofix points have been made standard in the rear seats, as has a system that automatically activates the hazard lights should and airbag go off. The brake lights are set to flash five times a second when the V50's ABS is activated. BLIS, which uses a rear facing camera and warning light to warn of vehicles in the car's blind-spot is available as an option as are swivelling headlamps. A full compliment of airbags, whiplash protection, dynamic stability traction control and electronic brake force distribution are all standard.
Driver appeal
The V50's responsive handling and firm ride comes as something of a surprise at first, but a pleasant one. The Sport models are aided by a strut brace that stiffens up the front end although the steering might have benefited from a tweak to take into account the Sport's extra athleticism, as a little extra feed back would make all the difference. It's important to remember that the V50 Sport is a sportier version of a family car rather than an outright sports car, and with this in mind it really does score highly. For less frenetic driving the ride is smooth, quiet and extremely sure-footed.
Family car appeal
The V50 is fully family friendly with touches such as the revolving armrest and cup holder assembly and copious storage furthering Volvo's reputation for building family friendly cars. Its intrinsic safety, hardwearing interior and pleasant, unobtrusive styling add to the family appeal.
First car appeal
An unlikely choice for a first car, however the V50 is targeted at a younger audience than the larger vehicles in the Volvo range and the Sports models offer a ride and performance not a million miles from that of a nimble warm-hatch.
Quality and image
Quality has always been the name of the game with Volvo's solidly built and reliable estates, and the V50 is no different. There are no squeaks or groans and the fittings should easily withstand torture by child. The revised looks of the facelifted V50 are a definite improvement. The bodykit and 18-inch alloys fitted to the sports model also give it more street cred than the average family estate.
Accessibility
Five large doors and low sills make the V50 easy to access for front and rear passengers and provide easy access to the boot. Central locking is via remote control fob, although keyless entry is available.
Stereo and ICE (In car entertainment)
The standard 20w amplifier and six-speaker arrangement will be ample for most in terms of sound quality, and features an auxiliary MP3 plug-in. The option of a high performance 40w amp and eight-speaker set-up or premium Dynaudio surround sound system also exists. Controlled by knobs integrated into the floating centre console the system in foolproof - and wheel-mounted controls are also included across the range. Funky Volvo graphics on the display are also a nice touch.
Colours and trim
The V50 can be ordered in no fewer than 16 exterior colours covering everything from subdued to extrovert. Some of the pearl shades are particularly attractive while blacks and whites are available should you prefer to keep it simple. Spring green has been added to the Boda Textile range for the entry-level S model, Dalaro T-Tec upholstery features in the Sport model and interior inlay options include classy Nordic wood and ultra modern aluminium.
Parking
The V50's compact design poses no problems when parking. Rear visibility is good and there's little to bump behind the rear windscreen. Parking sensors are a cost option as, strangely, are electric folding mirrors but timed headlights that stay on until you're safely on your doorstep are standard.
Spare wheel
Tyre sealant is provided as standard although a compact steel spare is a non-cost option.
Range information
Petrol engine options - 1.6-litre (98bhp); 1.8-litre (123bhp); 2.0-litre (143bhp); 2.4-litre (167bhp); T5 (226bhp). Diesel engine options - 1.6-litre (107bhp); 2.0-litre (134bhp); D5 - (177bhp). Flexifuel options - 1.8-litre petrol/bioethanol (123bhp). Transmission options: five-speed manual gearbox, six-speed manual gearbox (2.0D, D5, T5), Geartronic auto gearbox with a switchable fully auto mode. Trim levels: S, SE, SPORT, SE SPORT, SE LUX.
Alternative cars
BMW 3 Series Touring Steadfastly reliable, well built, absolutely everywhere
Saab 9-3 SportWagon Another safety conscious Swede and equally as good-looking
Jaguar X-Type Estate Premium badge but not so premium price-tag
Audi A4 Avant Booted version of Audi's popular A4 is solid, stylish and dependable