June 2008
Volvo S80 S80 SE Sport 2.0D
Contempory design suits the traditional Volvo shape
June 2008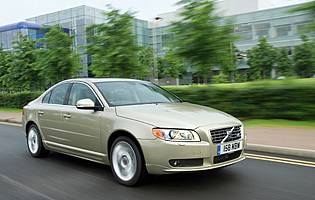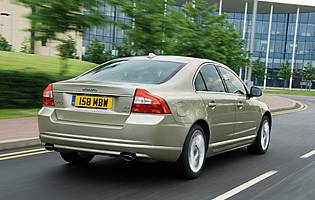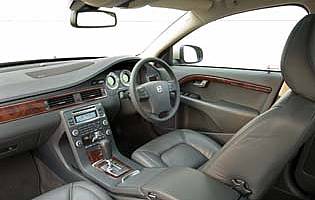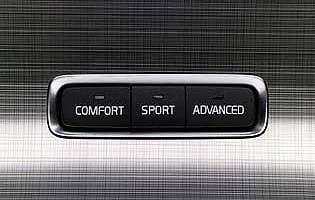 Overall rating

Likes:
Discreet but attractive styling
Excellent fuel economy
Very comfortable ride
Spacious interior and big boot
Gripes:
Handling is far from sporty even with chassis control
Gear change would benefit from being a little tighter
Diesel engine a little unrefined at higher revs
Slightly laggy turbo performance
A reputation for building safe, practical, but unexciting vehicles has haunted Volvo in the past, but the current generation of models is beginning to slowly dissolve apathy towards the brand with discreet but stylish models that still maintain the key Volvo elements of practicality, safety and comfort. The S80 is the Swedish brand's large executive saloon.
Think Volvo, and many drivers will think boxy family estates, but the company is also highly adept at creating saloon versions of those models. Aimed at the premium executive saloon market dominated by German manufacturers, Volvo's S80 adds some contemporary Swedish style to the sector. Featuring discreet but stylish exteriors and interior design, the S80 plays on Volvo's core values but brings them into the 21st century.
Safety and security have not been sacrificed in the quest for more attractive styling. Always innovators in the area of car safety the S80 comes with a comprehensive range of features and devices designed to make it one of the safest vehicles on the road.
Offered in a distinct range of trim levels, each offering something different, Volvo has also crafted an impressive range of engines to power the models. Updated in 2007 the line up now includes petrol choices ranging from a 2.0-litre, capable of running on both regular and bio-ethanol fuels, to a high capacity V8, the first to be offered in a Volvo saloon. The range of diesel engines is equally impressive and four-wheel drive is present on the higher powered models as an alternative to the standard front-wheel drive setup.
Subtle exterior and interior trim changes were also made for the current model. Interior specifications lean towards comfort and equipment levels are very good across the range. Efforts have been made to shake the reputation for cumbersome handling that the company acquired through bulky saloons in decades passed, chiefly by adding suspension control systems that allow drivers to adapt the chassis to road surfaces or driving styles. Regardless, the S80 remains a car better suited to providing comfortable long distance cruising than a sporty driving experience, but performance is still swift enough to keep pace with its rivals.
Our verdict on the Volvo S80 S80 SE Sport 2.0D
As an alternative to the usual suspects in the executive saloon arena, the S80 makes an excellent choice and one that's conservative yet contemporary in design. What the car lacks in driving dynamics it makes up for in comfort, safety and, in diesel form, frugality. It's a large and practical car and the easy driving experience makes it one of the most relaxing in its segment to drive.
Costs
The Volvo S80 is a premium product, but the range starts a lower price than many of its rivals. Standard equipment levels are good, but it's possible to raise the price substantially with the many options available. With the right choice of engine it can also be highly cost effective to run. Insurance groupings will be medium to high.
Space and practicality
There's no shortage of space inside the S80. Head and legroom are generous and the cabin will comfortably seat five adults. The boot is very large although the saloon design rules out carrying exceptionally bulky items in the rear.
Controls and display
Both the controls and displays in the Volvo S80 have an upmarket feel. The dials feature needles that rotate around the outer edge, which is a nice effect, while the centres contain a white on black display for the trip data and other information. Where specified, a parking sensor display is incorporated into the display for the audio system, while the popup display for the sat-nav is also neat. The controls for climate settings are conveniently manifested in the shape of a seated human, to enable quick selection of the desired settings. The main controls are all sturdy and well situated and the spacious cabin means there's plenty of room for the controls to be spread out.
Comfort
For driver, front and rear passengers, the S80's spacious and plush interior provides a high level of comfort. Seats are well padded, shapely and supportive and requirements such as cupholders, a ticketholder and pass holder in the windscreen and ventilation for rear passengers in the B-pillars. Naturally, air-con is standard, but the SE Sport also benefits from ventilated leather and cruise control plus speed sensitive steering to make life easier for the driver. With the exception of a slightly rough edge to the 2.0-litre diesel engine, refinement is excellent. The sixth gear on the manual box means that for cruising, revs are kept to a minimum, furthering the refined feel.
Car security
The S80 should remain secure at all times thanks to a volume and level sensitive alarm system and immobiliser. Delayed lighting and a panic alarm built into the key fob also aid security.
Car safety
Safety has always been one of Volvo's key selling points, and the S80 does not disappoint. A huge array of preventative and protective systems are standard across the range, with new developments always available as options. An intelligent driver information system prevents messages, phone calls and distractions from being received during critical moments while adaptive brake lights warn following drivers of hard braking. A full ESP system is standard featuring advanced traction control and a host of braking assistance programmes. In the event of a crash passengers are protected by a side impact system while driver and front passenger also get whiplash protection. Airbags are copious, making the S80 one of the safest executive saloons available.
Driver appeal
The SE Sport features Volvo's Active Four-C Chassis, giving the driver the option to select the correct suspension set-up for the type of road or style of driving. Changes to the car's ride and handling are noticeable when switching between settings, but the S80 is far more capable of providing comfort in a straight line than thrills through the bends. Handling is predictable but not sporty and the car can be reluctant to turn in sharply at speed, preferring to understeer. The situation can be improved by selecting a sportier suspension setting, but the four-wheel drive system that's not available with the 2.0-litre diesel engine is the only effective way to significantly increase sportiness. However, as a vehicle in which to cruise long distances, the S80 is up there with the best. The 2.0-litre diesel can be a little laggy, but it's not hard to keep it in the power band given time to become accustomed.
Family car appeal
The S80 would make an excellent family car, particularly for those who wish to use it as a business car during office hours. The frugal 2.0-diesel will suit family budgets well and, although there's more practicality to be found in the V70 estate range, the S80 will cope effortlessly with family life. A strong emphasis on safety also makes it a desirable from of transport for those with children.
First car appeal
The S80 is an executive car and as such is unlikely to be placed high on first time car buyers' shopping lists. Although entry level models are priced competitively it will still be beyond the budget of most young drivers.
Quality and image
Volvo's have traditionally had a reputation as practical, comfortable, but less than exciting family cars. That reputation is rapidly changing as the new generation of cars featuring more exciting exterior styling and improved performance takes hold. The S80 remains a practical and understated executive saloon, but one that drivers should be proud to be seen behind the wheel of. The build quality is very good, with a solid and substantial feel to the vehicle, excellent finish and doors that shut with a heartening thud.
Accessibility
Four large doors opening to a wide angle make the S80 easy to access for front and rear occupants. The seats are positioned at a sensible height, grab handles are present front and rear and standard electric seats in the front makes the seating easily adjusted if additional help is required for entering and exiting the car.
Stereo and ICE (In car entertainment)
Sound quality from the SE Sport's eight-speaker system is very good, and the single CD slot, MP3 and WMA compatible system features an auxiliary jack for plugging in an external music source. Sat-nav is an optional extra on the SE Sport, but if specified the system incorporates a pop-up screen conveniently controlled through a single remote. Using a limited number of buttons and a menu based system works surprisingly well.
Colours and trim
The executive saloon stylings of the S80 means that it looks at its best in dark shades and silvers, although more vivid colour choices such as Ruby Red are available. Inside, the Swedish penchant for interior design comes to the forefront with a cutting edge style featuring a curved centre console and a selection of well match two-tone interiors alongside the solid choices. The brushed aluminium trim is an equally fine choice. 18-inch alloy wheels give the car a sporty edge, too.
Parking
The S80 is quite a large vehicle, but it conforms to the usual saloon shape meaning that anyone used to handling a car of its size will find it relatively simple to manoeuvre. The turning circle is notably poor however, which can lead to three point turns being required where one might suffice in a smaller or rear wheel drive car. Parking sensors are optional extras on the SE Sport.
Spare wheel
Tyre sealant kit fitted as standard.
Range information
Petrol engine options - 2.0-litre (143bhp); 2.5-litre (197bhp); 3.2-litre (234bhp); 4.4-litre (310bhp). Diesel engine options - 2.0-litre (134hp); 2.4-litre (160bhp); 2.4-litre (182bhp). Flexifuel engine options - 2.0 (143hp). Transmission options: five-speed manual gearbox (2.0 petrol and Flexifuel only), six-speed manual gearbox, six-speed Geartronic automatic. Trim levels: SE, SE LUX, Executive, SE Sport.
Alternative cars
BMW 5 Series Excellent choice of engines but success has made it less exclusive
Jaguar XF Desirable badge, but more expensive to buy
Audi A6 Understated and comfortable executive saloon
Saab 9-5 Fellow Swede also places emphasis on comfort and safety