March 2009
Volvo S80 Executive D5
Contemporary design suits the traditional Volvo shape
March 2009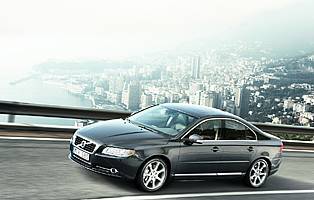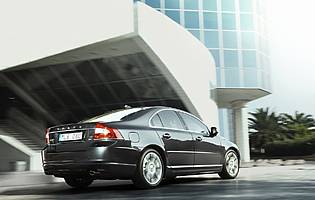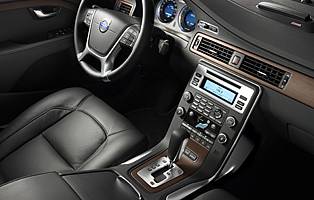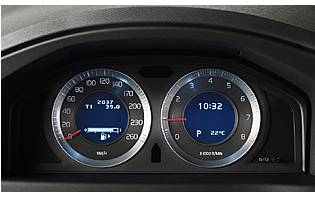 Overall rating

Likes:
More aggressive styling offers greater road presence
Great balance of economy and performance
Extremely comfortable
High level of safety equipment
Gripes:
Considerably less sporty than some of its rivals
Geartronic transmission can be a little slow to respond
Some executive options like keyless-start missing
Oddments tray behind centre console hard to reach
Sleek, stylish and building on the solid, safe and steady principles that have made Volvo models successful in the past, Volvo's S80 executive saloon has been hot on the heels of the other well established competitors for some time. A refresh has brought styling improvements and developments in drive-trains that should serve to build on its success.
With a neat saloon bodyshape and sleek, curvaceous exterior, Volvo's S80 executive saloon is about as far removed from the traditional image of the boxy Volvo estate as it's possible to get. Truth be told, it's an image that Volvo should have dispelled a long time ago but, as long as it persists, it is down to models such as the S80 to dispel it.
The mid-life refresh for the S80 is made up of several small changes that Volvo believes add up to a big difference. A slightly lower, wider stance gives the model a more purposeful presence on the road and, combined with a more imposing front end with a more substantial badge, keeps pace with the executive stylings of its predominantly German competitors. Inside, there are changes to the trim including smarter dials, a new steering wheel and a new gear lever more in keeping with the trendy Scandinavian design theme.
There are more changes in the model line up: trimmed down from four levels to three. The adaptable FourC chassis with three settings for ride and handling remains available, but the S80 is also now available with a choice of Lowered Dynamic or Comfort chassis, too. With the emphasis on more responsive handling the dynamic option is the choice for more enthusiastic drivers. The fact that the Comfort chassis is the only one available on the top-specification model suggests that Volvo continues to see the model as a luxury, rather than a sports, model.
That hasn't stopped them increasing the output of the D5 five-cylinder diesel unit, however. The all new engine - it shares only the name with its predecessor - is smoother, more refined and more efficient, too. Other diesel options include a less powerful 2.4-litre unit and Volvo will introduce a 1.6-litre, hyper-efficient model later in 2009. The Swedish manufacturer claims it will be the most fuel efficient luxury saloon on the market.
Our verdict on the Volvo S80 Executive D5
A well-built, well-specified and increasingly well-respected alternative to the usual suspects in the large luxury saloon class, the Volvo S80 takes another step closer to the recognition it deserves with the latest refresh. The all new D5 diesel engine is much better suited to the segment now that it boasts greater power and more refinement, and improved economy will do it little harm, either. Sumptuous ride quality seals the deal.
Costs
The Volvo S80 is a premium product, but the range starts at a lower price than many of its rivals. Standard equipment levels are good, but it's possible to raise the price substantially with the many options available. With the right choice of engine it can also be highly cost effective to run, and the D5 offers a good medium along with the 2.4-litre diesel. Insurance groupings will be medium to high.
Space and practicality
There's no shortage of space inside the S80. Head and legroom are generous and the cabin will comfortably seat five adults. The boot is very large although the saloon design rules out carrying exceptionally bulky items in the rear.
Controls and display
New aluminium dials are present in the refreshed S80, a neat touch and a well considered one that adds an additional air of luxury to the area most viewed by the driver. They retain the needles that rotate around the outer edge, which is a nice effect, while the centres contain a white on black display for the trip data and other information. A popup display for the sat-nav limits clutter and the floating centre console features one of the most ergonomic button arrangements available, and is a joy to use. Some of the buttons are on the small side, but the spacious cabin means there's plenty of room for them to be spread out.
Comfort
For driver, front and rear passengers the S80's spacious and plush interior provides a high level of comfort. Seats are well padded, shapely and supportive while requirements such as cup-holders, a ticketholder and pass holder in the windscreen and ventilation for rear passengers in the B-pillars are met. Naturally, air-con is standard, but ventilated leather, massage function, adaptive cruise control and speed sensitive steering are all available to make the model feel extremely luxurious. The new D5 engine is extremely refined and combines with the well insulated cabin to offer a very quiet ride. Lovers of bump free progress will find the Comfort chassis option perfectly suited.
Car security
The S80 should remain secure at all times thanks to a volume and level sensitive alarm system and immobiliser. Delayed lighting and a panic alarm built into the key fob also aid security. There's even the option of a heart rare monitor inside the vehicle, to give advanced warning of intruders.
Car safety
Safety has always been one of Volvo's key selling points, and the S80 does not disappoint. A huge array of preventative and protective systems are standard across the range, with new developments always available as options. An intelligent driver information system prevents messages, phone calls and distractions from being received during critical moments while adaptive brake lights warn following drivers of hard braking. Small lights on the A-pillars warn of hazards present in the blind spots - a great feature for motorway driving. A full ESP system is standard featuring advanced traction control and a host of braking assistance programmes. In the event of a crash passengers are protected by a side impact system while driver and front passenger also get whiplash protection. Airbags are copious, making the S80 one of the safest executive saloons available.
Driver appeal
The Lowered Dynamic chassis option offers the greatest driving appeal with, as the name suggests, a lowered ride height, and suspension tuned to provide a more responsive driving experience. It certainly feels more willing than the Comfort chassis option but the ride is a little firmer as a result, although still very cosseting by segment standards. The D5 engine offers faultlessly smooth performance well suited to the car. The Geartronic gearbox is smooth to change, but can be a little slow to kick-down, tempering enthusiastic driving. A manual override goes some way to addressing the issue.
Family car appeal
The S80 would make an excellent family car, particularly for those who wish to use it as a business car during office hours. The D5 engine is frugal enough to fit family budgets and, although there's more practicality to be found in the V70 estate range, the S80 will cope effortlessly with family life. A strong emphasis on safety also makes it a desirable from of transport for those with children.
First car appeal
The S80 is an executive car and as such is unlikely to be placed high on first time car buyers' shopping lists. Although entry level models are priced competitively and the inclusion of a 1.6-litre diesel will lessen running costs, it will still be beyond the budget of most young drivers.
Quality and image
The option of a sports chassis for the S80 is an attempt to get the big Volvo away from its traditional image as the less exciting choice, as is more dynamic and sleek styling. It works to an extent, but the S80 still comes across as a more mature and sensible choice than its rivals. That said, the Volvo reputation has come a long way from the traditional image of boxy estates and drivers can feel proud to be behind the wheel of a model as status-wielding as the S80. Build quality is truly excellent, with a solid and substantial feel to the vehicle, excellent finish and doors that shut with a heartening thud.
Accessibility
Four large doors opening to a wide angle make the S80 easy to access for front and rear occupants. The seats are positioned at a sensible height and grab handles are present front and rear for the less agile. The saloon boot door is wide and uniform, offering excellent access to the spacious boot.
Stereo and ICE (In car entertainment)
A premium Dynaudio sound system is standard on the Executive model and the sound quality reflects that. Controls for the audio system are present on the steering wheel as well as the centre console and it's an easy system to navigate and appreciate. A popup sat-nav system incorporated into the dashboard is also standard on the top trim level. Passengers can operate the system using a remote - a useful feature.
Colours and trim
Trim changes to the new S80 are subtle but effective, with a larger badge giving a more impressive front end and some additional chrome work around the air intakes, lights and sills. The model's executive styling means that it looks at its best in dark shades and silvers. Inside, the Swedish penchant for interior design remains at the forefront with a cutting edge style featuring a floating centre console. Wood or aluminium trim is available alongside a range of leather colours, with light and dark shades working well inside.
Parking
Despite its size, the S80 is an easy car to park. Parking sensors are standard on the upper trim level but, even without them, the proportions are easy to judge and visibility is good. The downside is a poor turning circle that might make three point turns a necessity where smaller, or rear-wheel drive, cars may have been more efficient.
Spare wheel
Tyre sealant kit fitted as standard.
Range information
Petrol engine options - 2.0-litre (143bhp); 2.5-litre (227bhp); 3.2-litre (234bhp); 4.4-litre (310bhp). Diesel engine options - 2.0-litre (134hp); 2.4-litre (173bhp); 2.4-litre (202bhp); 1.6-litre (107bhp). Transmission options: five-speed manual gearbox, six-speed manual gearbox, six-speed Geartronic automatic gearbox. Trim levels: SE, SE LUX, Executive.
Alternative cars
BMW 5 Series Great engines and handling but success has made it less exclusive
Jaguar XF New diesel engine increases XF potential
Audi A6 Understated and comfortable executive saloon
Mercedes-Benz E-Class Revised E-Class is loaded with toys