November 2011
Volkswagen up! Move up!
An unusual grille makes the up! very distinctive
November 2011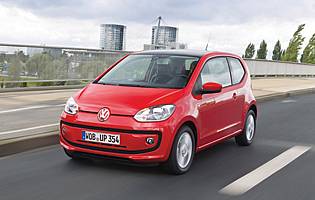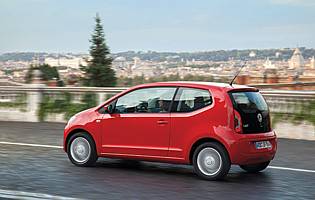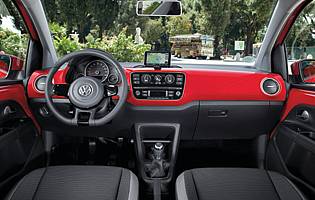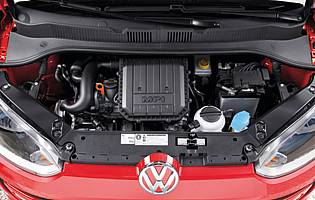 Overall rating

Likes:
Looks great even in entry-level specification
Very keen pricing will encourage younger buyers
Extremely easy to park even in tight spaces
Generally good visibility around town
Gripes:
Engines often need to be worked hard
A-pillars sometimes block view around corners
Narrow access to boot and high load lip
Many technological items cost extra
As the sales of city cars grow year on year, Volkswagen decided it was time to introduce a new car to replace the Fox, which was relatively low quality and sold in quite small numbers compared to some rivals. At just 3.54 metres long the up! is designed to excel in cities, where small size and light weight are key.
The up! is meant to be easy to manoeuvre around cities, so it has very clever packaging to make it as small as possible, helping to place it among the easiest and least stressful cars to park. At 1.64 metres wide there are few spaces that the up! can't fit into. It manages to keep a good amount of interior space, though, and four people would be fine over short distances.
With the up!, Volkswagen is targeting a much younger audience than has previously been possible with the Polo, the next model up the range. Its styling both inside and out reflects that, with the interior plastics changing colour according to the model level. There's a generally youthful and playful feel throughout the car, emphasised by the new three-cylinder engine, which is well suited to young people who mainly stick to low-speed in-town driving.
Two engines are available depending on the level of trim. They are essentially the same unit but a higher rev limit helps one to achieve 74bhp compared to the cheaper unit's 59bhp. The difference sounds significant but there's actually very little to choose between them on the road and their torque figures are identical. While they work perfectly well under light pressure, busy cities ask for brisk acceleration and these 1.0-litre engines can sometimes struggle to keep pace.
The boot is quite small and with a narrow area of access that limits the up!'s ability to carry bags. It can also make it difficult to remove luggage that has shifted during a journey. Young people may just use the back seats to carry luggage, and this is a compromise that such a small car has to make when prioritising rear passenger legroom.
Our verdict on the Volkswagen up! Move up!
The up! is in some ways brilliant in cities. Its size makes parking much easier than it otherwise might be and it has generally good visibility, which helps to increase driver confidence. Plenty of city-friendly technology is available, mainly as part of cost option packs, to make the up! even more appealing. It's not that great for carrying luggage but as simple and effective city transport it's excellent.
Costs
The up! is among the cheaper cars to buy and own in the UK, but is certainly not the cheapest. This is a deliberate move by Volkswagen to avoid being seen as the cheap option, which might affect its brand image. Predictably, servicing costs should be relatively low.
Space and practicality
Cabin space has been prioritised over boot space, so the rear seat backs lean intrusively into the boot area, cutting down the aperture so that it's a lot thinner than the boot floor itself. There's a split floor which is helpful, but the small aperture means that larger bags won't fit in unless the seats are folded down. Such a small car is at least practical to clean, though.
Controls and display
The basic instrument cluster arrangement of a large speedometer in the centre with small auxiliary gauges on the sides of it is fine in a basic design sense, but there is a distinct lack of flair that would have been so easy to add. It looks subdued compared to the coloured dashboard. The 'maps + more' system, however, is excellent and forms the main attraction inside the car.
Comfort
Although the seats are not the most supportive, they are among the best in the A-segment. They are typically firm, as in most German cars, but they are more than good enough for short and medium range journeys. The ride can get a little uncomfortable over rough surfaces, so potholes are best steered around.
Car security
Volkswagen rarely shouts about the exact systems it uses, and specifies nothing more than an electronic immobiliser. However, independent tests have found it to be very secure and it has been officially classified one insurance group lower than it otherwise would have been. The company also has a very good track record with vehicle security in recent years.
Car safety
The up! exceeds the minimum standards required by Europe, which are already very stringent and offers extra electronic systems like City Emergency Braking, which can mitigate or even prevent a simple low-speed crash. Both active and passive safety systems are comprehensive, especially for a car of this size.
Driver appeal
Being behind the wheel of the up! is a really pleasant experience in the higher models with coloured trim inserts. It's also good fun to drive around a free-flowing town in. However, in situations where harder acceleration is needed the up! can struggle. The engine has only a little character, with an off-beat three-cylinder beat, and it lacks a sizable reserve of torque to help the car build speed quickly.
Family car appeal
For a young family on a budget the up! makes a considerable amount of sense and there are two Isofix child seat mounts in the back. Where it fails is in luggage carrying capacity. Pushchairs, boxes of nappies, wipes and other necessary accessories might not fit into the boot, or might need to be adapted or placed into different containers.
First car appeal
This is an ideal first car. It's small, cheeky, well built and good looking, and above all else it's affordable. The standard safety features are very encouraging, and there are optional additional safety systems that can make the up! a very positive place for young or inexperienced drivers to be. The weak engines also make it harder for drivers to overstep their limits.
Quality and image
Volkswagen has an enviable reputation for quality among the general public, but has not previously done that justice in its city cars. The up! manages to feel a lot more solid regardless of model, although inevitably some plastics feel cheap. However, the entry-level take up! model is too sparsely equipped and feels too basic for the price. The high up! and special editions feel much more appealing.
Accessibility
The up! is relatively low but not inconveniently so, and shouldn't cause any difficulties for the majority of the target audience. It's also tall enough to mean that front seat occupants can get in without any unusual risk of bumping their heads. In the three-door model it's considerably harder to get into the back. This is, however, an acceptable price to pay in the eyes of most first-time car buyers.
Stereo and ICE (In car entertainment)
Although the up! doesn't have a particularly outstanding stereo, it does have an impressive information and entertainment system dubbed 'maps + more'. It's a removable tablet-like device that offers full navigation and internet-based services, making it indispensible in big cities for finding out about local places of interest, or where to park. Its capabilities are well beyond what is expected in A-segment cars.
Colours and trim
There are a number of common and popular colours available for the up! series. They aren't daring or unusual, but the essential bases have been covered with red, blue and silver. The special edition white up! and black up! cars are only available in their named colour, with colour-coded wheels. The higher-end models have interior trim in the same colour as the body, which makes the cabin more appealing.
Parking
The up! is one of the easiest to park of all modern cars. Rear visibility is good enough to allow confident reversing, and a very flat rear end means that judging the distance to a wall or post is very easy. Light steering, narrow dimensions and a small turning circle make it just about the perfect car for both parallel and bay parking.
Spare wheel
Temporary tyre repair kit supplied as standard.
Range information
Petrol engine options - 1.0-litre (59bhp, 74bhp). Transmission options: 5-speed manual gearbox standard. Trim levels: take up!, move up!, high up!, white up!, black up!
Alternative cars
Skoda Citigo Essentially the same car as the up! but cheaper to buy
Seat Mii Again largely the same car, the Mii's looks are more conservative
Toyota Aygo Has sold in large numbers but can't match the up! for quality
Fiat 500 The king of urban chic, but relatively expensive by comparison