July 2004
Volkswagen Touareg V10 TDI Tiptronic
A Touareg in full flight is an impressive sight
July 2004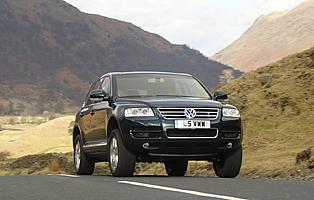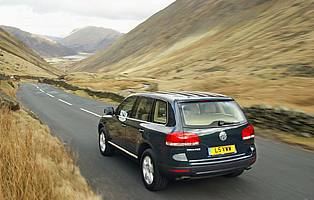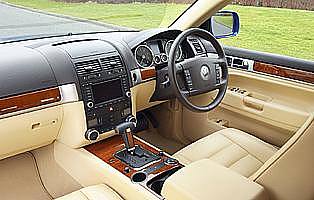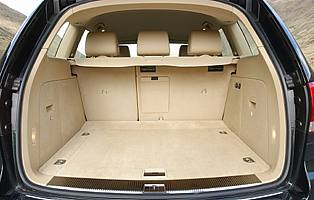 Overall rating

Likes:
Muscular yet classy looks
Buyers get off-road tuition as part of purchase price
More powerful engines are astonishing
All models exhibit superlative build quality
Gripes:
Size makes it very impractical in town
Hardly an environmentally friendly choice
Badge lacks off-road heritage
Entry-level engines slightly underpowered
Any doubts about Volkswagen's ability to create a 'proper' 4x4 have been comprehensively crushed under the formidable wheels of the Touareg. The underpinnings were developed in conjunction with Porsche, which produces its Cayenne from the same platform, but Volkswagen's effort is far more impressive. It even feels classier than its overblown half-brother and is certainly easier on the eye.
The Touareg certainly looks every inch the serious off-roader. Its sheer size is imposing enough, and when combined with a beefy styling approach it becomes an almost daunting prospect. But look closer and another of the Touareg's attributes becomes clear - its attention to detail. Though brawny, the vehicle's lines are far from crude. Body panels fit precisely, glazing is sealed expertly and when on the move the Touareg's design appears far smoother than when it is static.
It's a similar story inside where once again the overwhelming impression is of quality and precision. Even cheaper Touaregs have a hint of luxury about them, while the more expensive models can match anything on offer from Range Rover, BMW or Mercedes.
Power output varies widely according to the precise model selected. Entry-level models struggle slightly to cope with the Touraeg's massive weight and must be worked harder than one would normally feel comfortable with, but the amazing 5.0-litre V10 TDI diesel model has to be experienced to be believed, offering as much power as a small nuclear reactor.
Perhaps unexpectedly, the Touareg is also among the most capable 4x4s in serious off-road conditions. Its smooth body panels may look averse to being splashed with mud but an array of hi-tech driver aids such as hill descent assist and an unburstable low-ratio gearbox give it first class credentials in trying conditions. But a full tank of fuel is a must before heading off the beaten track, as fuel economy is hugely impacted.
Our verdict on the Volkswagen Touareg V10 TDI Tiptronic
For all its undoubted qualities, the Touareg is simply too large for most UK roads. Country dwellers with room to roam could find a role for it, but in a congested city, running a car such as this is an absurd extravagance. Though expensive it is cheaper than its direct competitors and though VW may lack the off-road heritage of Land Rover or Jeep, the Touareg is brawny and brainy enough to easily match either.
Costs
A top-spec Touareg costs very nearly twice as much as an entry-level model, which makes any general assessment of value for money difficult. Expensive models have far superior engines but cheaper ones come with more than enough kit to avoid feeling like poor relations, so buyers really need to decide whether they want full-on luxury or presentable practicality. Fuel costs on all but the 2.5 TDi will be high and servicing is unlikely to be of the bargain-basement variety, though VW does offer a long-life servicing plan. On a more positive note, Touaregs are likely to hold their value well when it is time to sell them on.
Space and practicality
The load space is flat and regularly-proportioned with no intrusion from wheelarches, though it is perhaps not quite as large as might be expected from the exterior. The glove compartment is air-conditioned while the central armrest hides a storage well capable of swallowing a litre size drinks bottle. The Touareg lacks the numerous stowage bins and drawers of an MPV, but seems much neater and tidier as a result. Aluminium roof mounted rails are standard equipment, to which a specially designed roof-carrier system can be attached if extra capacity is required. So strong is the Touareg's bodywork that it can carry a roof load of 100kg and it can tow a braked trailer of up to 3,500kg.
Controls and display
All controls and displays are beautifully rendered, a fact one notices particularly at night when tasteful blue and red lights illumine the dials and the front of the cabin. Controls are crisp in operation, arranged in orderly fashion and clearly marked. They are also numerous, so a close reading of the owner's manual is a must before embarking on a debut journey. The Tiptronic gearbox is smooth and clever enough that there is little to be gained from shifting manually.
Comfort
Cheaper Touaregs are comfortable, more expensive models are luxurious. Whatever the variant, the manner in which seats and instruments are constructed is the same - impeccable. The sense of well-being is heightened by a clever selection of interior surfaces. Wooden inlays in the dash panel, centre console, door trim and gear knob help soften what could be an overly austere treatment while even the plastics and metals are convincing. With 'Cricket' leather upholstery and 12-way electrically adjustable heated front seats, the Touareg becomes a serious alternative to the Range Rover's opulence. If anything there is rather too little noise intrusion into the cabin - it would be nice to hear the incredible V10 coming to life. A steering wheel adjustable for both height and reach is essential - and comes as standard.
Car security
Recent tests placed the Touareg as the most theft-proof vehicle in the off road class. Even so, leaving it in a garage rather than on the public highway is strongly recommended if only to avoid damage from passing vehicles caused by its excessive width. All models are fitted with an electronic engine immobiliser and alarm system with interior protection and central locking. The CD system is VW branded and security coded.
Car safety
With its pervading sense of strength and rigidity, the Touareg inspires confidence in occupants. Robustness is backed up by a comprehensive safety package including driver and front passenger airbags, front side airbags and curtain airbags which cover the entire window surface between the A and C pillars. Hopefully, the braking system should help avoid the deployment of any airbags at all, featuring ABS with EBD and ESP with Hydraulic Braking Assistant. Consequently, the Touareg is able to stop more suddenly than might be imagined, even if emergency braking is a decidedly unnerving experience.
Driver appeal
Performance varies according to the engine selected. In V10 TDI guise, the Touareg will accelerate to 60mph in less than eight seconds, allowing it to outrun many a 'warm' hatch. Given the massive momentum generated by moving something tall, with a gross vehicle weight of more than 3,000kg, at speed, such rapid acceleration is rarely advisable, even with some powerful brakes to fall back on. That said, the torque on tap is staggering and drivers are unlikely to have experienced anything comparable to it before. If ever a car felt strong to the point of invincibility, it is the Touareg. Commendably, all buyers are entitled to a full day's off-road tuition to help them get the most from their vehicle. It's resistant to roll when on-road, too.
Family car appeal
A well-heeled farming family would probably take to a Touareg readily if they didn't happen to be dyed in the wool Range Rover or Land Cruiser fans. It's rather too classy to be a natural rural workhorse though, so most Touaregs look likely to find homes in the stockbroker belt as vehicles for people who like to pretend they live in the country. However, it's too large to be a practical choice on the school run, so it does run the danger of falling between two stools.
First car appeal
Few cars could be a worse choice for a novice driver. Quite apart from the fact that inexperienced hands, such a battering ram of a vehicle would be extremely dangerous to other road users, it is unaffordable, uneconomical and has a high insurance group. Forget it.
Quality and image
Initial fears that buyers would baulk at the prospect of buying a 4x4 from a maker associated with hatchbacks and saloons have proven unfounded. As if to pre-empt such fears, Volkswagen has pulled out all the stops to ensure the Touareg communicates quality and class to owners. Unwittingly, Porsche has also helped to make the Touareg look like a fine proposition - it feels like a far more confident and comprehensively thought-out product than the Cayenne. There's even a degree of reverse snobbery pulling up next to a Cayenne in a Touareg, knowing that one has spent less for a superior vehicle.
Accessibility
Climbing up into the elevated cabin requires a good deal of effort that will be immediately off-putting to some potential buyers. This is a serious 4x4, not a family-oriented 'soft-roader'. Doors and tailgate (with separately opening window) are as heavy as they look. Even though they offer a good deal of hydraulic assistance when opening and closing them, they still require a fair degree of muscle. In acknowledgment of the fact, a power-closing aid is an option on all models. Once passengers have gained access though, they will find they are spoiled for interior space in every dimension.
Stereo and ICE (In car entertainment)
Acoustic quality is good, probably as a result of the cathedral-like dimensions of the interior, though Lexus' RX300 and Volvo's XC90 do have better systems. All models get a single-slot CD player with ten speakers, and a six disc CD boot mounted autochanger can be installed as an option. V10 models gain an upgraded '8/11' audio system with an eight channel amplifier and 11 speakers.
Colours and trim
Standard specification is uncharacteristically generous for Volkswagen on entry level models with alloy wheels, wing mirror indicators, cruise control, electric windows, a full complement of airbags, opening rear windscreen, multifunction steering wheel, torch in centre console, textile carpet mats, climate control and loads more besides. All Touaregs boast the same robust underpinnings capable of tackling rough terrain. Amazingly, even advanced driver aids such as hill descent assist, hill start assist (not on manual models) and four wheel electronic differential locks are standard issue. Range topping models such as the V10 gain comfort and styling features in the main, though keyless ignition, air suspension and front and rear parking sensors are among the more practical items. The range of optional extras is mind-boggling, encompassing everything from a hydraulic bicycle lift to heat insulated tinted glass.
Parking
Parking such a Behemoth without the aid of parking sensors requires nerves of steel and a reliable tape measure. Wide as well as long, owners are likely to find themselves indulging in late-night shopping at the local supermarket more frequently than they would wish, as a Touareg realistically takes up one and a half standard spaces. Only the V10 model comes with parking sensors as standard, though they are installed both front and rear.
Spare wheel
A temporary steel space saver spare wheel with electric compressor comes as standard kit though it is of course completely unsuited to off-road use. Anyone venturing off the beaten track would be well advised to replace it with an optional matching full-sized alloy wheel.
Range information
Engine line-up consists of 2.5 diesel (172bhp); 3.2 V6 petrol (217bhp); 4.2 V8 petrol (305bhp) and 5.0 V10 diesel (309bhp). A six-speed tiptronic automatic gearbox is available on all models, while a six speed manual transmission is also offered on 2.5 TDI and V6 models. Trim levels vary according to engine choice, though 'Sport' badged cars feature additional styling items.
Alternative cars
Range Rover Titanic Brit is luxurious and unstoppable though cripplingly expensive to run
Porsche Cayenne Over the top, over expensive with inferior cabin; badge is only attraction
BMW X5 Fashionable choice is a safe bet yet somewhat lacking in character
Lexus RX300 Loaded with equipment, well built and good value despite moderate off-road ability