September 2014
Volkswagen Touareg 3.0 TDI V6 SE
Straightforward styling is inoffensive for the car's size
September 2014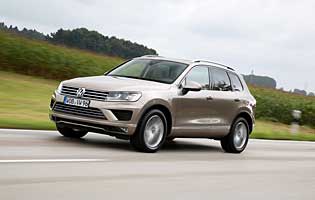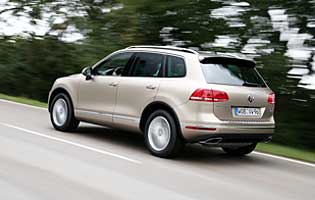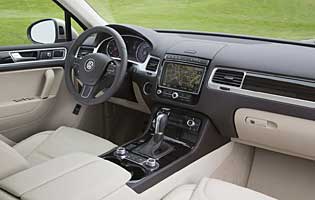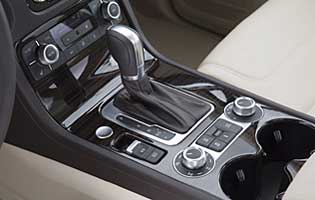 Overall rating

Likes:
Impressively quiet at all legal British cruising speeds
Spacious cabin offers leg and shoulder room a cut above the norm
Lengthy standard equipment list makes all models feel luxurious
More powerful diesel engine is smooth, with adequate power
Gripes:
High load lip makes packing heavy bags more difficult
Large dimensions mean care must be taken in car parks and near kerbs
Some small interior plastic areas feel unworthy of a car this expensive
Desirable options can be extremely expensive
The Touareg was originally launched as a high-powered, high-priced flagship SUV, but with this mid-life update both extremes have been left behind. Now the UK will only have two versions of a V6 diesel, which had previously been the entry-level engine. The range, therefore, is more affordable at its top end, but still offers plenty of qualities to satisfy owners.
The Touareg is in a stereotypical position for the Volkswagen brand, being more expensive than many rivals and being marketed as a superior product. There are also a number of large SUVs that are more expensive and more luxurious, though, which does matter to many would-be owners. This is a sensible choice in a sector that often leaves sensibility behind.
This version has been redesigned, with an emphasis at the front end to bring it into line with the family styling that originates from the seventh-generation Golf hatchback. For a car with such physical bulk the Touareg hides its mass well, and manages to blend into the crowd in a way that few of its competitors can.
Volkswagen has chosen to increase the amount of standard equipment on this model generation in line with what it calls customer expectations. Prices have risen, but the company is confident enough in the Touareg's customer base, particularly now that the mighty but slow-selling V8 diesel has been removed from the UK offering, that sales will grow.
The majority of Touareg buyers have technically been companies, where high-ranking executives have chosen them as their business car. Volkswagen is offering a distinct trio of trim grades that separate the understated from the off-road capable and the mock sporting, where large wheels and lower suspension are prominent. The firm is therefore making a three-pronged foray back into the market.
Our verdict on the Volkswagen Touareg 3.0 TDI V6 SE
The Touareg is multi-talented and possesses an enviable combination of on-road manners and surprising off-road grit - depending on the model buyers choose. The decision to axe the flagship diesel engine will not offend too many Brits, and the reduction in emissions will help to keep the car competitive for business users. The Touareg works for those buyers who want to minimise the SUV arrogance factor.
Costs
The Touareg is not a cheap car to buy or own, but steps have been made in the right direction with the modifications made to the latest generation of diesel engine. The more powerful of the two V6 options puts out less carbon dioxide and uses less fuel than it did previously, which makes a tangible difference to company car users' tax bills.
Space and practicality
While the glove box is actually quite small, there is by way of compensation a large, split-lidded central storage compartment and a covered slot ahead of the gear lever, about the size of a small letterbox. The boot offers a lot of area across its base, which adds flexibility for packing, but the four-wheel drive mechanicals do take away some of what could have been extra stacking height.
Controls and display
The illumination for the dashboard and console buttons has been changed from red to white, which makes the controls much easier to see and operate in the dark. The main display screen isn't the largest but it's bright and clear enough and doesn't dominate the interior uncomfortably. All the dials and buttons feel well damped and sturdy, like they will stand the test of time and mileage well.
Comfort
The width of the cabin allows for broad and chunky front seats either side of the centre console, and they offer imperious comfort thanks to multi-way electrical base and back adjustment. The rear seats are better than Volkswagen can fit in smaller cars, too, thanks to adjustable seat back angle, and provide a little more comfort than some passengers may be used to. There is plenty of leg- and shoulder-room for five occupants.
Car security
Security, perhaps surprisingly, doesn't extend far beyond the same system of an alarm, an immobiliser and locking wheel bolts that Volkswagen fits to all its large cars. Tinted rear window glass is offered, which helps to hide items left on the rear seats, and on more expensive trim levels keyless entry becomes standard via an 'intelligent' key.
Car safety
Buyers can specify the Touareg with a comprehensive array of radar, cameras and ultrasonic sensors to detect obstructions, road markings and other traffic from a multitude of angles. It's not all standard but much of it is, and all the key active safety systems are present and correct. The car can brake automatically at low speeds to avoid or mitigate a crash, it will automatically apply the brakes after a crash and it monitors neighbouring lanes to make sure any traffic in the driver's blind spot is identified.
Driver appeal
The SE model is focused more on comfort and luxury than any pretence of a sporting nature, so it makes the most rounded choice. On standard steel suspension it cushions big bumps well, but there are plenty of secondary judders that get passed to the occupants. The engine is quiet at a cruise, breaking into a genteel growl under acceleration, and the high driving position gives a commanding view of the road ahead. Drivers can enjoy relaxing in the Touareg.
Family car appeal
For families that can afford it, this car is a very good choice in some ways. Its width and interior space make fitting child seats easier, but there is no seven-seat option. Its size could count against it in some settings, like narrower urban streets and in the congestion outside a school, but it's extremely good at covering distance in comfort, so driving holidays or weekend trips to the seaside are all easy in the Touareg.
First car appeal
While it is conceivable that a young or new driver might want to look at cars with higher driving positions, there are few on the market that are really in first-time car buyer price territory. The Touareg is not the most expensive SUV, but it's way beyond the reach of a first-time buyer. That's a good thing, because its size, weight and wealth of technology set it very far apart from the small cars that novices will have previously spent all their driving time in.
Quality and image
Volkswagen has a virtually impenetrable aura of quality surrounding its brand, despite rarely being able to match its Japanese rivals for reliability. The company is very good at building cars that people like to own, though, and the Touareg imparts a great enough sense of engineering quality that people are likely to overlook the occasional cheap plastic trim pieces inside. The excellent engine soundproofing boosts the quality feel, too, while this is one of the least aggressive SUVs on the market.
Accessibility
The height of an SUV as large as this can sometimes be a hindrance to older people who find themselves having to climb unsteadily up into it. The door apertures themselves are very large, though, so there is plenty of room to help kids up into their seats and get them strapped in, and ladies shouldn't need to fear any damage to their wedding hats while getting in or out. A powered tailgate is very welcome.
Stereo and ICE (In car entertainment)
Not much has changed from the last generation Touareg's media interface, but that still leaves a fairly intuitive system with a large and bright screen to enjoy. Changing music sources is easy, and there are potentially several to choose from, with USB, AUX, Bluetooth, CD and DAB digital radio to cycle between. There are plenty of speakers in the cabin for an even spread of sound. Among the optional extras is television reception, which can access certain TV channels when the car is parked.
Colours and trim
The sober, some would say slightly bland shape of the Touareg is better suited to business-appropriate colours like black, light bronze and dark blue. Silver doesn't carry enough visual weight and there would be little call for bright, bold colours among the target buyers even if such shades were offered. The interior trim is largely impressive, with thick leather upholstery and an overall sturdy feel. Some cheap pieces of plastic trim let the effect slip, though, and feel unworthy of a car of this price.
Parking
Any car of the Touareg's size is a handful to park, which is why it comes with so many technological extras to help drivers avoid costly scrapes. Front and rear parking sensors are standard, with a set of four cameras being available as options. They work together to create a bird's-eye view of the car to help position it relative to obstructions and other cars. Light steering and pedals help even nervous drivers feel like they're not piloting something too big.
Spare wheel
Emergency tyre repair kit supplied as standard.
Range information
Diesel engine options - 3.0-litre (201bhp, 258bhp). Transmission options: eight-speed automatic gearbox only. Trim levels: SE, Escape, R-Line.
Alternative cars
Hyundai Santa Fe Comfortable, smooth and quiet, the Santa Fe is a relative bargain
Toyota Land Cruiser Infallible reliability and increased off-road ability, with many practical touches
Vauxhall Antara Bland styling and lower interior quality, but affordable prices
Audi Q7 More aggressively styled and expensive to buy, but with better interior materials