Volkswagen Beetle Dune 1.2 TSI DSG Cabriolet Review
Strong image makes it highly desirable
August 2016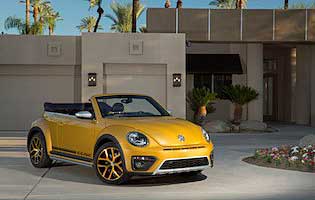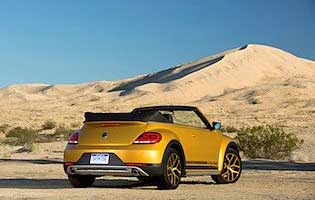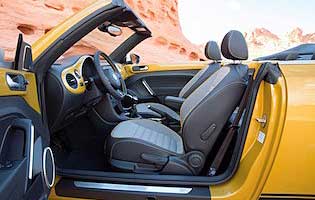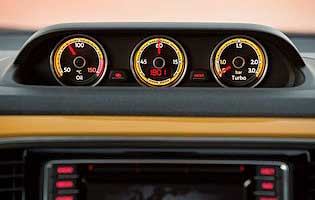 Overall rating

Likes:
Strong image makes it highly desirable
Added ride height hasn't affected handling
Good refinement when the hood is down
Very intuitive infotainment system
Gripes:
Interior trimmings don't live up to those on the outside
Limited colour palette
Convertible sacrifices boot space
Rear seats are too cramped for adults
Harking back to the Baja buggies of yesteryear, the Dune is the most pumped-up model in the current Beetle range. Bold colour schemes, look-at-me decals and a beefy body kit make sure it stands out, and although it isn't cheap, it has an image that's hard to find anywhere else.
In a bid to instill that Baja buggy look, VW has simply taken a standard drop-top Beetle and fitted some rugged-looking plastic body cladding and jacked it up by a few millimetres. It isn't the most comprehensive revamp in the world, and it might be divisive, but there's no denying that it gives the Beetle something extra.
Inside, the changes are almost as marked, with sporty-looking grey and yellow materials used, but you can swap all that out if you desperately want a little more understatement in there. There's a huge swathe of yellow plastic across the dash, too, but if you think that's a bit too much you can go for plain old black.
Under the skin it's like any other Beetle, though, apart from the 10mm suspension lift that gives it a little more presence. It hasn't made much difference to the Beetle's safe, solid and predictable driving dynamics and nor has it spoilt the supple ride.
Just two engines are available: a 1.2-litre turbocharged petrol engine with 103bhp and a 2.0-litre diesel with 148bhp. Customers can also choose between a solid-roofed hatchback variant called the Coupe or the Cabriolet, which boasts an electrically folding canvas roof. It's the latter we're testing here.
Our verdict on the Volkswagen Beetle Dune 1.2 TSI DSG Cabriolet
This is a car that lives and dies by its image, and if you're sold on that you'll love it. It's isn't very practical and there's nothing particularly remarkable about the way it drives, but the handling, economy and refinement levels will be perfectly acceptable for its target market. The price tag may be a sticking point for some, though.
---
Costs
The Beetle Dune is not a cheap car to buy. Prices start from GBP24,255 and rise well north of GBP28,000 when you start putting a few optional extras on the diesel convertible, but that actually isn't so bad for the segment. For example, high-spec versions of the DS 3 Cabrio start at well over GBP20,000, and the Mini isn't much cheaper. Being a VW, though, the Beetle is liable to hold its value well, meaning owners won't lose too much to the dreaded depreciation.
Space and Practicality
Few people buy a Beetle for its practicality, and fewer still buy a convertible for its load-lugging capacity. At 310 litres, the hard-top Dune has a fairly respectable amount of boot space, but the convertible cuts that to 225 litres. Even that wouldn't be so bad, were it not for the tiny aperture through which you access the load bay. Fitting pushchairs through that rear door is likely to be a futile exercise, and this certainly isn't a car for golfers, but it'll cope with a handful of shopping bags.
Controls and display
Despite the stand-out style of the Dune, its controls and dials are all fairly conventional. Drivers won't have any problem reading the clear, clutter-free instrumentation, and all the vital knobs and switches are within easy reach. The central infotainment screen is well sized, intuitive and boasts clear graphics, although it doesn't have much in the way of wow factor. Nevertheless, there's a pleasure to be had from things that simply work well.
Comfort
Despite the increased height, the Dune's ride seems little different to that of the normal Beetle, but that's no bad thing. The standard car is completely inoffensive from behind the wheel, and the Dune continues along the same lines. Although the ride is hardly marshmallow-smooth, it does a relatively good job of rounding out the bumps, and even high-frequency pitted road surfaces don't make progress too unbearable.
Car security
Security is often a worry for convertibles, but the Dune does its best to calm anxious customers with all the usual security devices, from the central locking to the alarm. When all's said and done, though, this is still a canvas-roofed convertible and some will find that off-putting. That isn't the problem it once was, though, and while a folding roof is a little more vulnerable than a standard hard-top, it's still pretty tough.
Car safety
The convertible Beetle Dune hasn't been crash tested by Euro NCAP, but the hard-top inherits the standard Coupe's five-star score. Although it was last tested in 2011 and the criteria have changed somewhat since then, its 92 per cent adult occupant and 90 per cent child occupant scores remain impressive. Granted, those scores might not apply to the drop-top, but with a healthy collection of airbags and pop-up rollover bars it should still protect you fairly well if it does come to grief.
Driver appeal
Given the raised ride height, the SUV-style bumpers and the form-over-function shape, the Dune - like the standard Beetle - is no driver's car. It isn't bad by any means, but the steering wheel isn't overly feelsome and there's noticeable body roll, so it isn't very rewarding either. Fortunately, that isn't what this car is about; it's far better suited to cruising along the sea front on a sunny summer's afternoon. The steering isn't too heavy, so it's easy to place on the road, and the automatic gearbox shifts smoothly.
Family car appeal
The Beetle's lack of practicality means it's unlikely to be the first choice for families, but providing the children are small enough, the Dune might work as a second car. Kids will love cruising around with the roof down, and the boot is at least capable of taking a couple of school rucksacks. It'll have plenty of schoolyard appeal too, with the combination of chunky bodykit and cutesy looks gaining admirers by the bucketload.
First car appeal
Because the Beetle is so desirable, it probably will find favour with quite a few younger drivers, but whether it is a suitable vehicle is another matter. The 2.0-litre diesel variant's 148bhp power output probably makes it too potent to insure for sensible money, but the 1.2-litre petrol we tested might not be a bad bet. Opt for the convertible variant and visibility is good - at least when the roof is down - but some may be put off by the steep asking price.
Quality and image
Volkswagen is rapidly climbing the rungs of the motor industry ladder, elevating itself marginally above the likes of Ford and reaching towards the premium standards set by Audi and BMW. The Beetle isn't supposed to be a premium car, but as you'd expect, the Dune is impeccably built. The solid plastics feel classy to the touch and it's all bolted together with fastidious attention to detail. The shut lines are spot on and there are no squeaks or rattles to report, although you wouldn't expect any from a brand-new car.
Accessibility
Like the standard Beetle, the Dune only has the two passenger doors, which means that although access to the front seats is fairly easy, getting into the rear seats requires a little more effort - not to mention a degree of contortionism. The front seats do tilt to aid access, but it still isn't that easy to get into. Kids ought to be able to manage it, though, and as they're the only people who would be happy in the rear for any period of time, that's all that really matters.
Stereo and ICE (In car entertainment)
All Dunes come with a touchscreen infotainment system, which is intuitive, clear and easy to use, if not exactly ground-breaking. Everything is set out logically and the sub-menus are easy to navigate. In front of the driver there is a plain black-and-white LCD display housing the trip computer and other such information. Again, it isn't going set the world on fire, but it does everything you want it to and does it with minimal fuss.
Colours and trim
Though the standard drop-top Beetle is offered in a veritable plethora of hues, the Dune's palette is slightly more limited. Either you can go for the bold yellow seen in these pictures, white, metallic brown, a gloss black or a smart pearlescent black. Whichever colour you go for, though, you'll get plenty of model-specific decals and interior trimmings. There's a Dune logo at the bottom of the doors, and the interior offers you the choice of bright, sporty colours or more austere blacks.
Parking
Parking the Beetle is not an especially difficult task, but because of the sloping front and rear, it can be a little difficult to see where the corners of the car are. This is made even harder when the convertible's hood is in place, thanks to the letterbox-like rear screen and small rear side windows. Thankfully, VW will sell you parking sensors for your Dune, and they're an option we'd strongly recommend. The reversing camera might be a good idea, too, but it isn't cheap.
Spare wheel
Emergency tyre repair kit supplied as standard.
Range information
Petrol engine options - 1.2-litre (103bhp). Diesel engine options - 2.0-litre (148bhp). Transmission options: six-speed manual gearbox, plus auto gearbox. Trim levels: Dune