Vauxhall Ampera Electron review
Exterior look is very futuristic
April 2012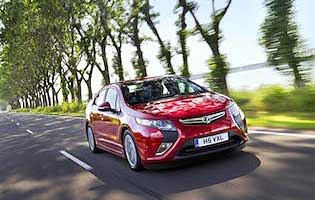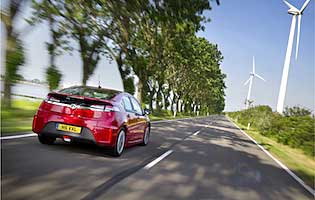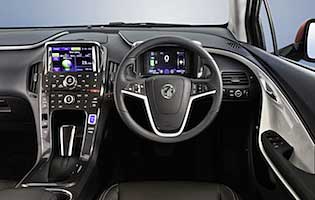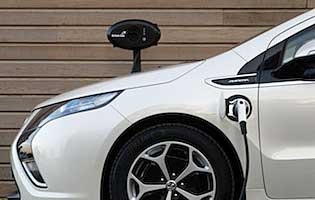 Overall rating

Likes:
Exterior look is very futuristic
Hi-tech running gear delivers an impressive eco-centric performance
Refined ride one of the Ampera's plus points
Wallet and tax-friendly low emissions performance
Gripes:
High purchase price makes it suitably only really for business users
Cabin quality could be better at this price point
Touch pad-like controls on fascia can prove awkward to use
Petrol engine refinement could be better
A significant release from Vauxhall, the Ampera blends the qualities of a pure electric car with the advantages of a range extender to eliminate worries over exhausting the battery.
With the need to deliver cars emitting fewer pollutants and returning ever-higher fuel economy figures, car makers have had to become more creative as they reach the limits of the humble internal combustion engine. Vauxhall's Ampera boasts a battery pack and electric motor, plus a small capacity petrol engine acting as generator.
Such a futuristic powertrain demands an equally space-age look and the Ampera doesn't disappoint. The four-door bodystyle might be aimed more at the American market - the near-identical sister Chevrolet Volt is the real reason for this layout - but for business users the compact saloon format should appeal.
The main draw with the Ampera is its ability to run on electric power alone for around 30-odd miles, which should prove sufficient for the majority of work-based journeys. Recharging is a simple process that can be done at home or at a suitable public facility, with the onboard petrol engine reserved as a failback to counter failing electric range or to boost performance.
Crucially this all happens without any intervention from the driver. You can, however, monitor the car's behaviour via the rather colourful central display screen. There are options to tweak the car's performance, such as boosting the built-in brake-battery regeneration effect and switch the bias between economy and performance.
Our verdict on the Vauxhall Ampera Electron
Looks aside, Vauxhall's Ampera is a striking car for a variety of reasons. That it packs a significant amount of technology is impressive in its own right. However, in use the various systems work well together and deliver a compelling case for an alternative to the conventional petrol or diesel saloon. In this context the few cabin quality issues are merely niggles, although its price point means it's largely the preserve of business users.