February 2014
Toyota Verso Excel 1.6 D-4D
Styling introduced in 2013 remains largely unchanged
February 2014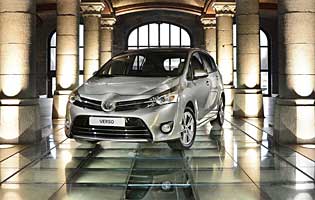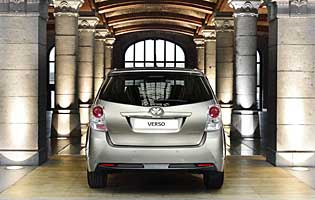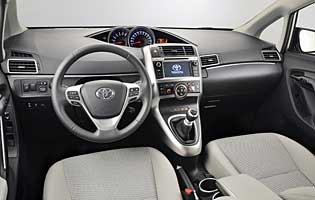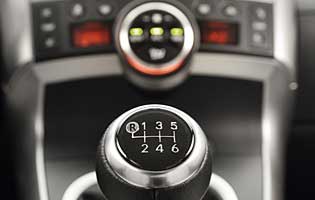 Overall rating

Likes:
Smooth and driver-friendly drivetrain is flexible and quiet
High levels of refinement
Fold-away third row of seats adds useful extra practicality
Toyota Touch 2 media interface is modern and quick to use
Gripes:
Tailgate requires a strong arm to shut one-handed
Interior and exterior styling are both drab next to competitors
With the third row of seats in place the boot is too small
Difficult to match the official fuel economy figures
In an effort to close the gap on the wildly popular trend for crossover-style cars in this part of the market, Toyota has sourced a compact diesel engine from BMW's Mini platform. It plugs a gap that consumers had noticed and used as a reason not to explore the Verso more closely, and Toyota is now hoping for better sales.
The Verso sits in an incredibly tough part of the market, sitting in the grey area where raised-up hatchbacks and traditional - but no longer fashionable - MPVs meet. The tides of fashion and favour are against the Verso in its quest to reclaim sales from the likes of the Nissan Qashqai.
However, until now it hasn't been able to compete on an equal footing with the Nissan and its peers. A 2.0-litre diesel engine has in recent years become too large and surplus to the average buyer's desires. A 1.6 was needed to win back custom, so Toyota entered into an arrangement with BMW that involved access to the Germans' diesels.
The Verso is the first Toyota to feature the borrowed power unit. The resulting package is much better placed to take on the class leaders in a fair fight, not to mention giving buyers a cheaper price tag and lower ownership costs. Adaptations to various technical aspects have modified the engine to Toyota's specifications.
Outside the engine bay the changes are much less far-reaching, with myriad small detail changes refreshing the Verso for the new model year. New upholstery styles and revised trim detailing don't much alter the overall appeal of the car, but do help to keep it current.
Our verdict on the Toyota Verso Excel 1.6 D-4D
Carrying forward the Verso's already comfortable seats and suspension was a fine decision, because the new BMW diesel engine makes an excellent partner to the existing setup. Toyota has done a sterling job of integrating it into the car's character, creating easily the best Verso there has yet been. Lower costs without much sacrifice in usability have justifiably seen the older 2.0-litre Toyota diesel rendered obsolete.
Costs
One of the main reasons Toyota introduced this new 1.6-litre diesel engine to the Verso was to reduce its running costs. Improvements to fuel economy and emissions without any compromise in reliability or servicing expense makes the Verso immediately cheaper to own, and then there is the very modest purchase price next to the competition. The Verso makes a strong case to the head.
Space and practicality
The seven-seat Verso has a minor problem in that the boot floor is effectively raised to accommodate the two fold-away seats. It does compromise outright luggage space but the high roof should still allow certain bulky items to slot in without the need to put the middle row of seats down. In the main part of the cabin there is a wide assortment of nooks and crannies, including two glove boxes, designed to provide places to stow day-to-day bits and pieces.
Controls and display
The centrally-placed instruments might require a slight adjustment in some drivers' mental calibration, but in truth it's extremely easy to get used to and actually works very well. The dials are clear and recessed to avoid any annoying glare from side-lighting, but the Touch 2 screen does sometimes suffer from the low sun. In normal circumstances, though, it's a clear and bright screen with responsive behaviour.
Comfort
There is a clear bias towards comfort, which stops short of being so soft that it compromises the rest of the ride comfort. It's simply a well-judged helping of bump-absorbing composure. Passengers in the middle row of seats will find ample room and a good amount of light from the relatively large windows, but the occasional-use seats at the very back are only really suitable for children and short journeys.
Car security
There are covered storage compartments in the cabin if small valuables need to be kept out of sight, as well as remote central locking that includes a function to open the boot independently of the main doors. The boot, however, is uncovered to leave unhindered access to the rear row of seats, which potentially leaves larger items in view.
Car safety
Airbags and intelligent construction take care of the Verso's passive safety, with strength built into the passenger cell while leaving impact-absorbing crumple zones at the front and rear. Stability control is standard, and traction control reins in any accidental wheelspin in slippery conditions. Of course, the improved view offered by the raised driving position could also be considered a safety feature.
Driver appeal
The target market here is people who prefer relaxed comfort to aggressive styling that compromises ride quality. The new diesel engine is marvellously smooth and provides a great balance of muscle and refinement. In everyday driving its vibrations are suppressed almost completely, which lets drivers and passengers alike just sit back and get on with a peaceful drive.
Family car appeal
Families are the main target customers for the Verso, so measures have been taken to make it as appealing as possible. The seven-seat layout is an obvious advantage, along with the Isofix child seat mounts in the middle bench. Less immediately noticeable factors include broad back doors, which help to make it easier to manage children and make sure they're strapped in correctly. The new diesel engine's lower emissions are tailored to family budgets, too.
First car appeal
Sometimes life might present a driver with a scenario whereby their first car should really have seven seats, but that occasion must be very rare. The Verso is incredibly easy to drive and forgiving on the driver, but it probably doesn't rank too highly on the desirability scale. Its size may also be a stumbling block, even if insurance and running costs are within reach.
Quality and image
Toyota is the foremost automotive advocate of admitting when things aren't right, having openly recalled cars on several occasions in recent years while other makers try their best to keep such things quiet. This double-edged sword can either enhance or ruin the firm's reputation, according to the individual buyer's opinion. Reliability is beyond doubt, though, with Toyota as a brand - or one of its cars - almost always sitting at the top of dependability charts.
Accessibility
The Verso is built as a boxy MPV, which means it has broad and tall door apertures by default. While crossover rivals might lift the chassis of the car up for more ground clearance, the Verso leaves it low so that even older people or those with restricted mobility can enter and exit the car with a minimum of fuss. A low entry step is always good for access. The tailgate, however, needs to be closed almost all the way before it will fall shut on its own. Its strong upwards assistance makes opening it easy, but shutting it difficult.
Stereo and ICE (In car entertainment)
The audio system is accessed, on all but the entry-level model, through the touch-screen Touch 2 interface. Like the best modern systems it offers a clear, sharp display and responds instantly to touch inputs, making navigating for tunes very easy - but only when stationary. On the move, bumps in the road make it hard to be precise with your prods, which is a problem shared by all touch-screen media systems.
Colours and trim
Toyota hasn't strayed from familiar waters when designing the Verso's colour palette. Six shades between black at one extreme and white at the other will prove most popular, with silver the best suited to the Verso's subdued styling. For the more daring there are classy reds and blues to choose from, with an electric blue the most striking. On the inside the trim is typical Toyota, with lots of bare surfaces and a generally dated feel despite obvious effort to jazz the environment up. In truth it's design to suit Toyota's main Japanese and North American markets.
Parking
On this top-spec model front and rear parking sensors are standard and will be welcomed by parents trying to safely park a car full of potentially distracting children. The Verso's MPV shape is a natural advantage here, too, because it offers greater rearward visibility and the bumper ends only a little way beyond the rear windscreen, making it easier to judge the remaining space to walls.
Spare wheel
Emergency tyre repair kit supplied as standard.
Range information
Petrol engine options - 1.6-litre (130bhp); 1.8-litre (145bhp). Diesel engine options - 1.6-litre (110bhp). Transmission options: six-speed manual gearbox or CVT auto gearbox (petrol engines only). Trim levels: Active, Icon, Trend, Excel.
Alternative cars
Nissan Qashqai Big-seller dominates the compact high-riding car market, but is comparatively very expensive
Suzuki SX4 S-Cross Amazingly well equipped for a similar price to the Verso, but lacks seven-seat option
Honda CR-V Larger alternative has more space but less fuel economy
Peugeot 3008 Upmarket Peugeot MPV is an impressive all-rounder