January 2016
Toyota Rav4 Hybrid
The Rav4 has distinctive Toyota styling
January 2016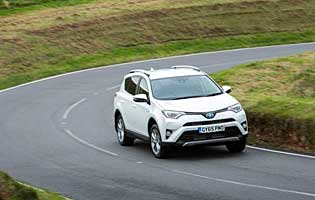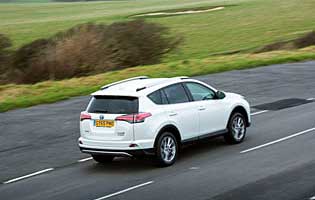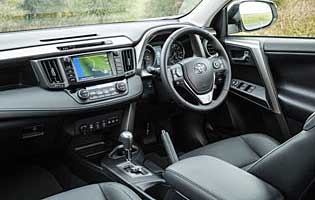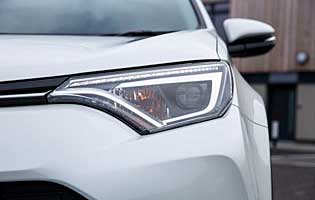 Overall rating

Likes:
Striking, purposeful design
Powerful hybrid powertrain
Comfy cruiser with plenty of space
Good 4x4 ability and towing capacity
Gripes:
Dated interior with tucked-away buttons
CVT automatic transmission leads to noisy droning under hard acceleration
High purchase price for hybrid variant
Sloppy handling and vague steering response
The Rav4 finally has a hybrid option, after nearly two decades as a popular light 4x4 and urban 'soft-roader'. Available in two- and four-wheel drive, this is a versatile and practical car that will be bought for logical reasons rather than for emotional appeal. The cabin is roomy, the 4x4 model does work off road, and the hybrid system reduces emissions.
Introduced in the late Nineties and updated consistently since then, the Rav4 has been popular both as an urban vehicle and as a light utility and towing car. Now, with a hybrid version replacing the diesel 4x4, it's been modernised to compete in a very crowded marketplace packed with excellent conventionally-fuelled rivals.
The Rav4 hybrid is a practical and comfortable car with good visibility and a high driving position. Visually it has the distinctive Toyota aesthetic, with sharp, striking likes and angular lights. The cabin is clad in a muted grey, which is pleasant but not exciting.
Buyers choosing the 4x4 system will have reasonable off-road ability, as well enough towing capacity for a caravan or horse box. They will also have added stability on road in slippery conditions. Some compromises have been made to cargo space to make room for the hybrid system, which is something that previous Rav4 owners might notice.
Various trim levels are available, most with sat-nav as standard. None are particularly lavish but they're less plasticky than the very utilitarian interiors of previous Rav4s. This is a huge improvement for the model, which makes it a sensible and reliable - if still uninspiring - choice for families who want some off-road or towing ability.
Our verdict on the Toyota Rav4 Hybrid
It isn't an exciting car, but it is a sensible choice. An efficient and effective powertrain gives it respectable performance, and the four-wheel drive system means it's a capable car in all weathers. It loses points on interior finish and handling versus some rivals, but if you want a small 4x4 with the added benefit of the hybrid system, this could be your best option.
Costs
The Rav4 is an expensive car compared to similarly-practical diesel models, but hybrid cars tend to cost more. Buyers who want a small family 4x4 have plenty of options, many stronger than the Rav4, though stipulating hybrid reduces this somewhat. Fuel costs will be considerably lower than conventional cars under urban driving conditions - if the driver uses the hybrid system correctly.
Space and practicality
The boot space of 501 litres is slightly smaller than that of the non-hybrid version but is still pretty generous. With the seats folded, this expands to an impressive 1,633 litres, but the load bay isn't flat. Instead, there's a pronounced lip that prevents you from sliding large objects easily into the expanded cargo area. The passenger compartment is still spacious and should meet the needs of older families.
Controls and display
The main controls are easy to use, and the instruments are clear and concise. Switches and buttons like the ones that switch driving modes, however, are tucked away and aren't immediately obvious. The touchscreen infotainment system is not the best on the market but does perform adequately, even if the interface feels dated.
Comfort
The seat is adjustable and the electronic lumbar support on some trim levels adds an element of adjustability not found in other small 4x4s. Legroom in the front and back is good, with large adults able to sit behind other large adults in comfort. The Rav4 absorbs most bumps with ease, though there is the sensation of impact on particularly rutted roads. Off-road, the car is very composed.
Car security
The Rav4 comes with remote central locking with double locks on all trim levels. It also comes with a remote perimeter alarm. The glove box locks and rear tinted windows should keep prying eyes away from the back seats.
Car safety
Toyota produces safe cars. Abundant airbags and advanced driver aids help this car to be among the safest on the road, and the high driving position should provide some peace of mind. In the event of a collision, passengers will be protected, but various emergency braking systems should help prevent that from happening. Toyota Safety Sense is an option on all models, providing adaptive cruise control, automatic high beam, lane keep assist and more.
Driver appeal
Acceleration is good, thanks to the powertrain producing nearly 200bhp. Handling, however, is not particularly engaging or enjoyable - the emphasis is on a smooth ride rather than an entertaining one. Noise from the engine does penetrate the cabin when it is running, but it's the CVT automatic box that brings about the most noticeable sound - a high, droning revving from the engine under power. This is not a driver's car, and was not designed to be.
Family car appeal
The Rav4 offers an excellent family car prospect, with an efficient hybrid system and good interior space. It isn't an inherently desirable model but if the primary purpose of the car will be to ferry the family around, and you'd like the added abilities of a 4x4, the Rav4 would be a sensible and good-looking choice. Isofix in the rear and wide door apertures should make it easy to load infants, too.
First car appeal
The Rav4 would be a capable and practical first car for wealthy novices, as the powerful hybrid system doesn't make it a performance car. Roadholding is good but braking is less responsive than on lighter cars. The size of the Rav4 is mitigated by the driver aids and light steering, but a new driver would still benefit more from one of Toyota's compact superminis.
Quality and image
Toyota has a strong reputation for reliability. The hybrid powertrain is relatively simple and shouldn't present the battery life worries that fully electric cars often do. Aside from some cheap-feeling interior elements, the Rav4 feels solid and well-built. In terms of image, Toyota is a well-known and popular car brand, though it lacks the prestige of upmarket sub-brand Lexus.
Accessibility
The high seating position makes it easy to enter and exit the car, though the bulky nature of the Rav4 means that it's more difficult to open the doors in tight spaces than smaller cars with similar passenger and cargo space. The boot opens wide, though there is a lip.
Stereo and ICE (In car entertainment)
A seven-inch touchscreen comes as standard on most models, though this is also slightly dated in comparison to more upmarket competitors. There's one USB port and just six speakers. The sat-nav comes as standard on some trim levels. DAB radio, MP3s, ordinary radio broadcasts and hands-free phone calls all work over the infotainment system.
Colours and trim
The Rav4 looks good in light colours. It's a striking car on the outside, with muscular, deliberate lines and an angular, aggressive face. Parts of the exterior trim are almost sporty in their appearance. Inside is more dated, with thick grey leather dominating the interior and the occasional panel of scratchy black plastic.
Parking
Optional reversing cameras make the car very easy to park, especially with the innovative birds-eye-view video on the infotainment screen. Rear visibility is quite poor, though, and the inherent size of the Rav4 means that the doors are tricky to open in the tightest spaces. Compared to larger 4x4s, though, the Rav4 remains suitable for urban driving, and light controls make it easy to physically manoeuvre.
Spare wheel
Emergency tyre repair kit supplied as standard.
Range information
Petrol engine options - 2.0-litre (149bhp). Diesel engine options - 2.0-litre (141bhp). Hybrid engine options - 2.5-litre hybrid (195bhp) Transmission options: six-speed manual gearbox (2.0-litre diesel only), Vmatic automotive (2.0-litre petrol only) and CVT (hybrids only). Trim levels: Active, Business Edition, Business Edition Plus, Icon, Excel
Alternative cars
Mitsubishi Outlander PHEV Superb all-rounder with added benefit of plug-in hybrid system
SsangYong Tivoli Extremely good value for money with a 4x4 model - but no hybrid
Suzuki Vitara 1.6-litre diesel is efficient and costs nearly GBP10,000 less than the Rav4
Lexus RX The Rav4's upmarket cousin is one of the best of its type