February 2006
Toyota RAV4 2.2 D-4D XT4
Smooth lines signal a shift upmarket for the RAV4
February 2006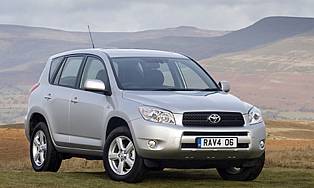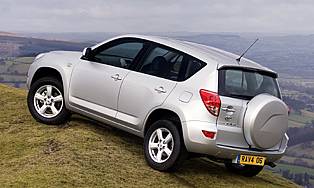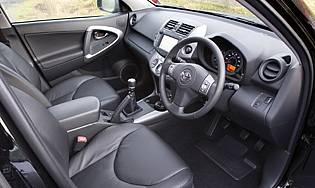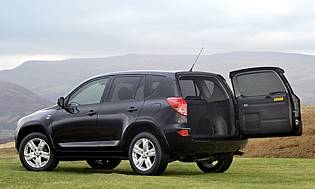 Overall rating

Likes:
Build quality is impressive
Cabin space is generous and boot should be more than adequate for a busy family
Standard specification across the range is high, putting premium rivals to shame
Ride comfort is good despite the car's firm, car-like bias
Gripes:
Cabin decor is on the dark side and the quality of the plastics is average
Hill decent control only available on petrol auto variant
Flagship T180 diesel is noisy when driven hard
Tailgate opens out to the side and not up
Since the launch of the original RAV4, Toyota's youth-orientated sports utility vehicle has become a runaway success. Never a car to claim superhuman off-roading abilities, the RAV has successfully blended style, affordability and ease of use. This latest generation car moves the game upwards, towards rivals in the premium sector.
Larger than the car it replaced in all the right dimensions, it is immediately obvious that this RAV4 is different from past iterations. The exterior boasts smoother curves and the interior is more conservative - not unlike an Avensis or low-end Lexus.
It's clear that Toyota's aim is to position the RAV4 further upmarket and worry the likes of BMW with its X3. In a bid to bridge the credibility gap, the Japanese firm is dangling a huge carrot by way of generous equipment levels to convince buyers.
In the main, such a strategy is bound to work with the majority of wavering buyers. The list of kit offered on even the entry-level model is considerable, and stretches to sat-nav, leather seats and electric everything on the top variants. Faced with such generosity, only the badge snobs are likely to stay loyal to their respective brands.
For all the RAV4's material charms, don't forget that there's a solid, dependable, reliable car underneath. It will struggle where Land Rover's Freelander won't, but on road the RAV4 feels assured and stable in an environment it will almost exclusively.
Our verdict on the Toyota RAV4 2.2 D-4D XT4
This generation of RAV4 is another fine product from Toyota. Dripping with equipment and boasting an impressive reliability heritage, there's little to beat it on the road. It's gone up market though, which won't please those on a modest budget. That said, it does everything well and doesn't mind getting its tyres muddy once in a while.
Costs
In its bid to ascend the premium ladder, this RAV4 does work out a little more expensive than before. In its defence, residual values should be reasonable for what is a popular car and trips to the dealer should be rare and of the scheduled variety. Pick a diesel and trips to the filling station will also be rare.
Space and practicality
Bigger than the car it replaced, this RAV4 is noticeably more spacious both fore and aft. There's a good level of oddment storage on offer, and the rear seats fold with minimal effort to liberate extra boot space. At the rear, the tailgate is unusual in that it opens out from left to right. This isn't great when parked in a confined space, but once opened it reveals a low load lip and a flat floor.
Controls and display
Clear and concise controls and instrumentation are the order of the day in the RAV4. Taking a leaf from sister premium brand Lexus, the main dials are crisp and appear illuminated from behind. The centre console houses the climate control, which is at hand height with the audio unit of combined sat-nav system above. Steering wheel audio controls and voice control for certain functions are model dependent features.
Comfort
The RAV4's spacious cabin makes it easy for four adults to get comfortable. On the move, road noise is by and large kept to acceptable levels, although the T180's diesel engine could be quieter in light of the achievements of certain rivals. The car's seats are supportive and the ride is firm but never harsh.
Car security
The usual alarm and immobiliser system is present on the RAV4, along with remote central locking. On the high end models there's as a 'Smart Key' which allows you to keep the key in your pocket at all times and start the car with the press of a button.
Car safety
Following the trend set by the firm's Avensis, Toyota's RAV4 comes with an impressive nine airbags - twin front, side, front and rear curtain plus driver's knee. The company's 'Active Torque Control 4WD' regulates power between the front and rear for optimum grip levels. This, on XT4 and above, is joined by a system that goes further than the usual electronic stability programmes (ESP) to help counter slides and skids.
Driver appeal
For a tall off-roader, the RAV4 handles well. Key to its success is the slightly firm ride. Thankfully this bias doesn't impact on the ride comfort, but it is beneficial when taking corners at car-like speeds. The steering is typically Toyota-light, which is a little disappointing. No engine under performs; in fact, the 2.0-litre petrol unit is surprisingly good and the most refined. The diesels are, predictably, more powerful, but the performance advantage of the T180 isn't that great - the 140 unit is more than adequate. And yes, the RAV4 will go off road, although it prefers mildly challenging terrain.
Family car appeal
If the prospect of a conventional people carrier doesn't fill you with joy, something like the RAV4 should fill the gap. It will seat five - two adults, three children - with ease, boasts an almost go anywhere appeal and will swallow a sizeable amount of luggage, shopping or both. In keeping with the MPV theme, there are plenty of cabin storage options. The leather upholstery isn't so child friendly, though.
First car appeal
There's no reason to dismiss the RAV4 in this context, but the harsh reality is that the car is not cheap to buy and certainly won't be cheap to insure. If you have sufficient funds, the lofty driving position will no doubt be welcome, as will the light touch required to operate the steering, gearshift and brakes.
Quality and image
Once a car sold to fun-loving youngsters, this third generation RAV4 is all grown up. The slick exterior styling and abundance of high-end convenience features now points to a car aimed at Volvo and BMW buyers. The T180, with its extra premium feel, perfectly illustrates the point. On the quality front nothing has changed. Toyota's mission has always been to build cars more reliable and durable than the competition, and with the RAV4 is has succeeded once again.
Accessibility
Being a lofty SUV, accessing the RAV4 cabin might prove to be a struggle for the old and infirm. Small children might also require a helping hand, but once inside the cabin there is plenty of room for an average family. As usual, front seat occupants fare better regarding access and egress, but the difference is only small. At the rear, the side-opening tailgate could cause problems in tight spaces, and you'll need to stretch to reach something in the darkest corners of the boot.
Stereo and ICE (In car entertainment)
Toyota isn't known for scrimping on standard equipment in its cars, and the RAV4 is no different. Entry-level XT3 gets a combined radio and single CD unit placed high up in the centre console. The XT4 adds steering wheel mounted controls for the basic functions and a CD autochanger. The XT5 and flagship T180 both gain a version of Toyota's easy to use full colour sat-nav unit, complete with touch screen data entry and a Bluetooth unit for connecting your compatible mobile phone. Voice control for certain function is also possible.
Colours and trim
The move upmarket has had an unusual effect on the Toyota. Where once bright colours were the norm, now dark metallics look more attractive and in keeping with the RAV4's image. Inside, the same is true - dark cabin materials and trim accents help maintain the premium ambience. Light trim is on offer, and does a fine job of adding a youthful, lifestyle element. XT4 and above get leather seats, which although hardwearing don't look or feel particularly supple.
Parking
While a big, tall car, the RAV4 is not that difficult to park. The view forward is excellent and backed up with big rear view mirrors. The view rearwards could be better - blame this on the boot-mounted spare wheel - although the T180 does without this, making life a lot easier.
Spare wheel
Full size spare attached to tailgate. T180 gains runflat tyres and no spare.
Range information
Petrol engine option - 2.0-litre (150bhp). Diesel engine options - 2.2-litre (134bhp and 175bhp). Five-speed manual gearbox for petrol engine (four-speed auto optional). Six-speed manual gearbox for diesel engines. Trim levels: XT3, XT4, XT5, T180. 175bhp diesel exclusive to T180 variant.
Alternative cars
BMW X3 Costly to buy and own but a more entertaining on the road
Nissan X-Trail Good value, competent, easy to drive and stylish
Kia Sportage Value for money alternative is not as polished as the RAV4
Land Rover Freelander Original Freelander great off-road but not perfect on it. All-new model due late 2006