February 2005
Toyota RAV4 2.0 D-4D XT4 five-door
Chunky RAV4 is a smart alternative to the traditional family hatch
February 2005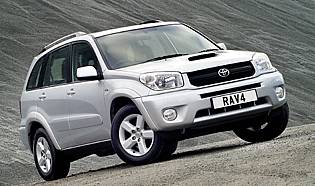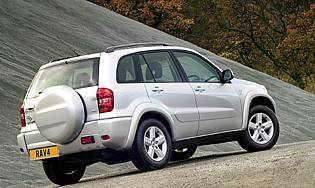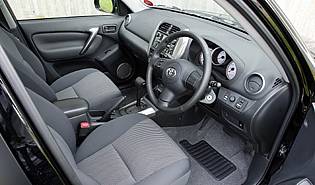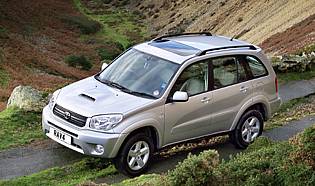 Overall rating

Likes:
Toyota build quality is impressive
A practical family vehicle thanks to decent levels of space and flexible seating
Diesel engine is refined, frugal and powerful
Takes surprisingly rough terrain in its stride
Gripes:
Cabin design and materials are not as glamorous as the car's exterior
Room in the back is modest for adults, despite being pitched as a family vehicle
Lack of a low ratio gearbox prevents the car from tackling any serious off-road terrain
Can't match a family hatch for high speed stability on the motorway
The RAV4 has been around a long time but has proved to be a popular model for Toyota. As part of the original movement that kick-started the compact sport utility trend, the RAV4 is seen by many as a fun alternative to a family hatchback. A recent facelift and inclusion of a diesel engine has only served to strengthen the car's appeal.
Toyota's RAV4 may no longer be a bright young thing on the motoring scene � it first appeared in 1994 � but the sport utility vehicle remains popular and a sensible choice to this day. Originally pitched as an alternative to the 'warm' hatch, the car has evolved into a capable, practical and desirable leisure 4x4.
And unlike so many of its rivals, the RAV4 isn't afraid to get its wheels dirty. The car's permanent four-wheel drive system is perfectly at home in muddy fields, rutted tracks and on slippery slopes. Granted, the car doesn't possess a low-range gearbox or super-grippy special tyres, but it won't get stuck in conditions that would have some of the competition floundering.
Part family hatch, part people carrier and part off-roader, the RAV4's abilities will come as a surprise to anyone who thought the car was nothing more than a full-size Tonka toy. Granted, its appearance is chunky and purposeful-looking, but the car is anything but a disappointment on the road or a slippery country lane.
The RAV4 may no longer be in its first flush of youth but a series of timely and intelligent updates by Toyota over the years has kept the car fresh. It has outlasted numerous rivals, achieved record sales in Europe and comes from a maker renowned for its ability to second-guess customers' desires. It's hardly surprising, then, that the RAV4 has done so well.
Our verdict on the Toyota RAV4 2.0 D-4D XT4 five-door
Toyota knew exactly what it was doing over a decade ago when it launched the RAV4. Pitching it as a fun, lively hatchback that also happened to boast full-time four-wheel drive and a raised ride height, buyers lapped the car up and the recent facelift has done much to maintain its appeal. Top-spec models compete on price with the likes of Land Rover's Freelander, but boast much higher levels of standard kit.
Costs
Despite being constantly recommended as a fun and practical alternative to mainstream family hatches, the RAV4's asking price is a little higher � and noticeably more so when you look at the top-spec models. However, you do get a lot for your money by anyone's standards. Opt for the diesel variant and you can save more than a few pennies, while Toyota's strong reputation should ensure than the only visits you pay to the garage are scheduled ones.
Space and practicality
As a family-orientated vehicle the RAV4 scores high in all the important areas. It's a practical and versatile car boasting rear seats that split, fold and tumble. They can also be removed if you need more load space. Realistically tall adults will find the back seats a little lacking in legroom, but for anyone else and - especially children � there should be no problems. Overall the rugged Toyota boasts a greater level of versatility and loadspace than a conventional hatchback, although a regular compact MPV will have it licked in the handling department.
Controls and display
There are no surprises in the RAV4's cabin, and everything is as you would expect from a Toyota. The main instruments are clear and concise. The major controls work with a predictable, well-oiled efficiency and the steering, manual gearshift and brakes require little effort to operate. All that's lacking is a little flair to match the car's exterior styling.
Comfort
You ride high up in the RAV4, which means pitch and roll is more noticeable than in a conventional car, but unless you're being silly the sensation is more than bearable. The cabin itself is reasonable roomy, although back seat occupants will notice that legroom is only average. By contrast, up front there's plenty of room while the seats are supportive � making them ideal for long trips and the inevitable bouncy ride of any off-road excursion.
Car security
Off-roaders of every description have always been a staple acquisition of the criminal fraternity, which makes Toyota's decision to equip all RAV4 models with an alarm a commendable one. Entry-level versions get a basic set-up while the other models also benefit from a system that includes a cabin intruder sensor. This is all on top of remote central locking, an immobiliser and locking wheel nuts for the car's alloys.
Car safety
There's no need to feel like a second class citizen when buying a RAV4. Toyota's has upped the car's safety kit in recent times and it now boasts a list to rival that of the best premium family hatchbacks. Twin front, side and curtain airbags are standard on the RAV4, and are joined by ABS and electronic brakeforce distribution. Go for the top spec XT4 or XT5 models and you also get traction and stability control plus a brake assist function. All in all a fine package for what's likely to be a popular mode of transport with families.
Driver appeal
It's important to be clear that the RAV4 is no driver's car. You won't score any points with passengers if you barrelling into bends at speed, nor will you make friends by racing around town. The Toyota's high centre of gravity will require you to take a more restrained approach. It's not all bad, though. Pick the firm's D-4D diesel motor and you can happily trundle around on a whiff of fuel all day long. This relaxed attitude extends to the car's ride, which is set up more for comfort and works well in urban environments. Equally impressive is the car's off-roading abilities. It may lack a low ratio gearbox and 'proper' tyres but it's no lightweight and will happily chug along muddy, rutted paths thanks to its permanent four-wheel drive system. This feature alone puts the RAV4 above many 'soft-roader' rivals in the usability stakes.
Family car appeal
Aside from the car's four-wheel drive system and impressive diesel engine, this is where the RAV4 scores. Five-door variants are obviously preferable to three-door models, and the former affords owners some control over the seating plan as chairs can be folded or even removed if necessary. The fact that the cabin materials put durability over looks is actually a bonus if you have small, unsympathetic children, while the boot is surprisingly spacious for a car of this size.
First car appeal
There's no question that the RAV4 is easy to drive; power steering, light controls and good visibility make the car less intimidating than some conventional hatchbacks. However, the car's size and the need to take extra care when parking could put some novice drivers off. Neither engine variant is particularly fast, so there's little chance of getting into trouble.
Quality and image
Toyota has, over time, cultured an image that is biased towards durability, dependability and conservatism. This has worked well in the small and medium family car sectors, as buyers using their own money rarely take risks. Being pitched as a fun car for active people, the RAV4 was something of a departure for the Japanese firm. Luckily it worked and the compact soft-roader has cultured a strong following.
Accessibility
The car's above average ride height forces you to step up into its cabin, but for most people the stretch shouldn't be a problem. Back seat passengers in the five-door model have to make do with a fraction less room but there's still more than enough space for children � it is supposed to be a family car after all. Access to the rear is straightforward, although it can sometimes be a stretch to reach anything in the furthermost corners of the boot.
Stereo and ICE (In car entertainment)
Standard fit on the RAV4 is a combination radio/CD player and four speakers, which boasts an easy to read display and logically laid out controls. This is complimented by steering wheel audio controls on all RAV4s. Optional kit includes a CD changer and sat-nav. The latter is standard fit on the top-spec XT5 variant
Colours and trim
The RAV4 is a car that can wear pretty much any colour well. Bright colours compliment its fun-loving personality, while darker hues create a more refined look � making the car suitable for use in a business environment. The RAV4's interior is not quite so outstanding, however, as the some of the plastics are on the shiny side and the design is a little conservative - you could be in an upmarket Corolla. At least it all looks durable, which will be important to anyone with an active lifestyle or children.
Parking
The RAV4's lofty driving position comes in handy when you need to park the car. Forward visibility is good and it's not hard to see its extremities. The steering is pleasingly light, which makes wheel twirling less of a chore than it could be. The car's door mirrors provide a decent view rearwards and help prevent you from crunching the nice alloys on a kerb. The view straight back isn't so great; a combination of the boot-mounted spare and the various pillars compromising you line of sight.
Spare wheel
Regular size spare wheel comes as standard.
Range information
Two engine options � 2.0-litre (147bhp) petrol and 2.0-litre (114bhp) turbo diesel. Both come as standard with a five-speed manual gearbox. Petrol variant can also be had with a four-speed auto gearbox. Five-door trim levels: XT3, XT4 and XT5.
Alternative cars
Land Rover Freelander Perceived by many to be the best but has a patchy reliability reputation and can be pricey
Nissan X-Trail Popular Nissan is refined and well equipped but is not a rugged off-roader
Kia Sportage Value for money Kia has a few rough edges but is a good buy if money is tight
Honda CR-V Similar in concept to the RAV4 but less capable off road. Now boasts a superb diesel engine