February 2016
Toyota Prius Excel
Striking new front end is lower and more aerodynamic
February 2016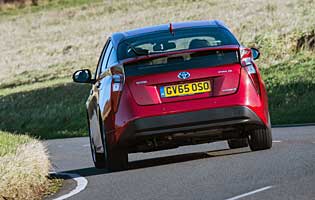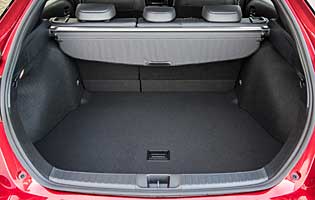 Overall rating

Likes:
Smooth and refined drive at all times
Motor and engine cooperation is seamless and effective
High fuel economy possible at all sub-motorway speeds
Comfortable seats and good driving position
Gripes:
Small, unattractive wheels necessary to achieve maximum financial benefit
White interior trim not to every taste
Transition between regenerative and mechanical braking could be smoother
Desirable and commonplace features left off all but highest trim grade
The Prius has been a global figurehead for fuel economy and hybrid drive since the last millennium, when most manufacturers simply laughed the idea off and insisted that it wasn't the way forward. This fourth generation, following predecessors who have quietly proved the car industry very wrong, makes bigger efficiency gains than ever before.
Thanks to a longer development period than usual, Toyota has managed to rejuvenate and improve every aspect of the Prius, from the 1.8-litre internal combustion element of the drivetrain to the battery, motors and wheels. The shape has been changed for better aerodynamics, a move made possible by an all-new chassis, which will also form the basis of future mid-size Toyota models.
The changes made to the Prius result in a larger leap in fuel efficiency than any previous Prius has made. Official testing puts the car at 85mpg and 94mpg, depending on whether it rides on the economy-focused 15-inch wheels or the more attractive 17-inch options. Only the smaller ones allow the Prius to qualify for special tax advantages, though.
Even after nearly two decades of sales the Prius still has no direct rivals and has seen fashionable usurpers fall by the wayside. The Full Hybrid system is still a uniquely Toyota approach, with rivals all choosing an often simpler but more expensive plug-in hybrid system. The new Prius' ability to regenerate significant power on the fly makes it one of a kind.
The battery is smaller but more energy-dense, and thanks to improvements in energy recuperation it can now replenish its charge 28% faster. That results in more electrical energy for any deceleration event, which means a careful driver can use the electric motor more than ever. The speeds at which it will cut in have also been raised.
Our verdict on the Toyota Prius Excel
The Prius takes inspiration from the Mirai hydrogen car, but is much lighter and, with hydrogen refuelling stations still a rarity, more convenient for everyday use. The fact that its emissions are so low that the car ducks under the threshold for Ultra Low Emission Vehicles is hugely impressive, and it's the only non-plug-in car to do so. That will carry great weight in and around London.
Costs
Real-world test drives have proved that matching the claimed fuel economy is entirely possible. In truly ideal conditions it can even be bettered, but the potential is there for persistently low fuel consumption. Road tax is currently free, and thanks to its extremely low emissions on 15-inch wheels it qualifies for 100% capital gains tax write-down in the first year, and can drive into Central London without paying for the Congestion Charge.
Space and practicality
Cars without spare wheels fitted have slightly more boot space but both options offer comfortably more room than compact family hatchbacks. The saloon-style body shape does remove some potential practicality but on the whole the Prius offers enough versatility to cope with family life. The door pockets are broad, with drinks bottle holders in the fronts and a large central storage bin complete with a removable tray. On a hybrid-specific note, the Prius never needs to be recharged manually.
Controls and display
A collection of readouts across the digital displays are unique to the Prius, but share principles with other Toyota hybrids. Drivers can see an energy flow monitor, battery charge status, efficiency history and a day-to-day record of how efficient the journeys have been overall. The highlight is the new head-up display, though, which gives a selection of key information including speed and current energy usage.
Comfort
The Prius does very well for itself when it comes to comfort. The lower seat backs shape themselves into your spine very naturally, the driving position is natural with lots of adjustment and there is plenty of legroom for rear passengers. The suspension isolates the vast majority of the road's bumps.
Car security
The Prius has not been much of a target for thieves over the years, but the expensive nature of many of its parts means it could become one to organised gangs looking to profit from dismantling cars and selling parts. Toyota has not released any information about its security systems but an alarm and immobiliser are standard and Thatcham-approved.
Car safety
Toyota Safety Sense is now standard on the Prius, spanning a Pre-Collision System with Pedestrian Detection, Automatic High Beam, Blind Spot Monitor, Lane Departure Alert with Steering Control, Adaptive Cruise Control, Road Sign Assist and Rear Cross Traffic Alert, which should be very useful in reversing out of driveways or parking spaces.
Driver appeal
This is perhaps where the Prius demonstrates the biggest improvements over its predecessor. A much faster steering ratio, a stiffer chassis and body and supple, compliant suspension all-but eliminate shake and wobble from the experience, allowing for more control and better dynamics. The real game in a Prius is trying to beat your best fuel economy score, and the seamless drivetrain allows you to enjoy that.
Family car appeal
This generation of Prius is more versatile a machine than before, which should help appeal to parents. The boot is larger, the drivetrain allows for faster acceleration in town and the aerodynamic improvements make it more efficient at speed. It's very much a mainstream family car now, for those parents who like the idea of a hybrid delivering budget-friendly fuel economy and road tax exemption.
First car appeal
There is a lot that's suitable for a new driver in the way the Prius behaves. It encourages smooth and efficient driving and gives a clearer understanding of fuel-saving techniques than conventional cars do. That said, its pricing structure is aimed way beyond the budget of a typical first-time buyer and they are not the target audience. Insurance could consequently be too expensive.
Quality and image
The Prius benefits from Toyota's latest drives to improve interior quality and the results are clear. Solid plastics with soft-touch surfaces feature on mid-range models upwards, and there is a general air of robustness. The leather upholstery options are worth it for the extra prestige they add. The Prius image is incredibly strong with its target buyers but tends to be ridiculed by those who'd never buy one anyway.
Accessibility
The front doors are a lot longer than the rears, which works aesthetically but closes down on the rear door aperture a little. As the roof sweeps down as well by that point it creates a less than ideal scenario for rear passengers, but it shouldn't trouble able-bodied people too much. The hatchback boot is easy to lift but opens to reveal a load lip that may present an issue when loading or unloading heavy objects.
Stereo and ICE (In car entertainment)
Bluetooth, USB connection and AUX-in are fast becoming the standard expected across all cars, so the Prius meets that level and adds a CD player and DAB radio. A nice touch is a wireless smartphone charging tray, built to the Qi standard for compatibility with high-end Samsung and Apple devices, with more on the way. It ensures your phone's battery charges even when transmitting music via Bluetooth.
Colours and trim
Toyota and sister company Lexus are seeing a golden period of colour options, with strong and appealing colours on top of sober and inconspicuous options like white. Blue and red are the best choices for the new Prius, which with aggressively aerodynamic lines best suits a strong metallic shade. The interior trim is either black or grey, both of which look good, but the white trim accents are an acquired taste.
Parking
This generation of Prius features an automated parking feature for the first time, allowing it to navigate into spaces with only gear and light accelerator input from the driver. It can handle parking in parallel and bay spaces, as well as getting out of them afterwards. For parallel spaces it can fit the car into a space just one metre longer than the car itself. Forward visibility is very good but rearward is not.
Spare wheel
Space saver spare wheel or tyre repair kit supplied as standard depending on trim grade and options specified.
Range information
Petrol engine options - 1.8-litre hybrid (121bhp). Transmission options: Continuously Variable Transmission only. Trim levels: Active, Business Edition, Business Edition Plus, Excel.
Alternative cars
Audi A3 e-tron Lovely to drive with a good electric range, but not for longer distances
Toyota Auris Hybrid In-house hatchback rival uses an older hybrid drivetrain but costs less
Ford Mondeo Efficient diesels are a traditional choice, but refinement is way behind hybrid drive
Peugeot 508 Underrated option with good diesels and formerly a diesel-electric hybrid option