MR2 Roadster Red Collection review
Affordable wind-in-your-hair motoring
January 2005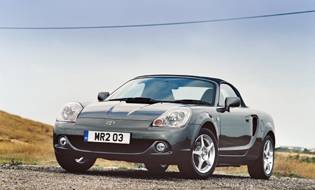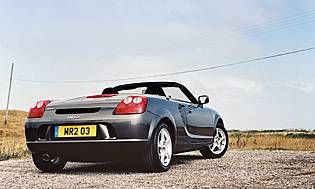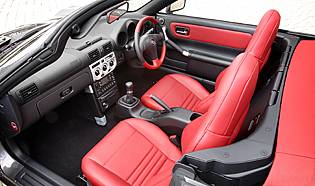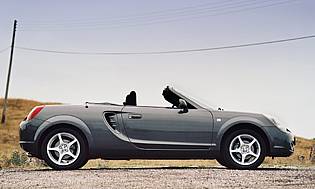 Overall rating

Likes:
Prospect of Toyota levels of durability
Lack of frills will please the purists
Affordable wind-in-your-hair motoring
Fun to drive hard but also easy to drive around town
Gripes:
With the hood up, the cabin is a little on the dark side
Reverse parking with the hood up can be tricky
Manual hood can be tricky to lower - not the work of a moment
Low-slung driving position will prove awkward for some
Toyota is more well known for its reliable, comfortable family cars than for its uncompromising sports cars, but the Japanese firm's racy MR2 Roadster is proof that the firm can 'do' sporty at an affordable price. Although a car blessed with a predictably narrow appeal, it's worth knowing that it's often compared favourably to the likes of Lotus' Elise.
In contrast to mainland Europe where the weather is often better, UK buyers are said to have the largest appetite for convertibles. Although this observation includes everything from fashion models such as Ford's Streetka to wallet-busting Porsches, the affordable roadster market has seen plenty of business.
You can blame Lotus' Elise for much of the recent activity; before its arrival there was little in the way of affordable drop-tops this side of a BMW or Mercedes. Things have changed enormously since then, and most European and Far Eastern car makers have something to offer.
What's surprising about Toyota's offering is that it's been on the go much longer than most people remember. But, like Volkswagen's Golf GTI, the previous generation MR2 majored more on luxury than raw thrills. The current car couldn't be more different. In fact, it's closer in principal to the first generation car: small, nimble and powerful.
The current mid-engined, rear-wheel drive MR2 shuns an electric roof to save weight and will force you to pack light. Luggage space is restricted to lockers behind the seats, the glovebox and a fascia-top lidded cubby. In return for your co-operation, the MR2 puts in a pretty impressive performance.
It may only have 138bhp but it uses all those horses wisely. The rorty-sounding exhaust provides the perfect soundtrack to early morning country road sprints and brightens up the daily commute. That you can use the car daily is a testament to Toyota's underlying commitment to refinement.
Our verdict on the Toyota MR2 Roadster Red Collection
The weekly shopping definitely won't fit and you'll struggle to get an aged relative in or out of its cosy cabin, but Toyota's MR2 is a hoot to drive in the right circumstances. More hardcore than MG's TF and more powerful than Mazda's iconic MX-5, the MR2 will be something of a surprise to anyone raised on a diet of Corollas and Carinas. The MR2's manual folding roof and absence of flashy gimmicks allows you to revel in the car's ability to string flowing bends together with confidence and a flair more suited to cars costing twice as much.
---
Costs
No car in this sector is going to be a bargain, but the MR2 manages to blend durability, reliability and desirability into one good-looking package. As standard the car is reasonably well equipped, making the options list, er, optional rather than compulsory reading. Toyota's impressive reliability reputation should mean that unscheduled visits to the dealership are near zero, while the car's popularity helps maintain respectable residual values -important when it comes time to sell. All this positive news should help offset the predictable higher than average insurance premium the car attracts due to its type and lack of metal roof.
Space and practicality
In short, there's not a lot of space in the MR2 and it's not very practical. To complain is to miss the point, however, as the car was never designed to be a family hatch replacement. If you're prepared to work with the car's limitations you'll be fine, which will mean shopping light and travelling light. The MR2's mid-mounted engine means there's no boot, while the car's nose is full of spare wheel and other ancillaries. All you're left with is a modest glovebox and fascia-top cubby plus two lockers, one behind each seat. It's fair to say that leaving valuables in the car is not a good idea.
Controls and display
All the MR2's controls work with the efficiency you'd expect from a Toyota product. The car's various dials and controls are gimmick-free, which is good but they also lack any flair to complement its racy exterior design. The centre console contains the ventilation and audio controls. The former comprises a handful of easy to use rotary controls and the latter's display is easy to read at a glance even if it is placed low down in the console.
Comfort
For a car built with the task of having fun, the MR2's cabin is a reasonably comfortable place to be. It all hinges on whether you can lower yourself into the sports seats, but if you can you should be fine. Cosy is the best way of describing the experience, although two adults are unlikely to get in each other's way. Ride quality is surprisingly good around town. The car won't soak up bumps like a Corolla will, yet the urban commute shouldn't cause any problems. And despite the presence of a fabric roof, wind noise – even on motorways – is tolerable.
Car security
A desirable car and one that stands out even on a crowded high street, there's no question that the MR2 needs protection. While you'll never get a device that stops thieves from entering via the fabric roof – apart from the optional hard top – the MR2 is protected by an immobiliser, a Thatcham Category One alarm and deadlocks.
Car safety
Fabric-roofed cars will always be at a disadvantage in comparisons with tin-top cars. The MR2 doesn't boast the usual roll-over hoops you'd expect to find in a convertible, but it does come with reinforced windscreen pillars. Occupants are treated to twin front airbags and anti-lock brakes. A package of electronic stability aids is standard only on the SMT variant with the semi-auto gearbox.
Driver appeal
This is the reason you buy a roadster like the MR2: the wind in the hair experience and the ability to zip from corner to corner at speeds that would make your mother blush. The little Toyota, despite having 'only' 138bhp at its disposal, displays a keen ability to shorten straight roads and make B-road bends more fun than they should be. Purists will warm to the way it can be steered with a light touch. The car's rear-wheel drive layout is huge fun, but also stable and confidence inspiring at speed. An added bonus is the MR2's limited slip differential, which improves grip levels during acceleration and cornering
Family car appeal
Even as a second car the MR2 is unlikely to be a useful set of wheels. Its ability to take only one passenger and very little luggage will greatly limit its appeal. A safer and more practical alternative would be a low-cost 'warm' GTI-like hatch if performance was an important purchasing factor.
First car appeal
Even if you had the cash, the MR2 is not really a sensible first car for novice drivers. It's no slouch on the road, and lacks the usual array of electronic drivers that many people have come to rely on – it's a lightweight, rear-wheel drive roadster after all. The more sensible Ford Streetka or Peugeot 206 CC would be better choices if you had to have a convertible.
Quality and image
For most people the Toyota brand is more about durable, reliable family cars than racy little numbers such as the MR2. Granted the Corolla has been a successful car for the firm, but the Supra, Celica and MR2 are proof of Toyota's performance car talents. The upside is that you're getting a fun car that's unlikely to be as temperamental or unrefined as certain rivals. There's no question that everything on the MR2 is well screwed together, the only disappointment is the cabin ambience is a little sombre.
Accessibility
High seating positions, good all-round visibility and a capacious boot aren't features of the MR2, but it's to be expected given the car's fun remit. If you're comfortable – sometimes literally – with a low-slung driving position, modest levels of access and very little storage opportunities then you'll be fine. If not, you'll be better of in Toyota's Celica.
Stereo and ICE (In car entertainment)
You're not going to expect too much from a car stereo when you're zipping along with the roof down, so it's no surprise to learn that the MR2's unit does the job but is no star performer. This single CD-radio sits low down in the console, but its chunky buttons and large display makes it easy to use. An upgrade path consists of a six-disc autochanger and satellite navigation unit. Alas, steering wheel-mounted remote controls are not offered.
Colours and trim
Most exterior colours suit the MR2. If you fancy creating a stir there are some bright shades available, while the special edition Red Collection cars are tastefully painted in a dark metallic hue which contrasts nicely with the red roof. It's not quite so jolly in the MR2's cabin, although there has to be a trade-off as the cockpit will be open to the elements occasionally. Plastics look durable but also look equally at home in a Corolla. Fabric sports seats are the default choice, with figure hugging, leather trimmed sports chairs a cost option. Red Collection cars get a pair of Scarlet-coloured leather seats as standard.
Parking
You don't buy a roadster such as the MR2 for its family appeal, and so it is that you'll have to compromise very so often. One such time is when parking the car. Sitting low down does restrict your view out, making it important to become familiar with the car's extremities. The view rearward is no better with the hood up. Conversely, with the hood down the view improves as you're no longer restricted to looking out the small rear window. At least the power steering is manageable at low speeds.
Spare wheel
Space saver fitted as standard.
Range information
One engine option – 1.8-litre (138bhp) petrol unit. Two transmission options available – a six-speed manual gearbox and six-speed SMT semi-auto gearbox. There are no specific trim levels but the SMT-equipped MR2 gains traction and stability control. Red Collection special edition gains a leather interior and red fabric roof.
---
Alternative cars
Lotus Elise More expensive and boasts even fewer toys. For hardcore fans only
MG TF Pretty MG is surprisingly capable. Cabin ergonomics could be better
Mini Cooper S Convertible Pricey Mini is no roadster, but does possess a rapid turn of speed
Mazda MX-5 Iconic roadster is not that quick, but is refined and huge fun to drive