May 2011
Suzuki Jimny 1.3 SZ4
Small and neatly styled, Jimny's popularity remains strong
May 2011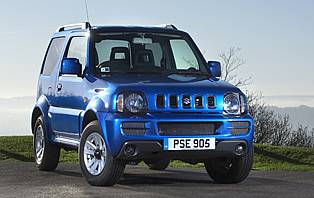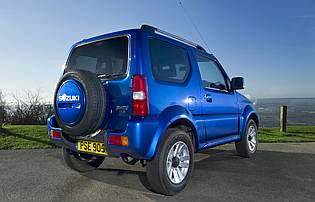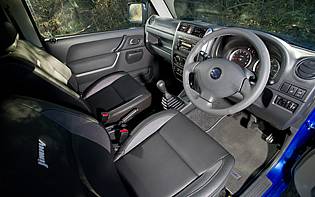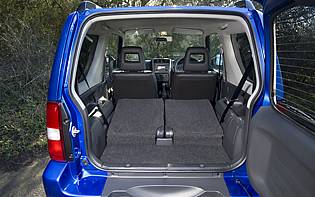 Overall rating

Likes:
Refreshed interior breaths new life into popular Jimny
Ride height and four-wheel drive give it impressive off-road potential
Compact size is great for parking
Decent equipment levels considering modest asking price
Gripes:
Build quality still below the standard set by European models
Engine isn't the smoothest in its class
Modest amount of interior space
Not a car for racking up the miles in
Few SUVs are as compact as the Suzuki Jimny. The small four-wheel drive vehicle has seen several changes since its introduction in 1998 with the latest refinements having been made to the specification. Regardless, the rugged little four-wheel drive remains a refreshingly niche choice.
The Suzuki Jimny has been one of the few available options in this class for more than a decade and has succeeded in finding favour with the small group of drivers in need of such a niche vehicle. In real terms if you need an ultra compact 4x4, the Jimny is going to be your only option.
Short and narrow but with excellent ground clearance and a wheel at each corner with limited overhangs, the Jimny can confidently be taken off the beaten track. Key to this ability is the four-wheel drive system - selected by pushing a button on the dashboard. Operating in rear-wheel drive mode until required, the system engages the four-wheel drive at speeds of up to 62mph.
Powered by a 1.3-litre petrol engine, the Jimny is designed to be as cost effective to run as it is versatile. Variable valve timing means it offers an acceptable level of power with modest fuel consumption and transfers it through either a five-speed manual gearbox or an optional four-speed automatic.
The modest range line-up has seen an equally modest but welcome uplift in quality terms, with redesigned leather seats, air conditioning, leather trimmed steering wheel and privacy glass feature on the flagship variant. Even the SZ3 model gains front fog lamps, heated door mirrors and front electric windows.
Our verdict on the Suzuki Jimny 1.3 SZ4
Over time Suzuki's Jimny has become an increasing niche choice, but for anyone seeking a rough-tough ultra compact 4x4 with genuine off-roading ability this is what you need. Comfort levels have been improved and the car's 1.3-litre petrol motor is now a more rounded performer. You'd have to be a loyal fan to consider a Jimny as your sole, day-to-day transport but it gets the job done exhibiting fewer rough edges than you might think.
Costs
The Jimny occupies a very small niche in the car market as a low cost micro-SUV. Considering its off-road potential and reasonable equipment levels it is competitively priced. The small engine and sturdy underpinnings should mean reasonable running costs.
Space and practicality
It's hard to be too critical given the Jimny's compact dimensions. Interior space is predictably modest, particularly in the rear, and even with the seats folded flat there's not room for a mountain bike or bulky sports equipment - which is a shame considering the models adventure and 'lifestyle' potential. Front passengers do fare reasonably well, with a decent amount of headroom, although the narrow body can make it feel a little snug. Door pockets are small, but there are separate shelves and cubby holes up front.
Controls and display
The upside to the Jimny's unadventurous interior design is that the control layout is simple and highly functional with easy access to the large buttons, dials and switches. The driving controls could be more precise, although the steering's slight vagueness does help to mask kickback through the helm when driving off road. The push-button selector for two or four-wheel drive is easy to understand.
Comfort
Overall the Jimny offers an acceptable level of comfort with a part-leather interior, air-conditioning and electric front windows as standard. The SZ3 variant makes do with a few less toys but is none the worse for it. It's well equipped considering the price but there's no escaping the higher than average noise levels - wind, engine, tyre - entering the cabin, especially when travelling at speed.
Car security
Central locking is standard for the Suzuki Jimny and the vehicle is also immobilised. Secure storage is limited, which is a shame considering the car's lifestyle appeal and the need to keep valuables out of sight in the cabin.
Car safety
The Jimny features a selection of passive and active safety systems. ABS braking with brake-force distribution is standard as are driver and front passenger airbags and a collapsible steering column. Four-wheel drive comes with its own safety benefits that shouldn't be underestimated whatever the weather conditions.
Driver appeal
The Jimny's on-road driving characteristics aren't as sophisticated as some more polished European car, but this is partly due to the little Suzuki's genuine off-roading abilities. The 1.3-litre engine isn't as coarse as it once was but it's still a vocal unit when revved hard. Off-road is where it really shines, with genuine potential thanks to its ground clearance, light weight, manoeuvrability and push button selectable four-wheel drive.
Family car appeal
Predictably it's the limited amount of interior space that is the restrictive factor for family use. The rear of the Jimny would struggle to accept a pushchair and older children would find the two back seats cramped. However, as a second car, it's a workable choice for both urban and rural families.
First car appeal
If you consider the Jimny's low price, size and image, it makes it a very interesting choice for the first time car-buyer. Its driving characteristics are different to that of a conventional supermini but not challenging, making it more attractive to young drivers.
Quality and image
The Jimny has a certain amount of appeal thanks to its compact dimensions and utility leanings. It's let down a little in terms of quality that's somewhat lacking on close inspection. The interior is basic in terms of materials and construction, although the 2011 improvements have made a noticeable difference. The car does have something of a cult following, however, and is one reason why it has lasted so long.
Accessibility
Access to the front seats is reasonable thanks to good size doors, a tall body and higher than average ground clearance - you do have to step up a little to get in, though. Accessible to the rear isn't as good due to the limited interior space and restricted movement of the front seats. The full width boot door offers good access to the rear, although its vertical hinge means room needs to be left behind the car to be able to open it fully.
Stereo and ICE (In car entertainment)
The Jimny's CD player and radio system is standard fare, but the unit's output occasionally struggles against the engine and road noise the car produces. Overall it's a good effort, though.
Colours and trim
The SZ4 trim level gives a good impression of relative luxury with synthetic leather seats, leather trim and rear privacy glass. A decent array of colours is available in metallic and solid styles and the car's alloy wheels look good too.
Parking
The Jimny's compact dimensions, decent turning circle and big mirrors make it a manoeuvrable and easy to park 4x4. A large glass-house helps, as does the power steering which removes some of the strain - a bonus considering the Jimny's full-on all-wheel drive mechanicals.
Spare wheel
Full size steel spare located on the rear door.
Range information
Petrol engine options - 1.3-litre (85bhp). Transmission options: five-speed manual gearbox, four-speed automatic gearbox. Trim levels: SZ3, SZ4.
Alternative cars
Peugeot Bipper Rugged-looking variant lacks all-wheel drive but offers plenty of cheap thrills
Suzuki Grand Vitara Larger and more expensive but more refined
Fiat Panda 4x4 is cheap and versatile Panda variant
Skoda Roomster Scout version lacks off road potential, but is more spacious than the Jimny