November 2008
Suzuki Jimny 1.3 JLX+ Manual
The Jimny is small but neatly styled
November 2008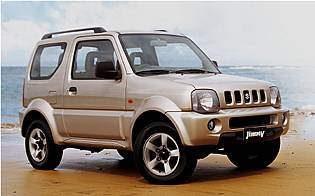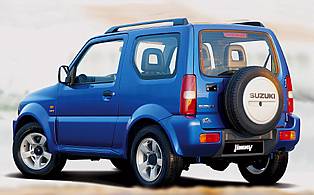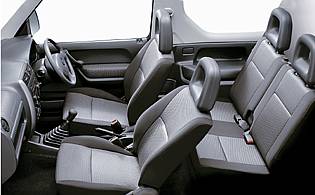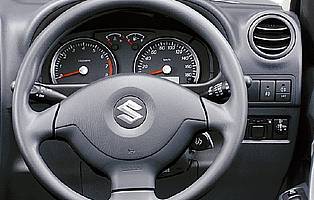 Overall rating
Likes:
Compact size is great for parking
Ride height and four-wheel drive give it off-road potential
Niche positioning makes it refreshingly rare
Decent equipment level considering price
Gripes:
Poor build quality
Vague steering and gear change
Very coarse and high revving engine
Limited interior space
Compact SUVs remain as popular as ever, but few are as compact as the Suzuki Jimny. The tiny three-door four-wheel drive vehicle has seen several changes since its introduction in 1998 with the latest refinements having been made to the specification. Regardless, the rugged little four-wheel drive remains a refreshingly niche choice.
For those in need of a genuinely small car that can take care of itself when the going gets tough, choices are thin on the ground. The Suzuki Jimny has been one of the few available options for more than a decade and has succeeded in finding favour with the small group of drivers in need of such a niche vehicle.
Built on a slender but rugged frame, the Jimny has an extremely small footprint. Short and narrow but with excellent ground clearance and a wheel at each corner with limited overhangs, it can confidently be taken off the beaten track. Key to this ability is the four-wheel drive system - selected by pushing a button on the dashboard. Operating in rear-wheel drive mode until required, the system engages the four-wheel drive at speeds of up to 62mph. A low ratio box is also present for really tough going.
Powered by a 1.3-litre petrol engine, the Jimny is designed to be as cost effective to run as it is versatile. Variable valve timing means it offers an acceptable level of power with modest fuel consumption and transfers it through either a five-speed manual gearbox or, in the top level JLX+, a four-speed automatic.
The range line-up consists of just two trim levels, with the uppermost recently revised to offer a greater level of equipment for the money. Complete with part-leather, air-conditioning, electric windows and mirrors plus exterior upgrades, it attempts to add a little style and luxury to a somewhat basic vehicle.
Our verdict on the Suzuki Jimny 1.3 JLX+ Manual
With its off-road potential, respectable equipment levels, easy to handle dimensions and very reasonable pricing, it's not hard to understand why the Suzuki Jimny might appeal to buyers looking for a particular set of credentials. However, for the majority of drivers, the Jimny's strong points will fail to outweigh the poor on-road driving experience, lack of space inside and questionable interior quality.
Costs
The Suzuki Jimny occupies a very small niche in the car market as a bargain price micro-SUV. Considering its off-road potential and reasonable equipment level it is very competitively priced. The small engine and sturdy underpinnings should mean reasonable running costs while insurance is middling.
Space and practicality
Interior space is limited, particularly in the rear, and even with the seats folded flat there's not room for a mountain bike or bulky sports equipment - which is a shame considering the models adventure potential. Front passengers do better though, with a decent amount of headroom, although the narrow body can make it feel a little cramped. Door pockets are small, but there are separate shelves and cubby holes up front.
Controls and display
The Jimny's buttons and column stalks feel reasonably sturdy and should be able to cope with a fair amount of abuse. The upside to a rather plain interior design is that the control layout is simple and highly functional with easy access to the large buttons, dials and switches. The driving controls are less impressive, with woolly steering and vague and sometimes reluctant gearshift. Two large rev counter and speedometer dials are accompanied by smaller temperature and fuel gauges - the only other display being that of the CD and radio unit.
Comfort
The Jimny JLX+ offers a reasonable degree of comfort with a part-leather interior, air-conditioning and electric front windows as standard. Unfortunately a noisy, rattley and unrefined interior impinges on the comfort and driving the model long distances can be tiring. Regardless, it's well equipped considering the price.
Car security
Central locking is standard for the Suzuki Jimny and the vehicle is also immobilised. No alarm is present however, and secure storage is limited to the glovebox.
Car safety
The Jimny features a selection of passive and active safety systems. ABS braking with brake-force distribution is standard as are driver and front passenger airbags and a collapsible steering column. Four-wheel drive comes with its own safety benefits.
Driver appeal
The Jimny's on-road driving characteristics are crude at best with vague steering, a choppy ride and a general lack of refinement. The 1.3-litre engine is coarse and very high revving, and vibration and noise within the cabin can be quite intrusive. Acceleration is also lacking, making overtaking something of an ordeal. Off-road, the Jimny performs better, with genuine potential thanks to its ground clearance, light weight, manoeuvrability and four-wheel drive with a lockable differential.
Family car appeal
A limited amount of interior space is the restrictive factor for family use. The rear would struggle to accept a pushchair and older children would find the two back seats cramped. However, as a second car, it's a workable choice for both urban and rural families.
First car appeal
The Jimny's low price, small size and novelty value actually make it a very interesting choice for the first time car-buyer. Its driving characteristics are crude but not challenging, giving it more young driver potential.
Quality and image
The Suzuki Jimny has a certain amount of kerb appeal thanks to its cute looks and novelty value, but it's let down in terms of quality that's somewhat lacking on close inspection. The interior is basic in terms of materials and construction and, while the exterior is better, it does feel a little flimsy if the doors are slammed shut.
Accessibility
Access to the front of the Jimny is acceptable thanks to good size doors, a tall body and higher than average ground clearance. The rear seats are less accessible due to the limited interior space and restricted movement of the front seats. The full width boot door offers good access to the rear, although its vertical hinge means room needs to be left behind the car to be able to open it fully.
Stereo and ICE (In car entertainment)
The Jimny's single slot CD player and radio system is standard fare, but sound reproduction is not of the highest quality and its meagre output struggles against the engine and road noise the car produces.
Colours and trim
The JLX+ trim level gives an immediate impression of relative luxury with part-leather seats and body coloured bumpers and mirrors, but closer inspection uncovers a lot of plastic inside. Never-the-less, a decent array of colours is available in metallic and solid styles, although some are limited to one trim level. Alloy wheels look good on a vehicle of this size.
Parking
The Jimny's squat dimensions, decent turning circle and big mirrors make it highly manoeuvrable and extremely simple to park. A large glass-house also helps, as does the power steering which removes some of the strain.
Spare wheel
Full size steel spare located on the rear door.
Range information
Petrol engine options - 1.3-litre (84bhp). Transmission options: five-speed manual gearbox, four-speed automatic gearbox. Trim levels: JLX, JLX+.
Alternative cars
Daihatsu Terios Equally competent off-roader with better on-road manners
Suzuki Grand Vitara Larger and more expensive but more refined
Fiat Panda 4x4 is cheap and versatile
Skoda Roomster Scout version lacks off road potential, but is more spacious