Car Buyers Guide
Suzuki Ignis 1.3
March 2004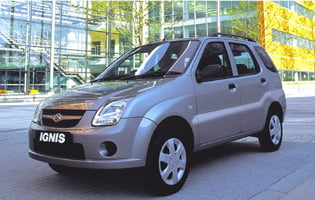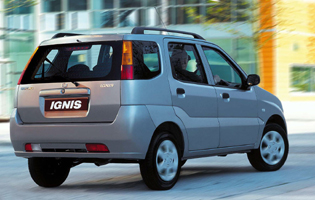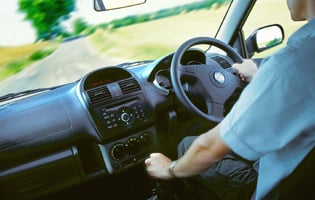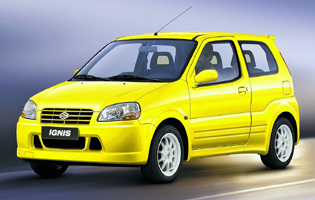 Overall rating

Likes:
Affordable price tag
Four airbags plus ABS and EBD as standard
Compact dimensions make the Ignis easy to drive around town
Surprisingly stable at speed despite its tall stance
Gripes:
Cabin lacks youthful ambience thanks to dark trim plastics
Aftermarket supplied stereo less resistant to theft than built-in unit
Ignis Sport variant can sound coarse at speed
Badge will put snobs off what is an otherwise good car
It may look like Suzuki has softened a few edges and given its Ignis a new nose, but there's more to the firm's refreshed upright supermini than meets the eye. Underneath the new car's clothes is a host of improvements, including an eager 1.3 petrol engine and a thoroughly revised fascia. Giving the Ignis concept an added twist is a Sport variant and a car packing all-wheel drive.

It might not be at the top of your shopping list when out looking for an economical, affordable supermini, but Suzuki's Ignis deserves to be at least included along with Fords, Vauxhalls and Citroens. In fact, the Ignis is a rather special car because, unlike most offerings at this price point, it comes surprisingly well equipped and is powered by decent engines.

Under the hood of the regular Ignis is a sprightly 1.3-litre petrol motor, which gives the car the edge over many of its similarly low-cost rivals in terms of power and refinement. Buyers can also choose a 1.5-litre petrol engine, although the range lacks a diesel. What Suzuki does offer that certain competitors don't is an auto gearbox option, plus a four-wheel drive variant and a racy little Sport model.

Seemingly odd-ball choices like these are typical of what Far Eastern firms do to differentiate themselves from conservative European car offerings. In Suzuki's case it means you can opt for something different, without feeling like you've sacrificed any of the usual supermini requirements along the way.

In a bid to further distance itself from the conventional competition, Suzuki's decision to offer more than just the basic safety kit should be commended. Four airbags, ABS and electronic brakeforce distribution is not what you'd expect as standard on a modest supermini. Side airbags and any form of stability aid is likely to cost - if offered at all - and makes up for any perceived lack of value offered by the badge on the Ignis' nose.


Our verdict on the Suzuki Ignis 1.3
As an alternative to the conventional offerings from Europe, the Ignis performs pretty well. Brownie points are scored for the car's lofty driving position, surprisingly spacious cabin and decent refinement levels, despite only being propelled by a modest motor - in 1.3 guise, at least.