November 2007
Subaru Impreza 5-door 2.0 RX
Switch to a conventional hatch bodystyle for the Impreza is a major change for Subaru
November 2007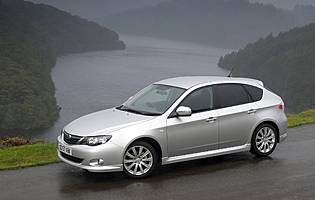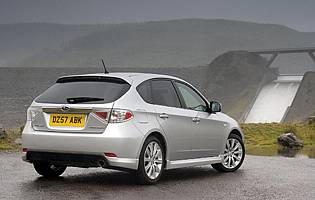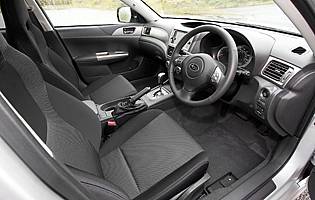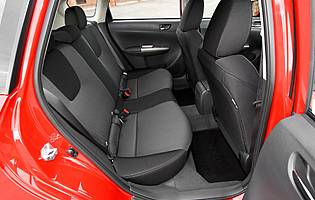 Overall rating

Likes:
Build quality a welcome step up over the previous Impreza
Five-door hatchback body offers a practical and family-friendly layout
2.0-litre petrol engine a willing performer
Ride and handling up to Subaru's usual high and entertaining standards
Gripes:
Loss of character with the switch to a five-door hatch body
Real world fuel economy is modest and not a match for the average family diesel hatch
Debatable whether all-wheel drive is a plus in a compact family hatch
Dark cabin plastics promote quality but make for a sombre cabin ambience
You don't need to possess an encyclopaedic knowledge of the Subaru Impreza to realise that this variant is a huge departure for the Japanese car maker. The switch to a more mainstream five-door hatch format has been welcomed and dismissed by critics in equal measure. However, with Subaru seeking increased mainstream sales success, it was more a question of if you can't beat them, join them.
Increasing sales volumes in an ever more competitive market is the name of the game these days. Factor in the decline in interest in compact saloons in Western Europe and it was clear that Subaru had to do something to ensure the continued success of the Impreza brand. And it is a brand; from its early beginnings as a misunderstood and unglamorous rally car spin-off for the road to cult hero and supercar baiter, the car and brand is a core part of Subaru's operation.
But in recent years the Impreza was famous almost exclusively for its growing number of high performance variants (WRX, STI). And it was, unlike when it first appeared, no longer alone in offering Porsche 911-like thrills for Ford Mondeo money. Too many rivals and a shrinking market have helped push Subaru in a more mainstream direction, hence the switch from compact saloon to compact hatchback.
With the switch to a more conventional bodystyle, critics argue that the Impreza has lost its unique selling point. That may be true, but the switch was designed to help the Impreza reach new buyers who had little interest in rally sport heritage - effectively the majority of the car buying public.
It's true that from the outside the Impreza is now very much like most other Far Eastern five-door cars save for the obvious Subaru design trademarks, but that direction certainly hasn't damaged Toyota's fortunes. Inside the status quo remains; the Impreza's cabin will be familiar to fans of the marque and the build quality and choice of materials is a welcome step forward.
Our verdict on the Subaru Impreza 5-door 2.0 RX
This five-door Impreza couldn't be any further from Subaru's original effort. In a bid to appeal to a larger market, it was only a matter of time before the car turned a corner and became more conservative. It's also more practical, thanks to its hatchback layout, which should help it appeal more to families. It's not quite a match for Europe's finest, but it's a good - and brave - first effort.
Costs
With a petrol-only range and the standard four-wheel drive to consider, fuel economy cannot match that of comparable European cars. It's still respectable, but, say, a Volkswagen Golf diesel is leagues ahead. This will no doubt be a factor when calculating running costs, along with the servicing costs. That said, the asking prices for the various models are competitive.
Space and practicality
Not the smallest and not class leader either, the Impreza boasts enough space to appeal to a growing family. Rear seat legroom will trouble only the tallest of adults, while there is an ample number of storage compartments dotted around the cabin. With folding rear seats and easy open tailgate, Subaru's decision to go down the hatchback route seams to have paid off.
Controls and display
While never challenged over the clarity of its controls and displays, Subaru has sometimes been on the wrong end of criticism surrounding the quality of its switchgear. This issue has largely been resolved and the quality, fit and finish plus the execution of the various controls is impressive. On another positive note, the car's fascia is largely uncluttered; all you see are the simple ventilation rotary controls and, if fitted, the large sat-nav and audio display. Minor audio controls on the steering wheel plus clear dials round off the experience.
Comfort
Although aesthetically not terribly inviting, the Impreza's seats prove very comfortable and supportive over long distances and when traversing poorly surfaced roads. Noise levels in the cabin are pleasingly low - unless you rev the engine hard. Cabin space is pretty good for a car of this size, and there's no question of occupants banging elbows up front. The rear compartment is also a relaxing place to be, but is probably more suited to people up to teenager size if a long journey is planned.
Car security
Unlike the stereotypical blue Impreza STI sporting gold wheels and a big wing, this version is unassuming to look at and less likely to be targeted by thieves. That said, you do get the usual remote central locking and immobiliser package. For greater peace of mind, a low-cost but visual deterrent such as a steering lock would be a sensible purchase.
Car safety
Four-wheel drive is hugely underrated in regular passenger cars, but it has plenty of uses. By maintaining stability when conditions underfoot are slippery, wet or even windy, a more composed driving experience is delivered. The trade-off is sometimes a little more noise and increased fuel consumption. Elsewhere, occupants are protected from harm by plenty of airbags and the usual array of electronic brake assist systems.
Driver appeal
Being in a unique position of coming with full-time four-wheel drive and a low ratio gearbox, the non-high performance Impreza is a surprisingly good steer. Granted, even with only a modest amount of horsepower to play with - the 2.0-litre car is by far the better option here - it can still be an entertaining car. You do need to rev the engine reasonably hard to extract the maximum from it, but the bonus is the trademark Subaru thrum from the unusual flat four-cylinder engine. Ride and handling is good, partly due to the influence of the high power cars from the past, and the presence of permanent all-wheel, which isn't just useful for muddy tracks.
Family car appeal
If people carrier and sport utility vehicles don't appeal and you've got a small but growing family, the Impreza is a sound alternative. You'll be sacrificing fancy folding seats, equally fancy multimedia systems to entertain the little ones and the more common raised seating positions, but in return you get four-wheel drive (still rare in the non-SUV lifestyle sectors) and benefit from a sharper handling car. Fitting a pushchair and the weekly shopping the boot might prove a challenge, but for some it'll be a worthy one.
First car appeal
In the past it would have been very hard to recommend a traditional Impreza - essentially the popular turbo models - as a first car. Too fast plus too expensive to insure and run would have been the blanket response. Yes the slower cars did exist in the past, but this generation of hatchback should be more appealing to younger drivers. Although not as frugal as, say, a VW Golf diesel, running costs should be acceptable to those making a conscious decision to buy something different.
Quality and image
There's a lot of baggage - most of it positive - associated with Subaru's Impreza. However, nearly all of it relates to the performance WRX and STI variants. The regular, non-turbo models are often forgotten, and it's an issue Subaru intends to address with this car. The company also wants to banish criticism surrounding the quality of its car interiors. There's no question that considerable improvements have been made, but despite the good work some European rivals remain one step ahead.
Accessibility
As far as this Impreza goes its performance is comparable to most of its European rivals. The front doors open wide enough for even large adults to access and egress the cabin without a problem. At the back, the door aperture is a little smaller but shouldn't pose any major problems. At the back, the car's tailgate opens wide with ease to reveal a flat loadbay.
Stereo and ICE (In car entertainment)
The standard fit units do a fine job, which is what you'd expect from Subaru. Supplementary controls on the steering wheel help matters, and the main unit's layout is clear and intuitive. The optional sat-nav system is also well thought out, and proves to be quick and easy to programme, plus quick to reroute in the event of a wrong turn.
Colours and trim
With Subaru keen to raise the profile of the regular Impreza, bold colours are the order of the day. Granted, silver also does work quite well - and is a radical departure from the usual blue most Subaru fans will be familiar with. On the inside, the car's cabin is light and airy thanks to the generous use of light coloured materials.
Parking
Realistically you shouldn't have any problems with the Impreza. It's not a big car and all-round visibility is good. The power steering is light at low speeds, while the throttle is easy to modulate, making slow manoeuvres easy.
Spare wheel
Space saver fitted as standard.
Range information
Petrol engine options - 1.5-itre (107); 2.0-litre (150bhp); 2.5-litre turbo (230bhp). Transmission options: five-speed manual gearbox, four-speed auto gearbox (not 2.5 turbo). Trim levels: R, RX, WRX (2.5 turbo only).
Alternative cars
Ford Focus Conventional but popular choice and a good all-rounder
Vauxhall Astra Outgoing styling and better than average driving and ownership experience
Toyota Auris Solid, dependable and durable Toyota does everything that bit better than before
Kia Sportage Bargain SUV is a left-field choice here but adds four-wheel drive into the mix