December 2012
Subaru BRZ 2.0i SE
Handsome BRZ is modern but discreet
December 2012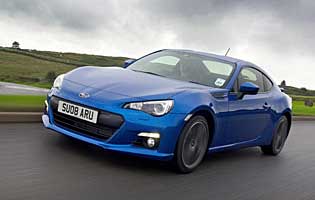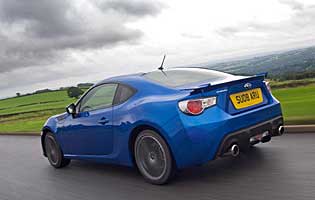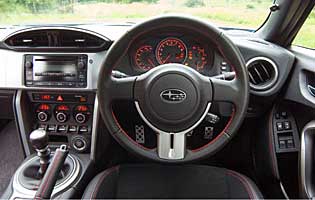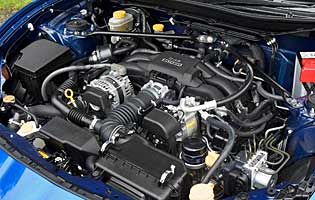 Overall rating

Likes:
Impressive overall focus on driving dynamics
Handsome exterior design
Highly responsive steering and brakes, slick gearshift
Superb handling balance and sense of fun
Gripes:
Price tag still requires a sizeable investment
Cabin is functional but not hugely attractive
Stiff suspension may be too much for non-enthusiasts
Hill start only available on automatic model
Subaru is entering new territory with the introduction of the BRZ. A 2+2 sports car is a radical departure from Subaru's staple products which tend to be more practical propositions, even when it is the high performance STi models. Designed and built in partnership with Toyota it aims to deliver simple driving thrills at a reasonable cost.
Neither Subaru or its partner on the project Toyota are known for producing radical products, but the BRZ and its sister the GT86 represent a deliberate attempt to offer something genuinely new in the sports car market. Although there are plenty of other 2+2 rear-wheel drive sports cars on sale in a variety of price brackets, the BRZ is arguable on its own.
The whole BRZ project is tied together by the notion of simplicity and lightweight. At 1,230kg for the base model the BRZ is lighter than many compact hatchbacks, which provides an excellent basis for providing an exciting driving experience. This lightweight approach extends to the cabin, which provides all the necessary refinements but nothing more all housed in a relatively simplistic dashboard layout.
Powering the pared-back body is a relatively modest powerplant: under the bonnet there is a 2.0-litre naturally aspirated 'boxer' engine delivering less horsepower than the majority of modern hot hatchbacks. This is matched by the wheels and tyres: although alloy wheels are fitted as standard they are only 17-inches in diameter and fitted with conventional low-rolling resistance tyres also used on Toyota's Prius. This delivers safe levels of grip rather than the big, low profile tyres used on most performance cars.
All these efforts are intended to deliver maximum driving involvement. The skinnier tyres and lightweight help to provide increased driver feedback, while the suspension and steering are set up to achieve quick and accurate responses, with the overall aim of maximising the pleasure for the driver.
Our verdict on the Subaru BRZ 2.0i SE
Boasting all the right ingredients for a low cost, engaging sports coupe, it's no surprise that Subaru's BRZ offers largely the same level of enjoyment as Toyota's near-identical GT86. The combination of rear-wheel drive and a modest mass should have keen drivers smiling.
Costs
Driven with a degree of restraint the BRZ could deliver reasonable running costs, while the modest power output and standard tyres will save money over rivals in the long run.
Space and practicality
For a focused sports car the BRZ offers reasonable practicality. Oddment space is the cabin is a little limited but front seat occupants have good head, leg and elbow room. The rear will accept two adults for short journeys but really they are best suited to children. The boot however is pretty generous for a car of this size.
Controls and display
The key elements of the BRZ's display are all in place, with a big central rev counter housing a smaller digital speedometer within it, with a conventional analogue speedometer to the left. In practice the analogue speedometer is hard to read quickly leaving the central dial as the focus for the driver. The supplementary controls are large and easy to decipher.
Comfort
The front seat passengers benefit from very huggy sports seats that are comfortable and support their occupants well, and the standard equipment is sufficiently generous. On the other hand, the BRZ's boxer engine is quite vocal when pressed and the balance is towards handling rather than ride comfort which is evident on broken streets.
Car security
An alarm and immobiliser is fitted as standard, as is keyless entry and start. Although there is a significant glass pane in the tailgate a sturdy cover keeps any items within safely out of sight.
Car safety
Aside from the standard complement of airbags and ABS, the BRZ's traction and stability control system is of particular note as it offers three modes. As well as fully on and fully off the intermediate sport mode allows a degree of slip and wheelspin before intervening, something which the keen driver might well be grateful for.
Driver appeal
This is where the main focus of the BRZ lies, and provides the main reason why you would consider purchasing one. Right from the start the BRZ feels light on its toes, and the accurate and feelsome response of the controls is evident even at city speeds. Find a more suitable piece of road and the BRZ is a delight, feeling immensely friendly and manageable yet capable of being driven very hard with complete confidence. There is sufficient but not excessive power from the 2.0-litre unit, and an extended drive should be enough to convince anyone that no more power is required.
Family car appeal
The BRZ could manage occasional family duties as it can accommodate children in the back and a modest amount of luggage, but for daily use it would come up a little short on space and the hassle of getting in and out of the reat seats would grate in time.
First car appeal
Although outside the budget of many first car buyers, the BRZ would make an ideal first sports car as it is quick rather than fast and very friendly to drive, and therefore makes it ideal for learning the arts of rear-wheel drive.
Quality and image
In terms of quality the BRZ sits somewhere in the middle of the pile. Some of the materials look a little unimpressive, although to balance this in all probability they will be hard-wearing. Image-wise the BRZ has the back catalogue of Subaru STi models to build on but it is also boosted significantly by the build up to the BRZ's launch and the thinking behind it as a purist sports car.
Accessibility
With two long doors either side climbing aboard isn't too much of a struggle, although it does sit low to the ground and so requires something of a drop down. Getting into the rear seats is also fairly straightforward, although the seats don't automatically return to their original position.
Stereo and ICE (In car entertainment)
The standard audio system is relatively basic with a CD/tuner and auxiliary and USB inputs, but it sits high up on the dashboard for good visibility. Unlike many modern cars the BRZ does without steering-wheel mounted controls, but this is more to do with nothing interfering in the driving process rather than any penny-pinching.
Colours and trim
Although there is a relatively modest palette to choose from, the BRZ's modern take on the classic two-door sports coupe looks best in more striking colours. Subaru fans will be pleased to note it looks particularly good in the traditional Subaru WR Blue Mica. On the inside there is a uniform dark grey saved only by flashes of silvered plastic.
Parking
The BRZ sits low to the ground and while the view out is good, over the shoulder is less impressive. However it is still a relatively compact car, and unlike so many sports cars the relatively tall tyre sidewalls means slight contact with kerb won't necessarily mean a damaged wheel.
Spare wheel
Tyre repair kit fitted beneath the boot floor.
Range information
Petrol engine options - 2.0-litre (197bhp). No diesel option. Six-speed manual standard, six-speed automatic option. Trim levels: SE, SE Auto, SE Lux, SE Lux Auto.
Alternative cars
Porsche Cayman Similar thrills but almost twice the price
Audi TT Comfortable, high quality and fun but much more of a compromise
Mazda MX-5 Closest in concept to the BRZ but ageing, also convertible only
Honda CR-Z Eco-biased sporty coupe is cheaper and greener but less fun