July 2015
SsangYong Tivoli 1.6 ELX Petrol 2WD
Straightforward but attractive styling gives a modern look
July 2015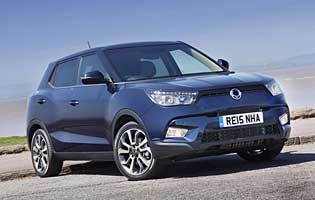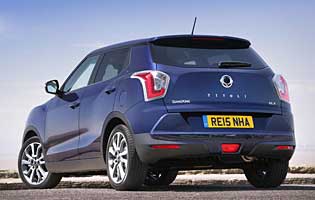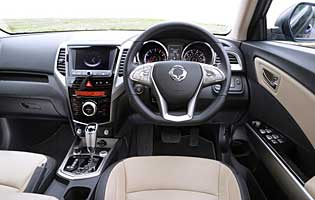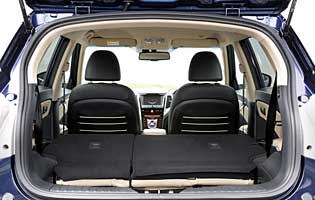 Overall rating

Likes:
Extremely well-equipped for its asking price
Spacious passenger area with lots of leg- and headroom
Smooth and eager petrol engine provides ample performance
Advanced media connectivity options will attract younger buyers
Gripes:
Some factors betraying lower-budget construction remain
Emissions are higher than for some rivals
No CD player or DAB radio
Petrol version can't tow as heavy a trailer as the diesel
SsangYong is finally taking the European market seriously with a car that aims to compete with established competition from the likes of Kia, Ford and Suzuki, but at a significantly lower price. By including an impressive standard specification the company hopes that the Tivoli will kick-start a new era for customer perception and sales volumes.
The Korean firm has chosen wisely when it comes to what type of car to build. The compact SUV and so-called 'crossover' segments have shown growth far outstripping the general market performance. Buyers engage with the higher ride height on offer and many would now not consider anything but a high-riding car. SsangYong is tapping into that customer trend.
At just 20mm longer than a Suzuki Vitara the Tivoli remains a small car; only slightly longer than a supermini and some way shorter than a typical compact family hatchback like a Ford Focus. Instead of length it uses its height to fashion more passenger space than people may expect, which is a sound engineering tactic used to good effect in all cars in this sector.
It is extremely well equipped, with even mid-range models boasting soft leather seats and a fashionable, sharp media screen. Value is the key pillar upon which all prior SsangYong models have been based, so must not be ignored here, but style and materials quality have also been prioritised - unlike for older models.
SsangYong has set relatively low sales expectations for the car, due in part to the strength and breadth of the direct competition available. Cars like Kia's Soul and the Suzuki Vitara are likely to be the rivals most directly concerned by the Tivoli's arrival. A diesel engine joins the range in the third quarter of 2015.
Our verdict on the SsangYong Tivoli 1.6 ELX Petrol 2WD
Despite SsangYong's relative lack of budget it has come up with a very good car that matches or even betters the existing options in many ways. It falls short in a few but it ultimately delivers a convincing package for a very attractive price when compared to its competitors. The Tivoli is thoroughly likeable for offering so much value for money, and that may help its cause in the showroom.
Costs
The higher up the range you go, the better value the Tivoli looks against competition that begins to seem very expensive. Class-leading residual values fixed by SsangYong help to keep finance payments low, and insurance is also modest thanks to good safety equipment and low repair costs. Road tax costs fall behind the best in class, but real-world fuel economy should be little worse.
Space and practicality
The Tivoli crams a larger boot into its shell than most of its competitors. At 423 litres it even outstrips the luggage capacities of longer hatchbacks, although the Renault Captur crossover has even more. The rear 60:40-split bench seat folds almost flat to expose very large load-carrying potential, but even as standard SsangYong claims that the car can fit three golf bags into the boot. On the down side, drinks in the central cupholders can get in the way of the driver's arm during gear shifts and handbrake application.
Controls and display
The look and function of the main instruments is up there with the best, using a classy, illuminated combination of white and red with a stylish font. The LCD screen between the speedometer and rev counter is effective, showing many of the most important readouts without becoming too overcrowded. The sharp main screen is also up to scratch, with strong colours and deep blacks. The controls for the touch-screen media interface are not especially easy to use on the move, but the main car controls are light and forgiving.
Comfort
The most impressive factor in the comfort stakes is undoubtedly the softness and suppleness of the leather seats, which feel more premium than equivalents you might find on much more expensive cars. Perforation allows for better dissipation of body heat, too, which improves long journey comfort. The seat backs could perhaps use a little more lumbar support, but there is plenty of space for legs, heads and shoulders.
Car security
Within the top-level trim grade package is security glass, placed all around the rear half of the car, which makes it harder to see anything accidentally left in view. A neat feature at this price point is keyless entry and start, which means keys can stay hidden in bags or pockets at all times. A luggage cover is only listed as part of the standard specification from mid-range EX level, which is worth bearing in mind.
Car safety
In a bid to assert that lower prices need not mean decreased safety, SsangYong has equipped the Tivoli with seven airbags as standard. Stability control is also included, within which are systems to ensure safe emergency braking and to rein in any potential loss of traction. A reversing camera helps a driver be completely sure that it's safe to reverse. Knowing that a spare wheel is included will also be a safety boost.
Driver appeal
In truth there is very little to separate the petrol-powered Tivoli from similar cars in the class. Its engine is smooth and happy to rev, and it does require revs to get the best out of it. The steering is nicely direct but inoffensively so, steering slowly enough for comfort and with plenty of assistance to make light work of car parks and tight manoeuvres. This is not an especially pleasurable car to drive, but none of its rivals are either. It is simply pleasant when cruising around town and country.
Family car appeal
With an impressive amount of space on offer both in the rear of the cabin and in the boot, the Tivoli would make sense for families even if it were more expensive. The spacious rear and higher seats, for example, make it easier to install a child seat than it is in lower, more cramped cars. Its pricing, which is considerably cheaper for well-equipped versions than those cars it aims to take sales from, could help convince parents that it is the right option.
First car appeal
Buying a Tivoli as a first car is not as unusual a move as it might normally be thought. It offers so much space and equipment for the money that someone with enough budget could feasibly be swayed away from the more temporary lifestyle solution offered by a basic hatchback. The Tivoli is a user-friendly car that would allow a new driver to grow in experience and start a family without having to change their car.
Quality and image
Clearly SsangYong does not have fashion on its side. Its previous models have been drab, style-less and overtly cheap efforts with little or no desirability beyond the appeal of practicality. The Tivoli is the brand's first car to openly embrace popular culture in a segment that relies heavily on style to help sell cars. This may start to change opinions about the company. Materials quality varies from the superb to the disappointing, but overall fit and finish is on a par with rivals.
Accessibility
This car is set at the perfect height for most adults to be able to slot themselves in without complaint, and the same goes for egress. Rear passengers, especially those with larger feet or pointier shoes, may find the bottom part of their door aperture slightly too tight; a restriction shared across most of the Tivoli's rivals. The boot is quite lightweight and easy to operate, but care should be taken to secure the rear number plate properly, or else it rattles cheaply when the tailgate shuts.
Stereo and ICE (In car entertainment)
There is a good range of audio input options, from AM/FM radio to iPod and Bluetooth connections. There is also an SD card slot in ELX versions but this is normally reserved for the card containing the navigation maps. The obvious missing options are a CD player and DAB radio, both of which the Tivoli lacks and cannot be upgraded with. The media screen acts as the main interface for music playback, but basic audio controls can also be found on the steering wheel.
Colours and trim
The Tivoli has a traditional selection of paint shades spanning black, white, grey and silver, with red and blue as the colour options. All look good on the car's well-proportioned frame. While grey seat cloth is standard on the entry-level SE car, each paint colour brings with it either grey or beige perforated leather as standard on EX and ELX cars. Blue and black models benefit from the slightly warmer beige, with the rest featuring grey, but the material looks and feels surprisingly high quality. The remainder of the interior trim matches the unexpectedly premium ambiance.
Parking
Visibility is hindered towards the rear corners by thick pillars and a small rear windscreen typical of the class. However, EX and ELX grades have a reversing camera as standard, while ELX models add front and rear parking sensors. At less than 4.2 metres long and less than 1.8 metres wide the Tivoli is not as large as it might look, and slots into both bay-type and parallel spaces with ease.
Spare wheel
Space saver spare wheel supplied as standard.
Range information
Petrol engine options - 1.6-litre (126bhp). Diesel engine options - 1.6-litre (113bhp). Transmission options: six-speed manual gearbox, plus six-speed auto gearbox. Trim levels: SE, EX, ELX.
Alternative cars
Kia Soul Good value at the entry-level but quickly gets expensive
Suzuki Vitara Likeable runabout has good colour options and high levels of comfort
Nissan Juke Cheap lease deals make it popular, but the Juke is showing its age
Ford Ecosport SUV-styled pseudo off-roader is amiable but not especially good