February 2006
SsangYong Kyron SE
Distinctive style sets the Kyron apart from the competition
February 2006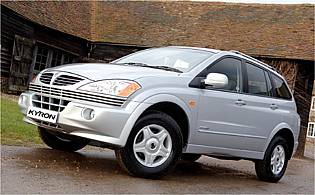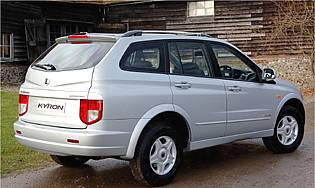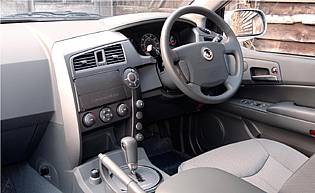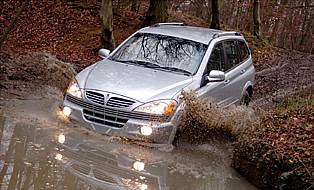 Overall rating

Likes:
Honest pricing structure and value for money equipment levels
Refined when off road and more than capable of holding its own
Durable cabin should easily take knocks and scuffs in its stride
Able on-road cruiser and not that difficult to park around town
Gripes:
Exterior styling is an acquired taste
Engine can get noisy when pushed hard
Aftermarket audio units don't blend in and switchgear could be more intuitive
Pitch and roll prominent on road as Kyron's ride is biased towards comfort
After branching out into the large 4x4 sector with the Rexton, SsangYong's smaller offering has the task of attracting buyers who would otherwise choose a 'lifestyle' 4x4. The Kyron is far from soft, however. Like the Rexton, it boasts traditional 4x4 qualities and can easily be used as a proper, working vehicle.
There's no mistaking a SsangYong product. Although an unwritten one, the company's philosophy must include the need to stand out from the crowd. There's no question that the Kyron ticks that particular box. However, unlike the firm's Rodius people carrier, the Kyron is a lot easier on the eye.
Another thing that sets the Kyron apart from its rivals is an honest, value for money approach. Granted, some of the added value is not immediately obvious, but it's fair to say that the Kyron punches well above its weight.
From the car's decent level of standard equipment to its genuine off-roading ability, it's difficult not to be impressed by the Kyron - if not by its looks. The former attribute is most obvious at the top end of the range, although this doesn't correspond to over-the-top prices despite the inclusion of leather seats and sat-nav.
But where the car really differs from similarly priced rivals is its ability to tackle off-road hazards with a calm approach usually reserved for Land Rover products. Switchable four-wheel drive plus a low ratio gearbox, good axle articulation and a torquey diesel engine should all make the Kyron attractive to people who need a car to perform well away from the urban sprawl.
Our verdict on the SsangYong Kyron SE
Looks aside, the Kyron is a surprisingly competent 4x4. Yes it is biased towards off-road activities, but it doesn't disgrace itself in town so long as you're aware of its limitations. Take it steady and the school run is no more difficult than towing a trailer or traversing a muddy field. Given the car's strengths and the advertised prices, it would be foolish to be too critical of the car's plain cabin and soft, on-road ride.
Costs
Modest asking prices, decent levels of standard equipment and a sensible diesel engine all make the Kyron appear to be good value for money. Factor in the use of proven technology such as the engine and transmission, and reliability shouldn't be an issue.
Space and practicality
In off-roader mode the Kyron can, obviously, go places conventional family cars and people carriers cannot. The same is true if you plan on towing a trailer or caravan - the modest SsangYong is an affordable solution. Staying with the lifestyle angle, the car's cabin is a good size and the boot is more accommodating than that of a high value family hatch.
Controls and display
SsangYong has decided to break with convention with some of its switchgear. Clusters of buttons in a circular pattern appear to be the firm's signature design. Although space efficient, they could be more intuitive. At least the 4x4 mode dial is straightforward and located halfway up the centre console. The main dials are also conventional, but the bought-in aftermarket audio units tend to stand out for the wrong reasons. Elsewhere, the car's steering is well weighted and the gearshift action is slick.
Comfort
The Kyron's cabin is spacious enough to accommodate four adults and the ambience is light and airy, plus the seats are supportive. On the move the Kyron's engine can get quite vocal - especially when accelerating hard. Wind noise is not a huge problem despite the car's bluff exterior.
Car security
Off-roaders are always popular with thieves, and at least the Kyron comes with a Thatcham approved alarm and immobiliser package. Remote central locking is another essential inclusion. For added peace of mind, a visible deterrent (steering lock) or even a low cost tracking device shouldn't be out of the question.
Car safety
Leaving aside the obvious benefits of four-wheel drive, all cars also get ABS brakes, while SE and SX variants add ESP and hill decent control. The airbag count on the base models could be better, though. The entry level S specification results in twin front airbags. You'll need an SE or SX-badged car if you want front side airbags.
Driver appeal
Off-roaders are usually compromised due to the need to perform well both on and off road. This is true of the Kyron, which delivers a confident and compliant ride on the slippery stuff and a soft ride on road. Roundabouts need to be navigated at modest speeds to minimise the otherwise pronounced bodyroll, for instance. The steering is direct and the brakes strong, but the diesel engine option can get noisy when worked hard - you'll need to do that a lot around town. Once up to speed the Kyron is more refined and makes a surprisingly good motorway cruiser. With switchable four-wheel drive the Kyron feels perfectly at home on the rough stuff, and will put many 'lifestyle' 4x4s in the shade.
Family car appeal
As a value for money alternative to a mid-size people carrier, the Kyron is an attractive buy - especially if you need to routinely tow something or traverse rough terrain. It doesn't boast seats that tip, flip or can be removed MPV-style, but the cabin should be roomy enough for a growing family. There's no question that the Kyron is affordable, as the asking prices are modest, and reliability is good thanks to the use of proven components from other manufacturers.
First car appeal
There are smaller, easier to drive recreational off-roaders to choose from if you're a novice driver, but few can match the Kyron's abilities on rough ground. If that's what appeals to you, getting used to the car's dimensions and measured driving style shouldn't prove a problem. Parking will require some practice, though. At least running costs should be modest.
Quality and image
There's next to no brand image associated with SsangYong, which means its cars can stand for whatever you want them to stand. The company would like you to think of them as value for money, versatile and rugged in the case of 4x4 variants. There's little doubt that the cars are built to a high standard mechanically. Sadly this isn't always the case in the cabins. Plastics and seat fabrics are average, and a good few years behind the likes of Nissan and Toyota.
Accessibility
As with any 4x4 a visit to the Kyron's cabin requires a step up, making it a stretch for the elderly or infirm. Being a small off-roader with a clear bias towards the lifestyle market, at least the Kyron doesn't tower over you like a Range Rover would. Predictably, front seat occupants are afforded marginally better access while the tailgate requires a strong push to close. Dues to its lofty stance, the rear load space is at a convenient height for shifting heavy items.
Stereo and ICE (In car entertainment)
The standard audio unit in the Kryon is of the aftermarket variety. In the UK, the importer has opted to increase value for money by offering high specification units. S level cars get a combined radio and single CD unit, with SE cars gaining a CD changer. The flagship SX adds satellite navigation. The latter unit is optional on all cars. As with many systems, the units are a little fiddly and there's no provision for steering wheel mounted controls. On the plus side, they are mounted high up on the centre console and perform well.
Colours and trim
Dark exterior colours work best on the Kyron - it's the same for most off-roaders biased towards the utility end of the market. The raised exterior trim does provide a welcome contrast, though. Inside the general theme is grey plastic, and it covers both the cabin plastics and upholstery. It might look durable but it could feel more welcoming.
Parking
As with any off-roader, the view forward out of the Kyron is good. The lofty driving position helps enormously. Big rear view mirrors also help, but the rear three-quarter view could be better as it's partially obscured by the car's substantial pillars and shallow rear window.
Spare wheel
A reduced size spare wheel is fitted underneath the rear of the vehicle.
Range information
One diesel engine option - 2.0-litre (130bhp). Trim levels: S (two and four-wheel drive variants), SE, SX. Part-time four-wheel drive is standard, including ability to switch between two-wheel drive and high and low ratio four-wheel drive on the move. Five-speed manual gearbox is standard, with a five-speed auto standard on the SX and optional on S and SE. The two-wheel drive S is manual only.
Alternative cars
Nissan X-Trail Not as tough but good value and has better on-road manners
Kia Sorento Similar to Kyron but more polished in most areas. More expensive, though
Hyundai Terracan Big, chunky styling and good off-road. Could be more refined
Jeep Cherokee Popular Cherokee is a good all-rounder but can't compete with the Kyron on price