December 2014
Smart ForFour 71hp Edition #1
The stubby front end hides clever packaging and safety features
December 2014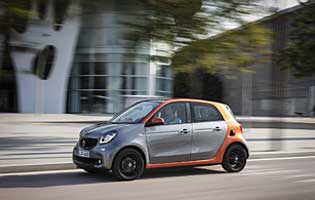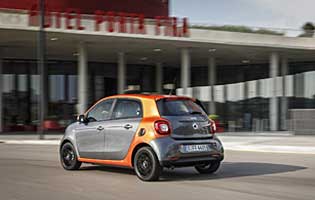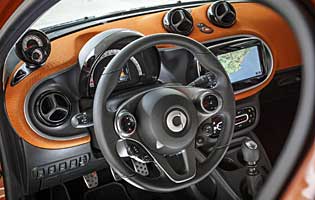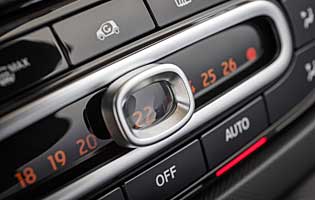 Overall rating

Likes:
Tight turning circle never ceases to amaze
Bright, colourful exterior colour options give lots of scope for personalisation
Comfortable seats are well-designed for city driving
Instantly recognisable style with reasonable practicality
Gripes:
Expensive to buy compared with accomplished rivals
No option for a more reserved colour scheme
Engine can feel lethargic at times
Some important interior plastics fell cheap to the touch
Smart is a company that only builds small cars, and it does things its own way. Its cars have been in desperate need of significant updates for some time, and this all-new version of the larger of its two city cars aims to address many of the age-related flaws that had dragged its predecessor behind the competition.
The engineers at Smart have had a lot of time to think about what was amiss with the old car, and in an effort to streamline production and save costs the new car shares many of its parts with other cars; Smart's own ForTwo and also the Renault Twingo. Unusual enhancements like a fabric-covered dashboard separate it from the Renault.
It is designed to appeal first and foremost to the heart. With a plethora of customisation options and colours galore, including the signature and compulsory Smart two-tone paint finish, the ForFour is a car that's designed to be built around bold individual taste. However, clever engineering leaves plenty of substance to match the style.
This model is much-changed from the little-loved old one, even down to the location of the engine. It now sits beneath the boot floor at the rear of the car, freeing up enough space between the front wheels to allow them to turn further than almost any other car's, creating an uncannily tight turning circle.
Most of the exterior bodywork is plastic, making it harder to scratch, extremely difficult to dent permanently and cheap to swap if necessary; perfect for a car that will spend much of its life parked in bays next to cars belonging to potentially inconsiderate owners. Combined with low-power engines, Smart is targeting cheap insurance premiums for all.
Our verdict on the Smart ForFour 71hp Edition #1
The ForFour is an intriguing, if undeniably expensive city car with some truly unique selling points that really will matter to people looking for the ultimate four-seat urban runaround. It is cleverly engineered in many ways, colourful of personality and more capable in tight manoeuvres than anything but a ForTwo or a London taxi. Its novelty factor may wear off, but only for those that don't use its full capability.
Costs
Rival cars can be bought for several thousands of pounds less, and while they won't necessarily have the wacky style of the ForFour, the premium being charged for the Smart will increase finance payments significantly. Insurance will be average, being raised by the higher value of the car but lowered by features like the plastic door panels. All models are low-emission and will be looked upon kindly under CO2-based taxation systems.
Space and practicality
A car of this size cannot be expected to perform tasks normally reserved for large estate cars or MPVs, but there are a few clever design touches to make the most of the available space. For example, a sizeable compartment pulls out of the passenger side of the lower centre console, beside a passenger's legs. This adds to the secure storage already catered for by a modest glove box and a small boot. Folding the seats down, however, including the front passenger one, results in a load space longer than two metres.
Controls and display
This model shares its instruments with the ForTwo, and there will be problems in some potential buyers' eyes. The entry-level Passion model does not have a rev counter, but to keep the instrument cluster as a common part to all models, the rev counter on this more expensive model is placed high and to the side in a separate pod, which takes it well away from convenience. The optional central colour screen is excellent, but the square LCD unit inside the speedometer looks odd.
Comfort
The rear seats are fairly typical for a city car. The appearance of a three-person bench seat is an illusion, because in truth there are only two seats. What they share in common with the front ones is a general lack of additional support, allowing a potentially uncomfortable amount of movement in brisk cornering, or simply not a shapely enough back for long journeys. They are ideal for city driving, though, with enough driving position adjustment.
Car security
Central locking is standard, complete with a visual locking notification via simultaneous indicator flashes. An immobiliser is also included on all grades, but it is unlikely to be one taken from a particularly high-end parts bin. Unfortunately for owners, the ForFour may be more likely to attract negative attention as well as positive, and it would be a good idea to keep it garaged or off the road where possible.
Car safety
Smart has gone to great lengths to enhance the already incredibly strong passenger cell, by adding new structures that direct impacts along pre-ordained paths and make up, in part, for the car's lack of crumple zones. Airbags will fill the compact cabin in the event of a serious impact, but active safety systems like brake force distribution will do their best to try to avert a collision.
Driver appeal
In truth the lower-powered of the two engines struggles to haul the car up to higher speeds. It's sprightly enough in town, which is what matters most, but beyond the initial burst of response from the engine there is little extra power; but a lot more noise. The turbocharged unit is less smooth in its delivery, but much more potent. The ride quality and steering are much-improved versus the first-generation ForFour, but the latter is still devoid of any feeling of connection to the road. The steering wheel does not adjust as standard.
Family car appeal
Several features within the ForFour make it better suited to family life than some might give it credit for. The wide-opening rear doors make it easier to install child seats, and the bright colour schemes might keep children engaged. The fabric-covered trim inserts and dashboard coverings are fragile, though, and just one sharp corner dragged along them will likely cause significant aesthetic damage.
First car appeal
If four seats and five doors are a requirement, the ForFour could be an ideal first car. It's low on power, high on style and has technology features that will definitely appeal to younger drivers. Its purchase price is potentially against it, especially when such accomplished rivals are so much cheaper, but for buyers with plenty of disposable income that might not matter. Elsewhere it's easy to park and manoeuvre, and cheap enough to fuel.
Quality and image
Smart will sell the ForFour on its image, which is youthful, bright and vibrant. Material quality is a secondary concern and the car falls behind some of its similarly-sized competitors in terms of solidity, with the smartphone cradle a particularly flimsy example. The uniqueness of the image, though, will be a huge selling point for buyers searching for a specific reflection of their personal tastes.
Accessibility
Although the obvious size limitations of the ForFour are against it in terms of how easy it is to get in and out of any given seat, new hinges for the rear doors allow them to open to 85 degrees. That makes it significantly easier to make full use of the available space in the door apertures. Occupants sit higher than some people might expect, too, which also helps because there's no 'sudden drop'.
Stereo and ICE (In car entertainment)
Some intelligent thinking at the design stage has led to a smartphone app being developed especially for use in the ForFour and the ForTwo. An adjustable plastic cradle fits around the phone, and with the app activated the phone unit itself can operate as a wirelessly integrated media control unit - or even a navigation device. An upgraded JBL stereo provides 12 speakers and more audio power.
Colours and trim
Drivers who like to be seen at all times will love the ForFour, and those who don't, won't. Even the most sedate colour scheme, white panels with a black safety cell, grabs attention far more than most comparable rivals. Things don't settle down inside, either, and while the options are many and varied, they are not for the faint-hearted. The interior trim looks a little cheap in places, and can feel it, too.
Parking
Thanks to naturally small dimensions this would always be an easy car to park, but moving the engine to the rear gives the front wheels so much more room to turn that the resulting turning circle is almost as tight as a London 'Black Cab' taxi's. Tight multi-storey car parks are suddenly not so much of a challenge, and there is no direct rival that can parallel park into such small spaces.
Spare wheel
Emergency tyre repair kit supplied as standard.
Range information
Petrol engine options - 1.0-litre (70bhp); 0.9-litre turbo (89bhp). Transmission options: five-speed manual gearbox, plus six-speed twin-clutch automatic. Trim levels: Passion, Prime, Proxy, Edition #1.
Alternative cars
Volkswagen Up Cheaper, higher quality and more mature, the Up is a tough benchmark to beat
Toyota Aygo Unmistakeable styling and bright colours are mated to proven engines
Renault Twingo In some ways cheaper-feeling, but a significantly lower price tag
Hyundai i10 Very high quality, real big-car feel and a grown-up ambiance