smart forfour 1.1 Pulse
Funky styling
October 2004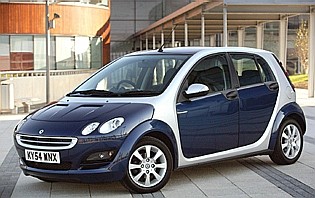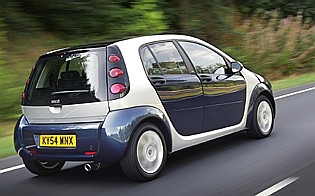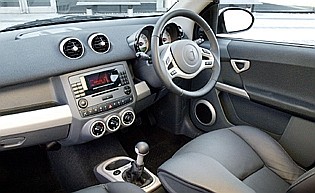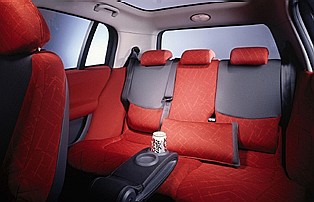 Overall rating

Likes:
Funky styling a refreshing change in conservative market
Generous interior space makes the forfour surprisingly versatile
Large range of extras allow buyers to personalise their purchase
Manual gearshift a welcome addition to a smart vehicle
Gripes:
1.3 and 1.5-litre engines offer only a small advantage over the 1.1
Semi-auto gearbox still lacks refinement and delivers jerky upshifts
Going mad with the options list will hit you hard in the wallet
Low-cost 'Black' variant lacks the glamour of the rest of the range
It was only a matter of time before smart took the plunge and directed its attention towards the traditional supermini market. Aside from being based on Mitsubishi's conventional Colt, the forfour is anything but straightforward. Familiar smart styling traits have successfully transferred from the company's other products, and the car boasts a cabin that rivals regular superminis for both space and versatility.
The supermini sector may think that it's a market full of stylish cars about town, but the reality is that, of late, car makers have opted for the conservative route. With superminis proving the most popular among private buyers, unleashing a radical-looking variant on the general public might prove disastrous for a firm's bottom line.
Save for the Mini, no car has really broken through the style barrier and stolen buyers hearts in the same way that BMW's baby has. smart believes its forfour offers a similar amount of charm and will some day rival the Mini in terms of popularity and sales.
In the forfour's defence, the car does look cute – but needs to be specified in the right (or should that be bright?) shade for the maximum effect. The car's cabin is another area where fun wins the day. While you won't see oversize circular dials you do see chunky control surfaces and a distinctly un-Mini-like amount of space. The former help to detract from the car's Mercedes and Mitsubishi roots (it shares its underpinnings with the Colt), while the latter means your friends won't be impersonating sardines – unlike if sat in the Mini.
So far so good, but the forfour is more than just one of smart's buzzy two seat fortwos with extra doors. Granted the family resemblance is there along with the Porsche 911 howl of the entry-level three-cylinder engine, but the inclusion of a regular manual gearbox across the range, diesel engines and big car levels of occupant safety and space should signal to anyone wavering that this is one supermini that thinks big.
Our verdict on the smart forfour 1.1 Pulse
Some critics will dismiss smart's forfour as a style-led supermini with a premium price tag. To do so is to miss the point. Careful selection can produce a car with the right kit, in a decent colour combination and powered by a sensible engine for a reasonable outlay. You'll be in good company if you want to treat the forfour as fashionable indulgence, though. Just like the Mini, you can spend a fortune in a bid to make your car stand out from the crowd. Either way, the four-door smart is worthy of recommendation.
---
Costs
Depending on your outlook, the forfour can be as expensive or as affordable as you want it to be. Like the Mini, the smart's screen price is only a starting point if you want to personalise the car with various creature comforts and style orientated addenda. However, stick with the more modest 1.1 Pulse model and you won't be disappointed. Economy is good, as are basic running costs such as servicing and insurance.
Space and practicality
It may be nothing more than a supermini on paper but the Fofour has more in common with the people carrier sector when it comes to versatility. Front seat occupants are treated to a conventional cabin layout, but rear passengers benefit from a clever sliding seat arrangement that offers more legroom or more bootspace – you decide. Those seats can also be folded almost flat to rival the carrying capacity of a conventional family hatch. Overall, the cabin is a spacious environment; head and elbow room is more than adequate and little touches such as cupholders and the optional folding front armrest are nice.
Controls and display
Strip away the forfour's fancy exterior and cute styling and smart's four-door hatch is, in reality, an uncomplicated beast. As such, the cabin's button count is refreshingly low and the car's main dials are clear and easy to read. Column stalks, ventilation controls and the stereo are all easy to understand, with the latter's main functions plus those of the trip computer duplicated on a 'multi-function' steering wheel – depending on the model. The forfour doesn't achieve a perfect score though, as the electric window switches are inconveniently placed down by the handbrake and the stereo's display can be made unreadable in direct sunlight.
Comfort
Forget the optional sport suspension pack and the regular forfour's ride is pleasingly smooth under most conditions. Although exceptionally poorly surfaced roads will upset the car's balance, in the main the smart copes well given its modest wheelbase. The cabin itself is surprisingly airy – again, considering the car's compact dimensions. Four adults should have no trouble getting comfortable, thanks in part to the sliding the rear seats. All the seats are comfortable, but some people might find them a little soft and rue their lack of lateral support when taking corners at speed.
Car security
Unlike in other areas of the forfour, there are no surprises in the security department. In fact, it performs much like its more conservative supermini rivals. As you would expect, remote central locking is present along with a lock button in the cabin. One notable feature is the forfour's 'lazy locking', a function which automatically locks the car once you've moved off – a nice touch for when driving in unfamiliar urban areas.
Car safety
forfour occupants are well looked after – smart has equipped the car with twin front and side airbags as standard, plus the option of curtain airbags. Along with the cars 'Tridion' safety cell, smart should be applauded for fitting anti-lock brakes, ESP and brake assist as standard across the line-up. Children are catered for by way of optional Isofix mountings and smart-supplied child seats and booster cushions.
Driver appeal
For a car sold on its looks, versatility and cabin space, it would be easy to dismiss the forfour's ability to entertain the driver. Unlike other smart models, the forfour is based on a conventional chassis – Mitsubishi's Colt – and as such drives well. To ensure maximum enjoyment smart's familiar but flawed semi-auto gearbox should be avoided; gearshifts lack smoothness in auto mode and require practice in clutchless 'manual' mode. Psychologically the manual feels quicker and, combined with the car's direct steering, the whole experience is a rewarding one and the car is an eminently chuckable one in an old-school Mini Cooper way. All engines deliver respectable performance, but the 1.1 petrol is a willing unit that emits a Porsche-like howl when pushed hard.
Family car appeal
Supermini's are not normally associated with family motoring – unless you count them as second cars. While the forfour won't match the versatility of a compact people carrier, it will accommodate two teenagers without any fuss. The key is rear legroom; sliding the rear seats back gifts rear occupants more than enough room. Bootspace is sacrificed, but more than a few shopping bags will still fit. In all other respects, the forfour can easily replicate the role of a conventional family hatch; passive and active safety levels are good, the car drives well when fully laden and the diesel variants deliver good performance and economy.
First car appeal
Any first time driver seeking a bold, fashionable-looking car would do well to sample smart's forfour. The car's entry-level 1.1 petrol engine is ideal for novice pilots – not too slow, not too quick. Coupled to the light manual gearshift, the forfour proves easy to drive smoothly. Light steering and the car's large glass area take the stress out of low speed manoeuvring. The ability to spec the car according to personal taste should attract young buyers, while running costs should stay low thanks to decent fuel economy and sensible insurance group ratings.
Quality and image
Like the Mini, smart's line-up has built up something of a cult following. Fashionable types are always drawn to cars that don't follow the norm, yet choice is often lacking if your requirements are to look good plus own something practical. Where the fortwo's appeal is limited if you need real-life levels of space, the forfour successfully combines the two-seat car's styling quirks with a family-friendly cabin. With the forfour, smart has finally gone mainstream without losing its street cred. And while the forfour is no match for Skoda's Fabia in the quality department, cabin plastics are first rate, seat fabrics look durable and the appearance of certain items of Mercedes switchgear is welcome.
Accessibility
Front seat occupants will have no trouble accessing the forfour's cabin, while rear seat passengers will, by virtue of the car's smaller doors, need to take a moment to make a dignified exit. Once in the rear quarters space is generous, and headroom is good for a car of this size. At the back, the tailgate swings up high with minimal effort and the load lip is a sensible height. The only major gripe concerns the rear seat slide/fold mechanism, which can be difficult to operate in a hurry. Once mastered – with the help of a little muscle power – it works well and is a handy feature for when transporting tall/leggy passengers or bulky loads – but not both.
Stereo and ICE (In car entertainment)
It's in the entertainment department that the forfour shows its Mercedes roots. Placed within in easy reach of the front seats occupants and high up in the fascia, the car's base audio unit boasts a radio and CD player and looks suspiciously similar to what you'd find in, say, a C-Class Merc. Moving up from the standard offering, there's the option of CD changers, sat nav and a hands free telephone. The basic control interface is easy to master regardless of specification and there's the option of a multifunction steering wheel, but the main unit's display is all to easily rendered unreadable in direct sunlight.
Colours and trim
The forfour might not be a blank canvas for those of a fashionable disposition, but it does offer a reasonable level of customisation by way of different cabin trims and colours. The end result – as long as you don't go overboard – is refreshingly upbeat relative to many of its mainstream rivals. Overall, the quality of plastics and fabrics is good. Similar levels of personalisation can be achieved with the car's body panels by contrasting the forfour's Tridion safety cell with various exterior colour combinations.
Parking
Superminis by their very nature are easy to slot into parking spaces and the forfour is no different from the competition. The car's light clutch and steering make for jerk-free low speed manoeuvring, while good all-round visibility affords the driver a largely unobstructed view out. The only gripes are the car's oversize A-pillars and smart's semi-auto gearbox. The former can obstruct front three-quarter vision in tight spaces; the later requires a sensitive right foot, as there's a disconcerting delay between pressing the throttle and actually moving.
Spare wheel
Space saver fitted as standard.
Range information
Five engine options: 1.1-litre (75bhp) petrol; 1.3-litre (95bhp) petrol; 1.5-litre (109bhp) petrol; 1.5-litre (68bhp) diesel and 1.5-litre (90bhp) diesel. Five-speed manual gearbox standard across the range, with smart's automated six-speed transmission optional. Trim levels: Black (base spec, 1.1 petrol only), Pulse and Passion.
---
Alternative cars
Mitsubishi Colt Built on same platform as forfour but styled more conservatively
Ford Fiesta Conventional supermini drives well, however lacks exciting to look at
Mini One Fashionable alternative but lacks the cabin space of the forfour
Fiat Panda Rivals forfour for versatility – can't match the smart for drivability, though