July 2005
Smart forfour 1.5 Brabus
Extra bodykit gives the Brabus Forfour a more aggressive stance
July 2005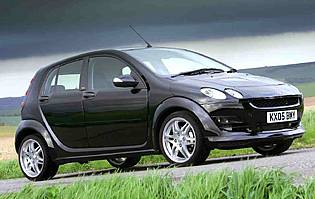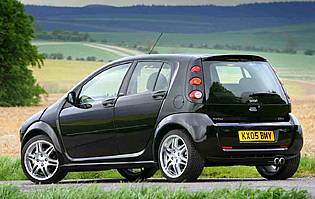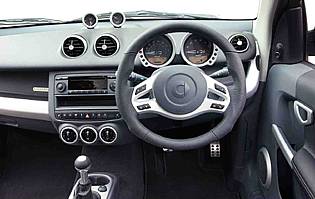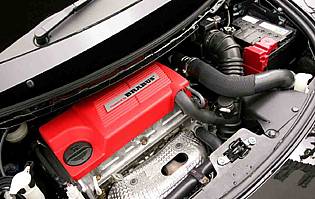 Overall rating

Likes:
Luxury interior surprisingly convincing
Driven sensibly, makes a practical everyday car
Should remain relatively rare and exclusive
Brabus badge is taken seriously by those in the know
Gripes:
Significantly more expensive than standard car, and pricier than most rivals
Lacks character necessary for truly great hot hatch
Standard stereo system should be much better
Does the world really need performance Smarts?
As the name suggests, the Smart Forfour Brabus emerged from the famous German tuning firm's best efforts to turn a compact city car into a full-on hot hatch. The results are mixed, however.
On paper at least, the Forfour Brabus impresses. The tuners certainly know their stuff as evidenced by their ability to squeeze nearly 180 horsepower from just 1.5 litres of engine capacity. Among the lightest cars in its class, that creates an impressive power-to-weight ratio capable of producing a spirited ride even though the Forfour's high sides aren't ideally suited to fast cornering.
The compact, curvy lines of the standard Forfour aren't exactly aggressive, so Brabus' stylists have done a fairly good job of injecting a modicum of menace into the package. The sectioned-off look of Smart's famous Tridion safety cell forming the central structure of the vehicle lends itself well to the various bolt-ons and side skirts, the resulting car looking rather like an overgrown radio-controlled racer.
Inside, the toy-like traditional treatment of Smart is jettisoned in favour of a hi-tech luxury approach that wouldn't look out of place in an AMG badged Mercedes. Silver detailing on much of the metalwork and even silver stitching in the black leather seats is impressively executed, while Brabus badging appears on every available surface.
Despite its technical capabilities, this is still a vehicle lacking personality. There was something amusing and therefore endearing about seeing a souped-up Brabus Fortwo, but because the Forfour seems to take itself so very, very seriously it does not have the same charm. Smart's promotional material boasts that this is 'the fastest and most powerful production smart ever built', but speed and power had nothing to do with what made the brand popular and distinctive.
Our verdict on the Smart forfour 1.5 Brabus
The truth is that though the Smart Forfour Brabus is a decent hot hatch, it is not among the very best. Similar performance with more character can be bought elsewhere for significantly less cash.
Costs
Whichever way you look at it, the Forfour Brabus is an expensive option. Comparable cars can be had for significantly less outlay. The Forfour's modest sales figures may allow a discount to be negotiated but that is unlikely to apply to the rarer Brabus-badged variant. Fuel economy is good. Resale values are difficult to predict given the lukewarm reception given to the Forfour, though the Brabus will undoubtedly be the most sought-after of the range.
Space and practicality
Rear seats are a little more cramped, but as long as bootspace can be sacrificed, the sliding bench manages to create a little more room - though a split rear seat would be even more useful. The boot itself is small but adequate for the weekly visit to the supermarket if not the active sports so popular in car TV ads. Roof rails add further carrying capability but ruin the looks, impair performance and make a good deal of added noise into the bargain.
Controls and display
Layout remains the same as in the standard Forfour, but the Brabus-badged variant adopts a much more grown-up approach to the design of instrumentation and switchgear. In fact, the steel-edged dials, high quality materials and metal detailing wouldn't look out of place in an expensive executive saloon.
Comfort
Leather throughout creates a high degree of comfort and the cabin is roomier than it looks from the outside, at least in the front. Suspension settings may be harder than usual but do not result in an uncomfortable ride. Ride is quiet without smothering a pleasant and potent exhaust note.
Car security
Any Brabus-badged car is likely to be noticed by boy racers and others who would delight in putting your car through its paces - with or without your permission. Smart is aware that this will be the case so provides a very good security package with automatic locking, alarm system and immobiliser. Given the ease with which a Forfour can be lifted by a crane, registering with a reputable tracking system would be a prudent move.
Car safety
In line with the high standards of the Mercedes-Benz group, which owns the Smart brand, a reassuring safety package is provided with standard features including front, side and head airbags, ABS with EBD, ESP and high-performance all round disc brakes. The nimble, immediate responses may encourage some drivers to go close to the edge, but they also allow skilled motorists to avoid many a potentially dangerous situation.
Driver appeal
A powerful engine and a low weight are the key ingredients required by any hatch with performance credentials. Those qualities are certainly possessed by the Forfour Brabus, yet despite a 0-60mph time of less than seven seconds and revised suspension settings, the driving experience still feels a little remote. The car is capable of 137mph, but you'd need the nerves of Donald Campbell to take it anywhere close to that speed. The slower Smart Roadster is a more satisfying drive thanks to its go-kart handling characteristics.
Family car appeal
Only small children would be happy in the rear seats on a long journey, and it's difficult to see any Brabus-badged car being bought for family use. If nothing else, it'd be a shame to spoil the lovely interior, a task kids would find hilariously simple.
First car appeal
The standard Forfour might make a decent first car, the Brabus edition a little less so. It can be quite a handful, and the possible performance has a significant impact on insurance quotes. Nevertheless its size and designer label will make it appealing to young drivers in particular.
Quality and image
The standard Forfour has struggled to gain a place in carbuyers' thoughts. By definition it is more conventional than the groundbreaking Fortwo and quirky Roadster. However, the Brabus badge remains well regarded among people who take an interest in tuned vehicles.
Accessibility
As a five-door vehicle, the Forfour fares better for accessibility than many of its key rivals, which tend to be three-door cars. The rear bench seat slides back and forward - a simple but underrated piece of extra functionality.
Stereo and ICE (In car entertainment)
Unusually, this top-of-the-range model does not get a better stereo system than the standard Forfour, so buyers refusing to upgrade will be stuck with a single-slot CD radio with just two speakers. A cost upgrade improves this to a four-speaker system with telephone keypad. A multichanger is yet another cost option. At least the steering wheel has integrated buttons for operating the radio and hands-free telephone kit.
Colours and trim
As with all Brabus models, external colours are limited to silver or black. Trademark silver and black creates a very Mercedes-like and luxurious cabin complete with heated leather sports seats, leather instrument panel and door trim. Though some accessories, such as satellite navigation, are available, essentially the Forfour Brabus comes with all the trimmings already on board.
Parking
Originally designed as a town-friendly urban runabout rather than a performance monster, it's no surprise that even the Forfour Brabus is easy to park. The tuning circle is impeded somewhat by oversized 17-inch wheels, but the task of reversing and parallel parking remains easier than in most comparable hatchbacks.
Spare wheel
Space saver spare wheel provided as standard.
Range information
One engine option - 1.5-litre petrol (177bhp) mated to five-speed manual transmission. No auto option. Brabus badge stands apart from rest of the Forfour range. Front wheel drive.
Alternative cars
Mitsubishi Colt CZT Shares platform and untuned engine with Forfour and far cheaper
Honda Civic Type R Winning blend of power and dependability with plenty to choose from
Mini Cooper S Novelty of supercharged engine and brilliant resale values
Renault Clio Renaultsport 182 Trophy Cult favourite is already a classic of its kind