February 2011
Skoda Superb Elegance 2.0 TDI CR 4x4 5dr
4x4 easily copes with moderately adverse conditions
February 2011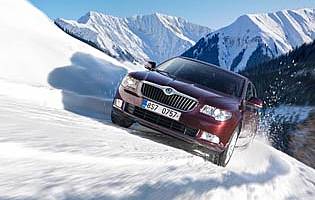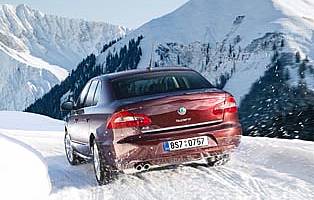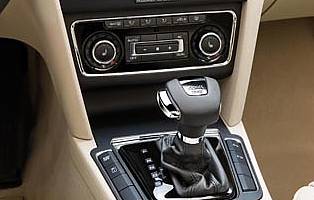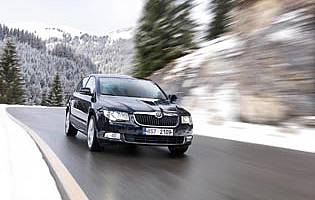 Overall rating

Likes:
All-wheel drive option is useful for winter weather and slippery roads
Generous level of standard equipment and cabin space
High value for money strategy is one of the Superb's main attractions
Dual opening boot an interesting feature
Gripes:
Bold nose isn't backed up by less than comfortable-looking boot shut line
Parking assistance technology not foolproof
Although their numbers are dwindling, badge snobs will still look elsewhere
Flagship petrol variant is particularly thirsty
A lot has changed in recent years at Skoda. The Czech firm once famous for its frumpy-looking low-tech cars has achieved what many in the industry thought was impossible. The manufacturer's transformation into a desirable brand hasn't happened overnight, but with the change complete what better car to top the range than the Superb.
The original modern day Superb was little more than a stretched Passat, but in a testament to how hard Skoda worked at developing the car's appeal, it became a popular choice among not just the minicab fraternity. This second generation car is a world apart from its predecessor. Luxury, equipment levels, performance and comfort have all been ramped up significantly.
Despite the uplift in every area of the car, the basic premise remains the same - value for money, spacious cabin. That said, the basic architecture is no Volkswagen hand-me-down, but instead new and tailored to give this large Skoda a personality all of its own.
One of this car's unique selling points remains: it trumps both similarly priced and more expensive cars when it comes to cabin space. More specifically, rear seat occupants are presented with an abundance of legroom.
And, in keeping with Skoda's desire to offer a little bit more than the opposition, along with impressively green diesels and BMW-levels of cabin luxury, there's also an all-wheel drive option. It doesn't turn the car into an Audi quattro rival, but it does give the Superb a leg up when it comes to improved handling and agility on the road. It really scores when the road is wet or slippery, though. The unobtrusive system works to send power to the wheels that grip the most, while remaining in the background when not required.
Our verdict on the Skoda Superb Elegance 2.0 TDI CR 4x4 5dr
Look past the Superb's multi talented tailgate and you've got a car boasting limousine levels of cabin space, refinement and comfort for the price of something far more average. Factor in a wide choice of proven powertrains, affordable options and an all-wheel drive system that works without you even realising it. If all-weather capability is important to you, this particular Superb is hard to beat.
Costs
Easily trumping more expensive but smaller executive level cars, the Superb's combination of space and Skoda's aggressive pricing strategy should make it an attractive proposition. The Czech firm's products are well known for their durability and, as such, unreliability issues should be minor at best. Opting for a diesel will keep costs down, but only if your yearly mileage tally is high.
Space and practicality
There's little to challenge the Superb when it comes to space, thanks mainly to its long wheelbase and capacious boot. In the cabin, rear seat occupants are blessed with an abundance of legroom. Headroom is good, too. Up front the story is similar. Storage compartments aren't in short supply, and at the rear the boot's ability to be opened as a saloon or a hatch at the press of a button does much to boost its appeal as a family vehicle.
Controls and display
The operation of the Superb's controls and displays should be familiar to fans of the Skoda brand. Well thought out, clear and intuitive, from the main dials to the ventilation controls it's difficult to find fault. Even the optional touch screen sat-nav display proves easy to navigate.
Comfort
With its long wheelbase and compliant suspension capable of expertly dealing with all manner of poorly surfaced roads, occupants fore and aft are unlikely to feel uncomfortable in the Superb. Factor in high levels of soundproofing and it's clear that Skoda's engineers have succeeded in creating a luxury ambience at an affordable asking price.
Car security
The Superb's security provision is a straightforward one. Remote central locking is the most obvious and convenient, with an alarm and immobiliser package rolled in for good measure. The car's saloon-style boot will no doubt ensure favourable attention from insurance companies.
Car safety
The Superb is well equipped, with numerous airbags and electronic stability systems to keep you safe. There's even the option of headlamps that follow the direction you steer in, and change their beam pattern depending on you speed for improved visibility. Furthermore, the 4x4 variants offer increased levels of mechanical grip. The added stability from all-wheel drive is most felt on rain-soaked roads, snowy inclines and motorways battered by crosswinds. And if you tow, all-wheel drive could be something worth having.
Driver appeal
Although the Superb looks like it would drive like a long, sedate limousine, the reality is somewhat different. Agile and willing far beyond its long wheelbase saloon roots, the big Skoda can be hustled with a surprisingly degree of enthusiasm. Both diesel and petrol variants impress with their refinement and performance, while the 4x4 models deliver an extra level of grip and poise without any obvious tradeoff.
Family car appeal
It might lack the niceties of a people carrier but the Superb does offer an unusually generous cabin. The car's various plush fittings might be at odds with the sticky fingers of young children, though. The boot, with its clever dual opening option, will easily swallow shopping and the odd pushchair or two.
First car appeal
It might be on the large side but the Superb isn't a difficult car to drive. Light and easy to use controls make life behind the wheel straightforward. Where fitted, parking sensors remove uncertainty and the clever parking assist system should reduce the stress of parallel parking. Realistically, first timers would be better off in a Fabia or Yeti if size is an issue.
Quality and image
The integrity of the Superb's cabin and its fittings is first rate and would put many more expensive cars to shame. Too bad that there is still resistance in some quarters regarding the car's image. Badge snobs hung up on Skoda's past would do well to examine its current line-up.
Accessibility
The car's doors - front and rear - open wide to reveal easy to reach seats. Headroom is also good, and the roof doesn't slope much - further improving access and egress. Rear seat legroom is generous to a fault. At the rear, the car's boot opens wide from a low lip position, which makes loading straightforward. At the touch of a button you can open the boot like a hatch tailgate, further increasing the car's versatility.
Stereo and ICE (In car entertainment)
From the basic but more than acceptable CD and radio combination to the hi-tech full colour sat-nav and multimedia system, there's a level of options to suit everyone. The touch-screen sat-nav unit is versatile and easy to use. Supplementary buttons on the steering wheel are a welcome addition. Bluetooth and MP3 player connections are also present.
Colours and trim
As you would expect, the Superb looks best in traditional colours such as sliver or dark metallic hues. These choices accentuate the car's curves and flatter its size respectively. Inside, whether it's cloth or leather everything looks and feels of the highest quality.
Parking
Thanks to light but direct steering and a smooth throttle the Superb is not difficult to manoeuvre. Visibility is good and the car's mirrors are helpful. Where fitted, parking sensors make a big difference, and it's wise not to dismiss the optional 'self park' system; drive past a space to activate and let the car steer while your modulate the throttle. It's not foolproof but it's more than a gimmick.
Spare wheel
Space saver fitted as standard.
Range information
Petrol engine options - 1.4-litre (125bhp); 1.8-litre (160bhp); 3.6-litre V6 (260bhp). Diesel engine options - 1.6-litre (105bhp); 2.0-litre (140bhp, 170bhp). Transmission options: all petrol and diesel cars come with a six-speed manual gearbox - 105bhp TDI diesel gets a five-speed manual gearbox. Auto options run to a six and seven-speed DSG units depending on engine choice. All-wheel drive is an option on 1.8, 3.6 petrol and 2.0 140, 170 diesel variants. Trim levels: S, SE, Elegance. Lowest output diesel also gains Greenline II supplementary model for its low consumption and CO2 ratings.
Alternative cars
Volkswagen Passat Affordable premium saloon is good but lacks the Superb's versatility
Mazda 6 Classy all-rounder but lacks the heritage of the Mondeo or space of the Superb
Ford Mondeo Benchmark for the keen driver and a good all-rounder but can't compete with the Superb's versatility
Honda Accord Another quality executive model, but again the Superb trumps it on space and economy