June 2015
Skoda Superb 2.0 TDI SE L Executive
Crisp lines and understated looks mark out the latest Superb
June 2015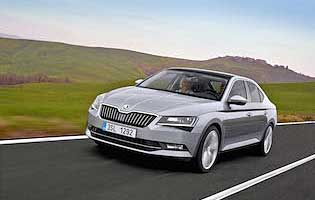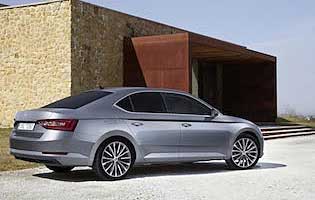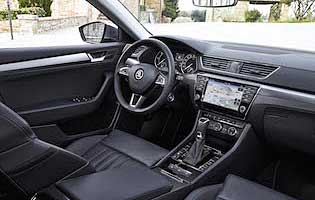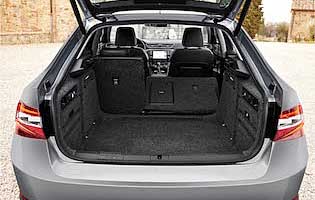 Overall rating

Likes:
Spacious and well-built cabin
Above average level of standard equipment
Premium feel inside and out
Generous level of rear legroom is hard to replicate in this class
Gripes:
Simple styling is possibly too conservative for some
Small engine capacity variants aren't especially brisk
Still plenty of tempting optional extra kit capable of bumping up the price
Not a car for keen drivers
More of everything appears to be Skoda's plan with its latest generation Superb. The car is longer, boasts more kit and is noticeably more luxurious inside. Famous from its original launch for offering executive levels of rear legroom, the car continues to give the likes of Mercedes, Volvo and Audi a hard time when it comes to a premium experience at an affordable price.
It might be a while since the first Superb appeared but the basic premise remains the same: value for money, spacious cabin, premium ambience, huge boot. What has changed, though, is the adoption of subtle exterior design theme that's more distinctive than previous iterations.
With an incremental increase in cabin dimensions, one of the Superb's unique selling points remains; the car beats more expensive rivals when it comes to cabin space. More specifically, rear seat occupants are presented with an abundance of legroom. As such, the Superb remains a firm favourite with the taxi and private hire community
The Superb continues to deliver a little bit more of everything over and above the competition. Build quality, refinement and the amount of standard kit easily overshadows more expensive alternative choices. While the Superb might not be a driver's car in the same vein as a BMW or Audi, it can be driven briskly when desired thanks to an updated range of proven engine and gearbox combinations.
And while this Superb might look like a saloon in profile, its boot is opened as a family-friendly hatch. Folding the rear seats boosts carrying capacity and, for many, will make the Estate variant appear an indulgent choice.
Our verdict on the Skoda Superb 2.0 TDI SE L Executive
Skoda continues to pitch its Superb at the affordable end of the executive market, but in reality the car easily holds its against rivals way above its price point. Not only is the big Skoda an attractive looking proposition, it's also a value for money one. This considerable overhaul has taken the already impressive ownership experience up a notch or two.
Costs
Easily trumping more expensive but smaller executive level cars for value for money, the combination of space and Skoda's aggressive pricing strategy should make it an attractive proposition for both private buyers and business users. Opting for a diesel will keep costs down, but only if your yearly mileage tally is high enough to offset the extra running costs.
Space and practicality
Stretched slightly over its predecessor, this Superb offers rear occupants even more room than before. There's no shortage of space up front either, while the car's boot is also capacious - easily rivaling that of larger, more expensive cars. Storage compartments aren't in short supply, with some of them covered for added security.
Controls and display
The operation of the Superb's controls and displays should be familiar to fans of the Skoda brand. Well thought out, clear and intuitive, from the main dials to the ventilation controls, it's difficult to find fault. When fitted, even the touchscreen sat-nav display proves easy to navigate, as do the various audio functions.
Comfort
With its long wheelbase and compliant suspension, occupants fore and aft are unlikely to feel uncomfortable in the Superb. Factor in high levels of cabin refinement and the generous levels of rear legroom and it's clear that Skoda's engineers have succeeded in creating a luxury ambience at an affordable price.
Car security
Remote central locking is the most obvious and convenient feature, with an anti-theft package added for good measure. The car's saloon-style boot will no doubt ensure favourable attention from insurance companies, and the glovebox and central storage areas are a good size for hiding valuables.
Car safety
Superb is well equipped, with numerous airbags and electronic stability systems to keep you safe. High power headlights are also available, while a model dependent all-wheel drive option boosts the car's all-weather capabilities. Auto brake and intelligent cruise control are just a few of the active safety features available.
Driver appeal
Skoda doesn't promote the Superb as a car for keen drivers. In reality it's more of a safe, confidence-inspiring large executive car. Direct steering, slick controls and good all-round visibility all help its cause. Diesel engines and their abundance of torque suit the Superb best, while ride comfort is good partly due to the car's long wheelbase.
Family car appeal
Although lacking the flexible seating associated with contemporary people carriers, the Superb does offer an unusually spacious cabin. The car's various plush fittings might be at odds with the sticky fingers of young children and the messy paws of the family dog, though, making the Superb a car for a grown up family.
First car appeal
Unless you really need a large car, a Superb might be a little too big for some novice drivers. It's easy to drive but a Fabia or even an Octavia would be a better introduction to the brand.
Quality and image
Badge snobs would do well to examine Skoda's current line-up, as the improvements are significant. The Superb easily competes alongside more expensive metal from the likes of Mercedes and Audi, while the quality of the cabin is first rate.
Accessibility
The Superb's doors - front and rear - open wide to reveal easy to reach seats. Headroom is also good, and the car's roof doesn't impact access and egress. At the rear, the car's boot opens wide from a low lip position, which makes loading straightforward. The older car's hatch and saloon dual opening feature has now gone, but it doesn't hamper access.
Stereo and ICE (In car entertainment)
The focal point in the cabin is the car's infotainment screen which offers access to a wealth of features depending on trim level. From the basic audio inputs, DAB and analogue radio modes to the hi-tech full colour, touchscreen sat-nav, there's a level of entertainment to suit ever pocket. The touchscreen sat-nav unit is versatile and easy to use. Supplementary buttons on the steering wheel are a welcome addition. Sound quality is good, too.
Colours and trim
Traditional, dark external colours continue to suit this all-new Superb best. These choices accentuate the car's curves and flatter its size. Inside, whether it's cloth or leather, everything looks and feels durable and suitably upmarket. Cabin brightwork is minimal and suits the car's modest personality.
Parking
Thanks to light but direct steering and a smooth throttle the Superb is not difficult to manoeuvre. Parking sensors make a big difference, while the optional parking assist system is much improved over earlier generations. It's still a big car, but good visibility and those electronic helpers all ease the pain of parking.
Spare wheel
Space saver fitted as standard.
Range information
Petrol engine options - 1.4-litre (125bhp, 150bhp); 2.0-litre (220bhp, 280bhp). Diesel engine options - 1.6-litre (120bhp); 2.0-litre (150bhp, 190bhp). Transmission options: six-speed manual gearbox, six and seven-speed DSG depending on engine choice. All-wheel drive is an option on selected variants. Trim levels: S, SE, SE Business, SE L Executive, Laurent and Klement.
Alternative cars
Ford Mondeo Benchmark for the keen driver and a good all-rounder
Mazda6 Classy all-rounder but lacks the heritage of the Mondeo or space of the Superb
Volkswagen Passat Affordable premium saloon is very good but Superb is the better value choice
Audi A6 Executive-level refinement but Superb comes uncomfortably close in real world tests