February 2010
Skoda Superb 1.8 TSI Elegance 4X4 Estate
Front end is as well-shaped as the saloon
February 2010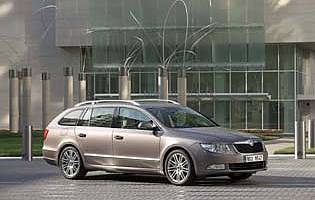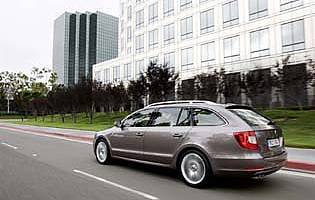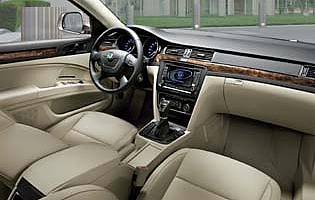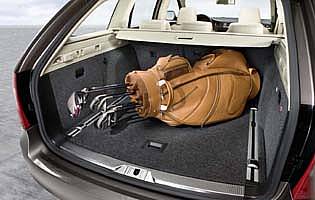 Overall rating

Likes:
Decent equipment levels
Extremely spacious
Smart, executive styling
Excellent value for money
Gripes:
Brand still subject to badge snobbery
1.8 TSI 4x4 not the most economical option
Long body less manoeuvrable around town
Some interior materials don't match premium rivals for quality
The second generation Skoda Superb was one of the largely unsung heroes of 2009; a spacious, comfortable and smartly styled model that offered great value for money. A new estate version aims to build on that solid groundwork from the Czech manufacturer.
A hugely under-rated vehicle from Czech manufacturer Skoda, the Superb is something of an anomaly in the executive market, straddling the conventional D and E segments. A new, second-generation model was introduced in 2009 with a spacious and well-equipped interior and a clever split rear tailgate making it both a hatchback and saloon.
A more traditional estate rear end has been transplanted on to the new model, and some may consider it to actually improve the looks. A stylish, rounded affair, the new rear improves the load carrying capability of the Superb but the extremely spacious second row of seats remains.
The Superb Estate boasts the same range of petrol and diesel engine options as the saloon model, with everything from a small capacity 1.4-litre TSI to a 3.6-litre V6 unit available, with various output diesel engines in between. Twin-clutch DSG transmissions are also available as is four-wheel drive courtesy of an intelligent Haldex clutch that only drives the rear wheels when slip is detected.
As with the rest of the Skoda range, the focus is on value for money but, despite extremely reasonable asking prices, neither quality nor equipment levels suffer with a full range of toys available and impressive quality inside and out.
Our verdict on the Skoda Superb 1.8 TSI Elegance 4X4 Estate
It's was only a matter of time before Skoda built on the impressive Superb saloon platform to offer an estate, and the resulting vehicle is every bit as impressive. Spacious, competitively priced, capable on road and with a strong range of engines and transmissions it acts as a rival for estate models in both the medium and large executive car segments. Smart styling and impressive quality seal the deal.
Costs
The Superb offers a lot of car for the money in terms of equipment, quality and sheer size. A range of economical petrol and diesel engine options is available, but the 1.8-litre turbocharged unit combined with four-wheel drive is not the most fuel efficient and does sacrifice some economy for performance. With the right specification running costs will be very competitive however, with middling insurance ratings and Volkswagen Group reliability easing the cost of ownership.
Space and practicality
There's little to challenge the Superb Estate when it comes to space. In the cabin, rear seat occupants are blessed with an abundance of legroom. Headroom is pretty good, too. Up front the story is similar, although two large adults might occasionally rub elbows - the cabin is long but not overly wide. Storage compartments aren't in short supply and at the rear the huge estate boot makes light work of large loads. The rear seats fold flat to offer small van-like carrying ability, while the four-wheel drive chassis also helps with carrying heavy loads and towing.
Controls and display
The conventional operation of the Superb's controls and displays should be familiar to fans of the Skoda brand along with other Volkswagen Group manufacturers. Well thought out, clear and intuitive, from the main dials to the ventilation controls it's difficult to find fault. Even the touch screen sat-nav and multimedia display proves easy to navigate.
Comfort
It only takes a few miles to realise that the Superb is an excellent, smooth-riding car. With its long wheelbase and compliant suspension capable of dealing with all manner of poorly surfaced roads, occupants front and rear are unlikely to feel uncomfortable. Factor in high levels of soundproofing and it's clear that Skoda's engineers have succeeded in creating a luxury ambience at an affordable asking price.
Car security
For all the Superb's unusual and enticing features, the security provision is a straightforward one. Remote central locking is the most obvious and convenient, with an alarm and immobiliser package rolled in for good measure. The glovebox and central storage areas are a good size for hiding valuables and a roller parcel shelf keeps items in the boot out of sight.
Car safety
Being a large, solid-looking car is only half the story with the Superb Estate, as it's also important to have the latest safety systems on board. The Superb is well equipped with numerous airbags and electronic stability systems to keep you safe. There's even the option of headlamps that follow the direction of the steering and change their beam pattern depending on speed for improved visibility. Intelligent four-wheel drive is also a safety benefit when driving in slippery conditions.
Driver appeal
The 1.8-litre turbocharged unit boasts reasonable hustle, shifting the Superb Estate's not inconsiderable considerable bulk with little effort, although it does need to be revved harder than a torquier diesel unit. The Superb Estate feels surefooted if uninspiring on the road and the part-time four-wheel drive helps maintain traction in slippery conditions. Better suited to relaxed cruising than a more vigorous driving style, it's none-the-less a capable handling machine.
Family car appeal
A generously proportioned cabin will comfortably cope with even grown-up kids, while the large boot can make light work of grocery shopping duties. It's not a traditional MPV or people carrier but there's little to stop the Superb being used as a family vehicle and its excellent value for money should mean it fits into family budgets, too.
First car appeal
The Superb Estate is by no means a difficult car to drive, but is unlikely to prove popular with novice drivers because of its size and more mature appeal. A smaller model such as the Skoda Fabia would make a much better choice for the novice driver, unless they particularly need the space.
Quality and image
It's hard to fault the Superb on the quality front. There are some plastics present that you would not find on a premium model, but these are not in places that fall to hand easily and the majority of the cabin fittings would put many more expensive cars to shame. Unfortunately this knowledge has yet to trickle through to car buyers en masse, and the Skoda badge is unfairly still considered less desirable in some quarters despite the excellent quality.
Accessibility
Front and rear doors open to a wide angle to reveal large portals that make for extremely easy access. The tall body and sensible ride height also help, so and there's no need to stoop on entry. A huge boot door means accessing the boot is simple, too.
Stereo and ICE (In car entertainment)
From the basic but more than acceptable CD and radio combination to the hi-tech, full colour sat-nav and multimedia system, the Superb Estate range boast a level of entertainment to suit everyone. The regular units work well and feature intuitive controls while the touch-screen sat-nav and multimedia unit of the Elegance model is versatile and easy to use. Supplementary buttons on the steering wheel are a welcome addition.
Colours and trim
Traditional colours suit the Superb Estate best, and the lighter metallic shades in the range accentuate the model's executive styling. The leather seats of the elegance model are decent quality and the interior is durable and attractive with minimal yet effective detailing suiting the character.
Parking
The part-time four wheel drive system fails to detract form the Superb Estate's turning circle, but it remains a very large car and requires a degree of experience to slot into tighter parking spaces. Parking sensors are present on the higher trim levels and there's also the option of the Volkswagen Group's automated parking system, which takes much of the work out of reverse parking.
Spare wheel
Space saver fitted as standard.
Range information
Petrol engine options - 1.4-litre (125bhp); 1.8-litre (160bhp); 3.6-litre V6 (260bhp). Diesel engine options - 1.9-litre (105bhp); 2.0-litre (140bhp); 2.0-litre (170bhp). Transmission options: five-speed manual gearbox, six-speed manual gearbox, six-speed DSG gearbox, seven-speed DSG gearbox, four-wheel drive available on 1.8 and 3.6-litre petrol, 2.0-litre diesel. Trim levels: S, SE, Elegance.
Alternative cars
Ford Mondeo Estate Benchmark for the keen driver and spacious in estate form
Citroen C5 Tourer Smart Gallic styling and good value for money
Vauxhall Insignia Sport Tourer A less spacious boot but excellent interior quality
Honda Accord Tourer Cutting edge styling but fewer engine options