June 2007
Skoda Roomster Scout 1.4 TDI diesel
The Roomster Scout has chunky, off-road styling
June 2007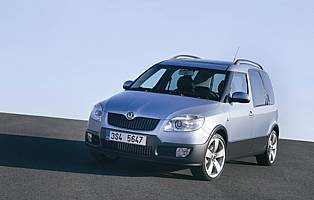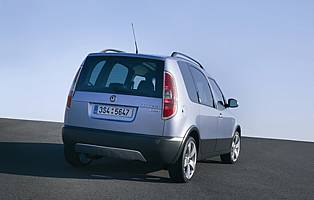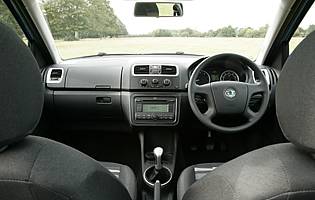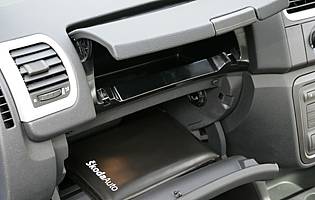 Overall rating

Likes:
Massively spacious interior
Practicality of removable rear seats
Modern, curvaceous exterior styling
Excellent driving position
Gripes:
Visibility restricted by small door window and B-Pillar styling
1.4-litre three-cylinder diesel is a little raucous
Auto gearbox only available on the 1.6-litre petrol
Not an off-roader, despite appearances
Launched at the tail end of 2006, Skoda's small-MPV has been making headway in a well catered for market with a combination of distinctive looks, practicality and versatility. To accompany the Roomster range is the beefed-up Scout model. Its urban warrior styling is timely, but don't be fooled into thinking it's a genuine off-roader.
Let's be clear, the Skoda Roomster Scout is not an off-road vehicle. While its bigger brother Octavia Scout has been treated to a four-wheel drive transmission overhaul to turn it into a rival to the Volvo XC70 and Subaru Forester, the Roomster Scout remains firmly front-wheel drive. The Scout makeover isn't an entirely cynical branding exercise though. The faux-four-by-four has some merits of it's own.
The Roomster Scout sits 43mm higher than the rest of the range, enough to give it useable clearance over urban and rural obstructions. It also improves the already notable driving position and gives the car more presence on bigger roads. The revised body mouldings play their part too, offering protection from stone chips and shopping trolleys. Realistically, the main purpose is to create a stocky, urban warrior appeal.
The makeover goes some way towards lessening the Roomster's slightly mumsy image and the result is an altogether more streetwise vehicle. None of this has detracted from the cars ultimate purpose. It remains an accomplished way to move people around in comfort and with the more powerful 1.9-litre diesel engine has the potential to make it a strong workhorse too. Its practical design also means it can easily be turned into a van substitute if required.
An obvious rival to the likes of the Citroen Berlingo, the Roomster benefits from not being a converted van. It drives like a car and avoids the tinny feel of some of its rivals. A pleasant driving experience meant it already offered something few of its rivals could: in Scout guise it takes its exclusivity a step further.
Our verdict on the Skoda Roomster Scout 1.4 TDI diesel
Get past the principal of not having the off-road capacity that its image implies and you'll find the Roomster Scout a solid, dependable and individually styled family car. Few people are likely to be thrilled at the idea of purchasing something this practical, but the Scout's tough exterior, versatility and tractability give it the edge over most of its rivals.
Costs
The Roomster offers an affordable motoring experience, which is further boosted by the right choice of engine. Naturally the diesels offer the best fuel economy. Low insurance groups are also a Roomster Scout plus point.
Space and practicality
As its name implies, the Roomster is particularly spacious thanks to its boxy design. The Varioflex rear seating arrangement means the rears can be tilted, slid or completely removed. It offers 20 different seating arrangements and with the back seats taken out of the equation - a simple operation thanks to plenty of access - can effectively be turned into a van. The rear parcel shelf is also adjustable and can be slotted in at the usual height or lower to keep bulkier items in reach of the rear passengers without obscuring the rear window.
Controls and display
Inside the Roomster Scout is more function than flair, but that's no bad thing as the controls and dials are all well positioned for ease of use. The centre console buttons are obvious enough to not be a distraction while driving but still smart in design, and all the functions are easy to navigate. The dials are clear too, with the white on black central display being a particularly nice touch.
Comfort
Headroom and legroom is good although the centre rear seat is narrower and probably more suited to a child's than an adult's frame. Both front seats are height adjustable and the Scout features cruise control, manual air con and privacy glass for the rear passengers as standard.
Car security
The Roomster Scout features a comprehensive security package including an alarm and immobiliser and remote central locking with deadlocks. The privacy glass may also help stop casual snooping into the rear of the car.
Car safety
Standard safety equipment on the Roomster Scout is impressive: ABS ESP and traction control are part of the package as are driver and passenger front airbags, curtain and side airbags. The Scout also gets a tyre pressure monitoring system and front fog lights.
Driver appeal
The Roomster is a people carrier outright, rather than a converted van and the difference is immediately apparent once up to speed. It handles like a front wheel drive car and has the cosseted feel of a small hatch rather than the ""plonked on top"" vibe of a small load carrier. The engine range is limited but the small three-cylinder diesel is perfectly up to the task if a little rough on the ear when pushed hard. The petrol and 1.9-litre diesel are more refined.
Family car appeal
Families will love the Roomster Scout thanks to its practicality, versatility and copious interior space despite petite exterior dimensions. The Roomster makes a comfortable, safe and admirable performer on urban school runs and a good driving position and car-like handling make it a worthy motorway cruiser too.
First car appeal
The Roomster Scout is probably a little too mumsy to appeal to younger car buyers and less than perfect all-round visibility might also hamper less experienced drivers. That said, it's reasonably priced and with a low insurance band, sensible engine range, modern, trendy styling and would certainly make a practical first buy.
Quality and image
The Roomster is a far better looking car than it has any right to be, without the bulky, boxy, large-derriere awkwardness that sometimes comes with small MPVs. Little touches like the flush rear door-handles are particularly stylish. The build quality is high: the doors line up perfectly and shut with a healthy thud and inside the materials are well chosen and concreted in place.
Accessibility
A long wheelbase means the Roomster has four good size doors so access for front and rear passengers is excellent. A high roofline makes things easier than your standard hatch too, as does the additional suspension height of the Scout, which places the seats at a convenient level.
Stereo and ICE (In car entertainment)
The Scout comes with a single CD slot up front, which is also able to play MP3 CDs. The car's sound system also features a jack that allows an MP3 player to be plugged in. The Scout, like the Roomster 2, gets an additional four speakers for the rear passengers - far more 21st century than the four-speaker set-up of the base model.
Colours and trim
The Skoda colour palette is your oyster when it comes to the Roomster Scout's exterior with a choice of 14 colours to choose from. It actually looks at its best in the more vibrant shades thanks to crisp 16-inch alloy wheels and distinctively modern styling. Inside the Scout gets its own trim level, with hard-wearing black and white fabric and detailed floor mats plus some leather for the steering wheel and gear lever.
Parking
Visibility is not the Roomster's strong point and reversing is made more difficult than necessary by the chunky C-pillars and the curving door-frame that, although attractive, makes checking the blind-spot difficult. The bonnet slopes out of view too, so it takes time to familiarise yourself with where it ends. Rear parking sensors are a welcome optional extra on the Scout.
Spare wheel
Space saver fitted as standard.
Range information
Petrol engine options - 1.2-litre (70bhp); 1.4-litre (85bhp); 1.6-litre (105bhp). Diesel engine options - 1.4-litre (70bhp); 1.4-litre (80bhp); 1.9-litre (105bhp). Transmission options: five-speed manual gearbox as standard with option of six-speed Tiptronic with 1.6-litre engine. Trim levels: Roomster 1, 2, 3, and Scout.
Alternative cars
Vauxhall Meriva Equally impressive driving position but not as roomy
Peugeot 1007 Smaller, but with a funky sliding door to ease access in tight spots
Renault Kangoo Seemingly basic, but actually a very clever budget people carrier
Fiat Multipla Controversial styling but six seats and several awards speak for themselves