June 2006
Skoda Roomster 3 1.4 TDI
Resemblance to a van is purely cosmetic
June 2006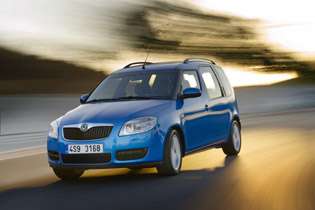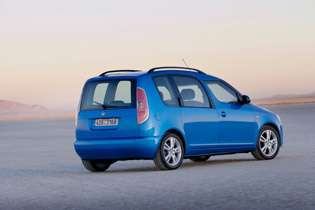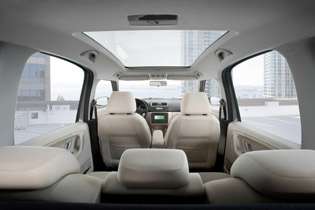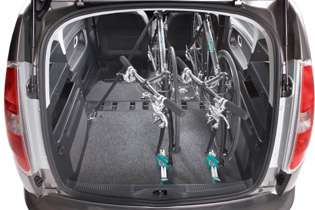 Overall rating

Likes:
Genuinely unlike anything else on offer
Rear seat versatility is unbeatable
Pricing is fair - good value
Drives better than might be expected
Gripes:
Looks a bit boxy and ungainly
Some optional extras expensive and unnecessary
Little to interest hot hatch fans
Badge still attracts the odd laugh from idiots
Most new cars are simply incremental improvements on the model that went before, so it is exciting when something as genuinely different as the Skoda Roomster comes along. An introduction with no obvious precedent, it combines the practicality of a compact MPV, the running costs of a hatchback and the loadspace of an estate in one convincing package.
The obvious temptation is to classify the Skoda Roomster alongside models like the Citroen Berlingo, Peugeot Partner and Renault Kangoo. While there is a superficial resemblance, to do so is to do the Roomster something of a disservice. It is not based on a van, sells on more than value for money and contains more than a few examples of bold innovation.
The theory is that the Roomster is formed from two different rooms, a frontal driving room and a rear living room. While this may contain an element of marketing speak, it is partly justified. The front does indeed feel like a conventional hatchback while the rear has the roominess normally expected of an MPV - and all of that in a surprisingly compact space.
Though a good number of components are shared with the Octavia and Volkswagen Golf, this is more than an exercise in rebranding. Nothing in VW's model range compares with the Roomster directly, so the Czech company is finally able to strike out on its own.
Build quality is excellent throughout and another area in which the Roomster marks itself as different to any van-based rivals. Controls, dials and displays have a high-quality feel matched by most of the materials and fabrics used. But it's the folding rear seats that are the Roomster's party piece. Foldable, flappable, collapsible and removable, they allow the vehicle to serve as anything from a people carrier to an ad hoc commercial vehicle.
Our verdict on the Skoda Roomster 3 1.4 TDI
Instead of trading solely on value for money, Skoda is offering something genuinely different with the Roomster. As a result, pricing is realistic rather than bargain basement. Its looks may be an acquired taste, but there is no arguing with its superb functionality.
Costs
The greatest compliment that can be paid as far as costs are concerned is that pricing seems to be absolutely fair. Van-based rivals such as the Citroen Berlingo and Peugeot Partner undercut the Roomster but are way behind on quality. Beware of falling prey to the optional extras list though - many of the additional items are overpriced and not really necessary. Insurance and fuel costs are very competitive.
Space and practicality
Just when you thought Vauxhall, Mazda and Honda had cooked up every possible seating combination between them, up pops Skoda with another new formula - and a very good one it is, too, called Varioflex seating. The three rear seats consist of two full-size chairs and a smaller central position. Completely independently, each can be folded flat, removed completely or made to slide backwards, forwards and sideways. Take them all out and you create a convincing van.
Controls and display
Skoda has pulled another rabbit out of its hat with a brand new dash and dials that are as attractive as they are clear and functional. Despite sharing many items and controls with other Volkswagen Group products, the Roomster cleverly manages to make the resemblances less than obvious.
Comfort
Wind noise is less than the boxy looks might suggest thanks to the smooth line of the bonnet and the broad, curved windscreen. Seats offer good support, though the rear central position should be regarded as an occasional seat for short journeys. When not in use it conveniently converts into an armrest and tray table. The smallish wheels work well with the long wheelbase - longer than an Octavia in fact - to deliver a comfortable ride.
Car security
Mid-range Roomster 2 models come with an alarm system as standard - an item rarely seen on modest vehicles like this except at the top of the range. One problem is that it is relatively easy for people outside the vehicle to see what is in the luggage area.
Car safety
Mindful of the necessity to perform well in crash tests and safety ratings, Skoda provides as good a package as could be expected at this price. There are front, side and curtain airbags and all seats have three-point belts. ABS and EBD are standard, ESP is optional.
Driver appeal
It may look rather van-like from certain angles, but the Roomster is no unbalanced bucket of bolts. It drives and feels like a conventional mid-to-large sized hatchback such as the Volkswagen Golf Plus, albeit a fairly slow one. Despite the high, square sides there is negligible body roll when switching lanes in a hurry, and the excellent brakes merit a mention. There's little to interest the enthusiastic driver, but for everyday duties the Roomster is fine.
Family car appeal
A young family could make good use of a Roomster, particularly as the central rear seat can be removed to provide lots of space for two kids. Sitting somewhere between hatchback, estate and compact MPV, the Roomster can acquit itself well in all situations, if not excelling in one in particular. Older couples might consider it as a practical downsizing choice, too.
First car appeal
It may lack the immediate appeal of a hot hatch, but when you consider that many first cars are used for ferrying friends, transporting belongings to college and embarking on cheap camping holidays with surfboards and mountain bikes, the Roomster has plenty to recommend it. Low running costs and Skoda's reputation for reliability add further appeal.
Quality and image
Quite rightly, the days of Skoda jokes are long gone. The Roomster might not be a swoopy coupe or glamorous drop top, but its build quality is first-rate. Indeed, a significant body of opinion believes that Skoda's build quality is consistently better than parent company Volkswagen's. The Roomster is not a vehicle for social climbers and status addicts. The only statement buying one makes about you is that you are probably a pragmatist.
Accessibility
Tailor the interior to your precise needs and it makes access much easier - particularly if the central rear seat is removed and the two outer seats are pushed closer together. The high roofline at the rear helps, too. For accessibility, the Roomster fares slightly better than a normal hatchback.
Stereo and ICE (In car entertainment)
Single-slot CD radio as standard, with optional upgrades. The Roomster's spacious interior seems to create a very enjoyable acoustic with good sound clarity. Steering wheel controls are standard, too.
Colours and trim
The trim levels are refreshingly straightforward, named Roomster 1, Roomster 2 and Roomster 3. Entry level models have all the essentials including the vital clever rear seating, Roomster 2 represents the best value for money and Roomster 3 dips its toe into luxury with some leather trim and a panoramic sunroof that makes a considerable difference to the cabin. Bold paint colours work best.
Parking
Only range-topping models come with rear parking sensors. As a result, other grades offer one or two problems when reversing because of the substantial rear pillars and relatively small rear screen. Wing mirrors aren't as large as on some rivals, either. However, the near vertical line of the Roomster's rump helps when judging distances. Steering is light but the turning circle is large.
Spare wheel
Full size steel wheel with all models.
Range information
Six engine options, three petrol and three diesel. Petrol range consists of 1.2 litre (70bhp), 1.4 litre (85bhp) and 1.6 litre (105bhp). Diesel range consists of 1.4 litre (70bhp), 1.4 litre (80bhp) and 1.9 litre (105bhp) engine. Five-speed manual gearbox as standard with optional six-speed automatic as an option with more powerful engines. Trim designators are Roomster 1, Roomster 2 and Roomster 3.
Alternative cars
Citroen Berlingo Multispace Great value but no mistaking van origins
Ford Focus C-Max Fits five, drives nicely, decent seats
Renault Scenic Good all-rounder is very common
Toyota Corolla Verso Seats seven at a push, drives okay